Keeping your stucco up-to-date is a key job for many homeowners. After all, stucco is an investment that you want to protect. The size of the project and the materials chosen will determine how much it will cost to repair or replace the stucco. While replacing stucco can cost anywhere from $15,000 to $20,000 or more, the typical cost of stucco restoration is between $5,000 and $10,000. The cost of replacing stucco is higher because it needs to be completely stripped away and new stucco applied. All of this being said, however, what exactly is the difference between stucco repair vs. remediation: 
What is Stucco Remediation?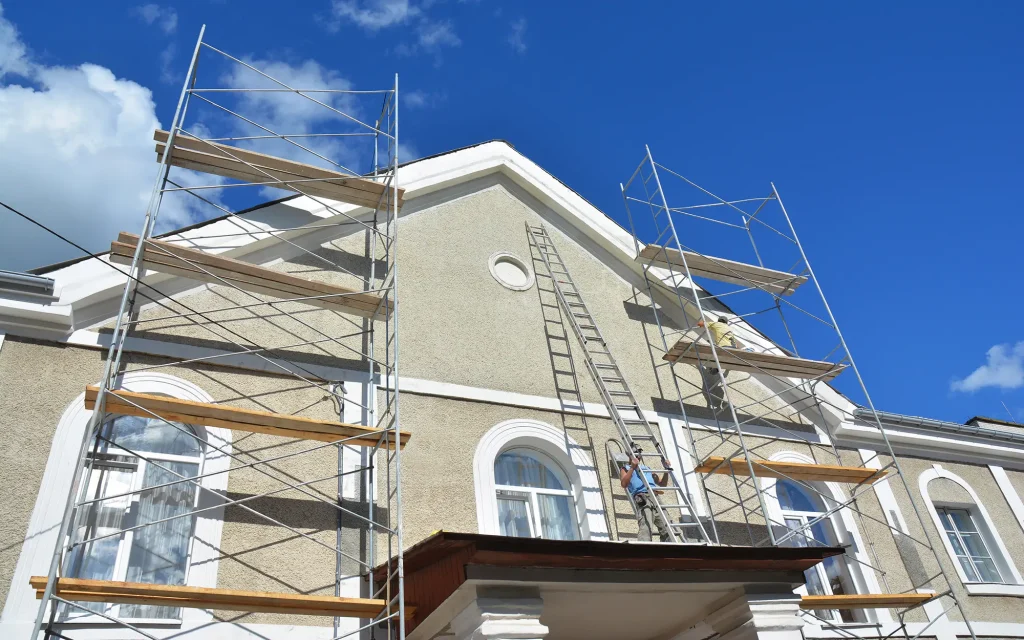 Stucco remediation is done to find and fix problems with the stucco, such as mold or water damage. The old stucco is removed during this procedure, exposing the substrate, and a fresh stucco system is then applied. Stucco remediation may be a fantastic long-term solution to your stucco difficulties that stop more issues from arising. Stucco remediation, on the other hand, can increase the cost of your project by up to $10,000 and is more expensive than stucco repair. Moreover, remediation entails properly removing damaged stucco. Little pieces of the stucco should be removed at a time, and each section should be examined for structural soundness. The drywall behind the stucco ought to be removed as well if any spots are of concern.
Stucco is not waterproof yet, however, it is water-resistant. This suggests the use of a waterproofing layer or a water-resistant barrier. Using a quality water-resistant barrier is key to a proper stucco remediation. A qualified stucco contractor often installs this kind of waterproofing. The cost of the materials and installation is often factored into the estimated cost of the stucco project. Some homeowners want to waterproof their homes using paint. Although it is a possibility, this choice is not advised. That being said, higher-tier waterproofing materials can sometimes prove to be a better option. Another factor to think about is the possibility of paint-based waterproofing being harmed during the installation of stucco. Water damage to the house may result from this. If your stucco has seen better days, you could benefit from a quality remediation service. 
What is Stucco Repair?
You might want to think about stucco repair if minor cosmetic damage is giving your home's stucco a damaged appearance. When only the finish coat of the stucco is damaged, the homeowner can fix the damaged areas, remove the damaged finish, and then reapply the finish layer. Usually, a repair can be finished in a few days or weeks. Stucco repair could work well as a solution if your problems are modest or mainly aesthetic. This is why it's important to understand how to identify and fix stucco damage. Fortunately, the majority of stucco damage is noticeable. Water damage is the most typical stucco deterioration. Examine your outside walls for cracks, mold, billowing, and significant stucco loss.
Although stucco repair is frequently far less expensive than remediation, the main problem with this choice is that it doesn't address the underlying problems. The underlying problems are frequently a significant factor in stucco degradation. As was already mentioned, leaving the underlying problems unattended might result in a variety of future concerns that are much more serious and expensive. Consider stucco remediation if your stucco problems go beyond a few minor cracks or fading. A more thorough process of testing and identifying the root of the stucco's problems is required for stucco remediation. The required procedures to correct the situation are specified once the reason has been discovered. Despite being more expensive, stucco remediation is a superior long-term option for your house.
3 Common Causes of Stucco Damage
1. Wind Damage
Wind damage is incredibly common in some areas, especially in the northwest US. Strong winds will cause a variety of issues, including cracks, debris build-up, and missing pieces of stucco. If you're expecting strong winds this year, ask a stucco specialist to help you prepare properly. 
2. Water Damage
Water damage can happen anywhere. If you're in a region that experiences frequent harsh rainfalls, your stucco must be protected against it. This damage can cause rot, crumbling, and full-on structural integrity issues. Handling these issues quickly is of utmost importance for this reason. 
3. UV Damage
UV damage happens over time and can be prevented by certain proofing products. That being said, mistakes can happen. If your stucco is damaged by UV, it will fade over time, become discolored, and become weaker. The bonds of your stucco will be affected in an especially harsh fashion.