I've been talking about knitting and crocheting on here lately, so it makes sense to talk about yarn storage.
Yarn is a long continuous length of interlocked fibres, suitable for use in the production of textiles, sewing, crocheting, knitting, weaving, embroidery, or ropemaking.
It is important to store all yarn in a climate-controlled environment, not in a damp basement or hot attic. You can store yarn in an extra closet (hanging shoe holders work great for this) or in plastic tubs out of direct sunlight. But be careful, do not store yarn in baskets on rugs. Carpet beetles love to eat yarn!
Can really recommend you to store yarn in plastic bags, or at least not for the long term. Still, depending on the fibre, yarn can hold up to 30% of its weight in moisture without feeling wet.
When yarn storage ideas are at a minimum, you're likely to have a huge mess on your hands. If you love knitting or crocheting, you know all too well how yarn can multiply in your home seemingly overnight.
These clever yarn storage solutions not only help you get organized, but they look really nice, too.
1. Wine rack as a yarn storage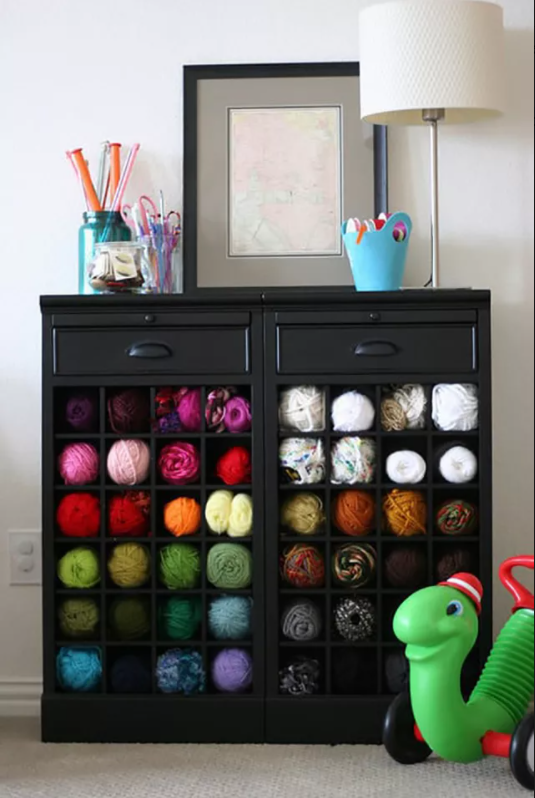 If you happen to have a wine cabinet in your living room that was always empty, instead of filling it with wine, opt to move the piece in your craft room and fill it with yarn. Do not go and buy a new piece of furniture just for your yarn, unless you really want to. Try to look for a space that you think will be fit for your idea. Be creative and innovative in your own space.
2. Crochet a basket for your yarn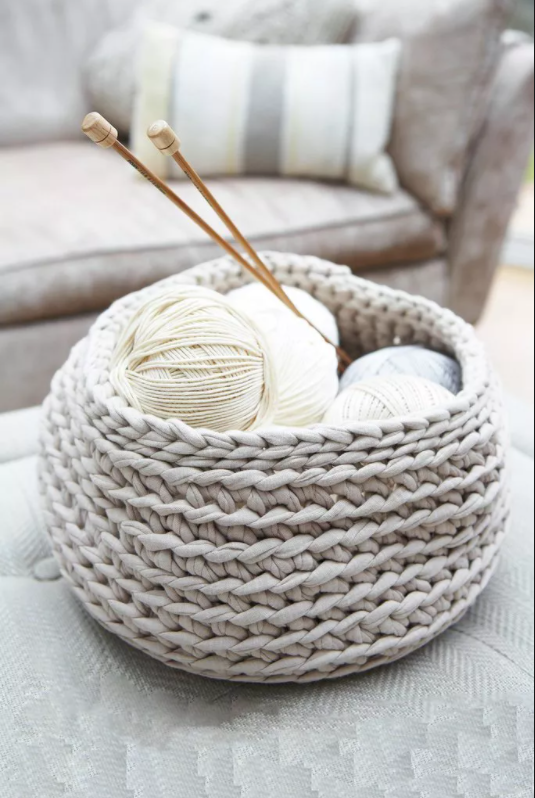 You love yarn and therefore love knitting and crocheting. Well, you might have a couple of different areas in your home where you store your yarn. This idea can be especially helpful if you're in the middle of a larger project. Consider crafting a basket with the size and colour of your choice, to keep all that yarn and your needles together. You can move this around with you as you work and keep track of your supplies. And can be decorative too.
3. Stack Wooden Crates to Create Yarn Storage Cabinets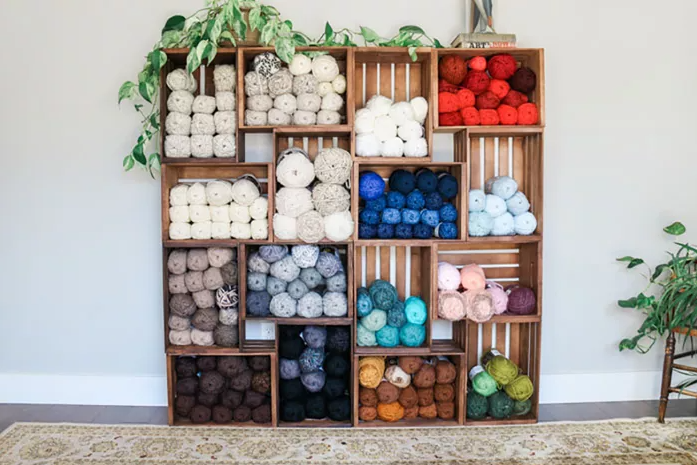 If you want your yarn storage to look inspiring, make sure to keep your bundles of yarn tidy and organized. One way to do this is to use wooden cubbies that can be organized by colour. One way to make your cubbies more attractive and rustic is to use wooden crates for the shelving system. This gives you much more flexibility given the space you have available. And looks way prettier too. Neat, clean and organized; whoever will visit your workplace will have a great impression for sure!
4. In the old empty bookshelf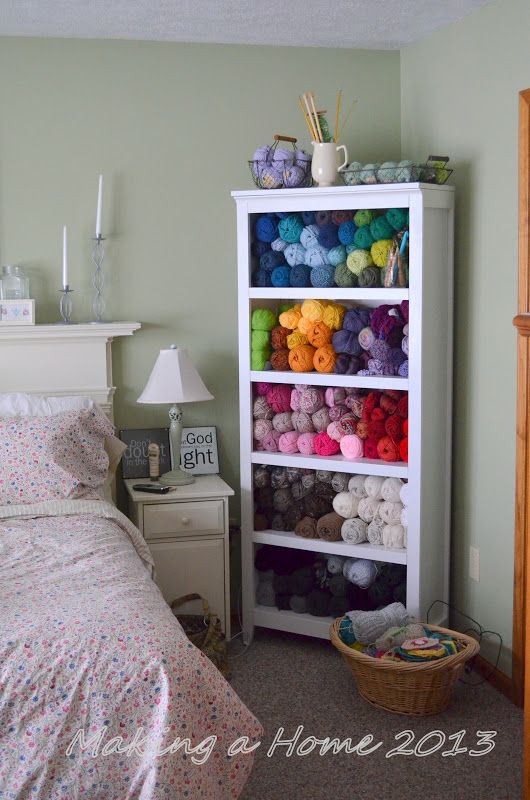 Give life to the old unused furniture that was troubling you how to use it. Emptying off the entire bookshelf will make sense if you have a ton of yarn to store. If you only have a couple of dozen skeins of yarn, you might only need to clear off one shelf or a section of a shelf.
5. Vintage Cabinet or Locker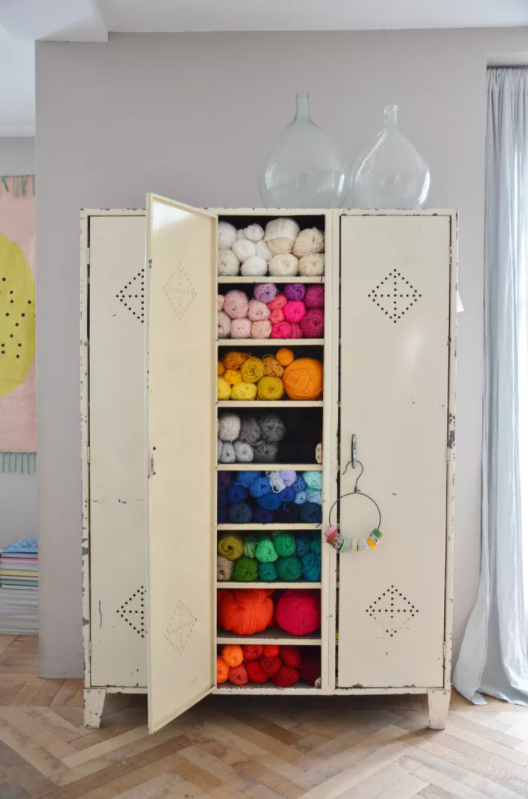 If you want to add a vintage look to your craft room, thrift a piece of furniture that would work well as a yarn storage cabinet. This old locker is as charming as it is functional. You can even paint it, or add different patterns and designs to match the rest of your decor. There are plenty of other vintage furniture pieces that would work well, too. Visit your local antique malls and get inspired.
6. Yarn wall
Pegboard and hooks are cheap and sold at most hardware stores. For each board, be sure to pick up a set of the spacers and screws that hold the pegboard away from the wall a little, where the hooks poke through and anchor. They're usually with the hooks, not the boards. Hooks come in all shapes and sizes. Depending on your wall, create an easily accessible space for all your yarn, plus it looks cool too. Like a giant 3D painting on the wall.
7. Store Yarn on an old crib rail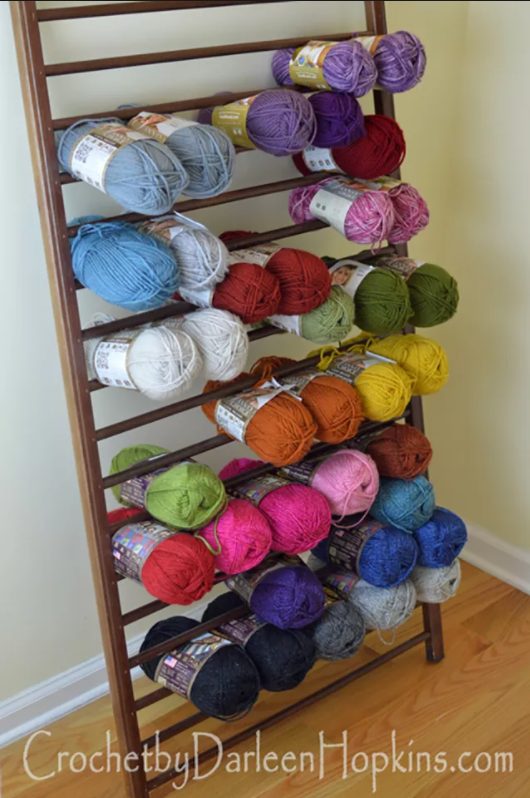 Yarn storage solutions come in all shapes and sizes. How creative and brilliant is this storage idea!? This crafter found an old crib and decided to use one of the bed rails to hold her collection of yarn. I mean, completely awesome! It resembles a bit like the stairs (towel rack) we normally put in the bedroom or bathroom to display our beautiful towels or blankets. This works well when all your yarn is thick enough to stay in place. Otherwise, you may need to pin it in place.
More to know 
Crochet yarn comes in different weights. Thin crochet thread is typically made from cotton or nylon and is used for delicate lace edgings or smaller projects like baby socks. Fingering weight crochet yarn is used for socks and baby items. Worsted or medium weight crochet yarn is used for sweaters and blankets.
If you are looking for more ideas and projects on how to use your yarn, click here.
Or, if you want the yarn out of sight, store them in a shoe organizer on the back of a door.