Storing ammunition at home is an important responsibility for any gun owner. Properly storing and organizing your ammo can help you stay safe, organized, and prepared for whatever shooting activities you plan to take part in. 
When it comes to owning firearms, one of the most important safety considerations is proper storage of ammunition. Storing ammo correctly not only keeps it from getting lost or damaged, but also helps protect you and your family from accidental injury. 
Knowing where and how to properly store ammunition at home is essential for any gun owner.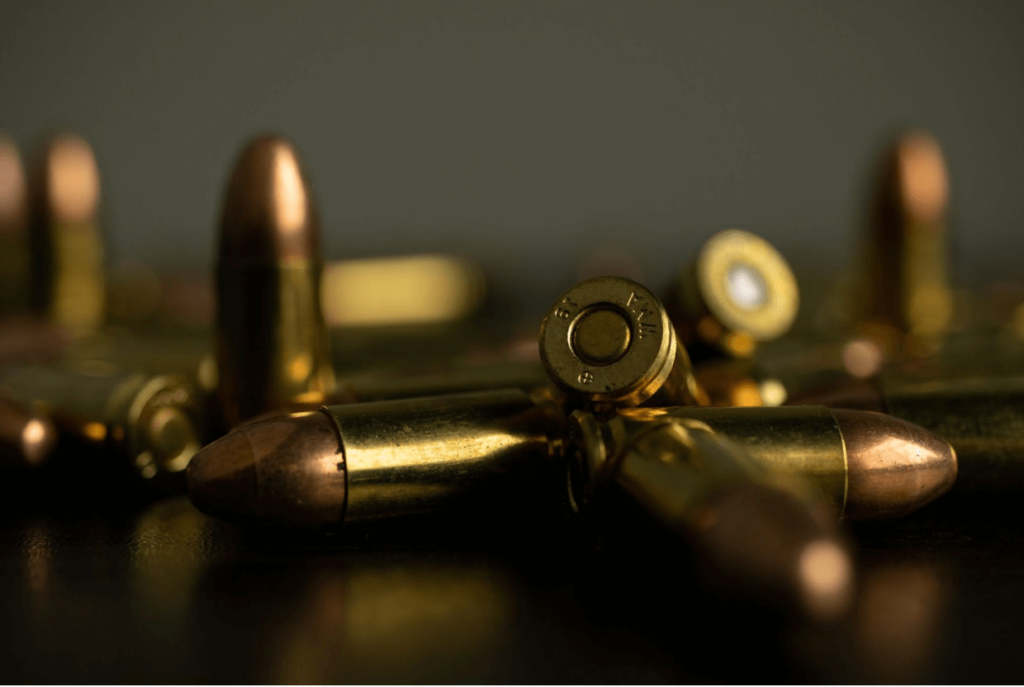 How To Legally Buy Ammo?
In the United States, it is legal to buy ammunition if you are 18 years of age or older and not prohibited by state or federal law. 
To purchase ammo, you will need to present proper identification that proves your age and residency. 
You can either visit a gun store or shop online for ammunition. When purchasing online, be sure to check your state and local laws to ensure you are purchasing legally.
When purchasing ammunition in bulk, most gun stores require a background check to ensure you are not prohibited from owning firearms or ammunition. 
It is also important to remember that some states have restrictions on how much ammunition can be purchased at once and where it can be transported. 
Depending on your state, it may also be necessary to obtain an ammunition purchase permit. 
Preparing Your Home For Ammo Storage
When it comes to ammo storage, there are several important steps to take. The first is to make sure that you have the right storage container for your ammo. 
Different types of ammo require different types of containers and it's important to pick one that is designed specifically for the type of ammunition you plan on storing. 
For instance, pistol ammunition should be kept in a metal ammo box with strong, secure lids that are opaque so that light cannot enter.
The next step is to find the right location for your ammo storage container. 
It should be in an area of your home that is not prone to high temperatures, such as near a furnace or water heater. 
It should also be in a location that is difficult to access, such as on the top shelf of a closet or in a locked gun safe.
Make sure that the place you choose has good ventilation so that moisture does not build up and cause corrosion to your ammunition.
Once you have chosen the right container and location for your ammo storage, it is important to keep up with regular maintenance. 
Check your ammo regularly for signs of corrosion and damage, including rust or discoloration on the exterior of the bullets or casings. 
If you notice any changes in your ammo, dispose of it properly and replace it with fresh ammunition. 
Store all ammunition away from sources of high heat such as a stove or fireplace, and never leave ammunition exposed to the elements. 
Choosing The Right Location For Ammo Storage
When storing ammunition at home, it is important to choose a safe, secure location. Some suggested locations for ammo storage include:
A locked cabinet or room that is not accessible to children or unauthorized persons. 

A gun safe that is securely mounted in an inconspicuous place and equipped with a reliable locking mechanism. 

A separate, locked storage container that is securely attached to a wall or other sturdy surface.
What Containers To Use For Storing Ammo?
When it comes to storing ammo at home, the best option is using a safe or container specifically designed for ammunition storage. 
These containers are made of durable materials, like heavy steel or plastic, and have been tested to reliably protect against fire and break-ins. 
They also come with features such as built-in locks and secure latching systems so your ammo is secure.
You can also opt for military-grade ammo cans, as these provide an extra layer of protection. 
Ammo cans come in a variety of sizes and are designed to store both ammunition and firearms. 
If you have multiple types of ammunition, using several smaller ammo boxes may be more practical than one large container.
How To Choose The Right Container For Each Type Of Ammo?
When it comes to selecting the right container for your ammunition, there are several factors you should consider. 
The container must be adequately sized for the type of ammo being stored. 
It is important to note that not all containers are designed to store the same types of ammo; some are better suited for rifle cartridges while others may be better for handgun ammunition. 
The container must be able to provide an adequate level of protection from both moisture and impact. 
For rifle cartridges and handgun ammunition, plastic boxes with snug-fitting lids are excellent choices. 
These containers come in various sizes and are designed to securely store ammo while keeping out dirt and moisture. 
For shotgun shells, you can use plastic or cardboard boxes with lid closures for temporary storage. 
For long-term storage, metal ammunition cans are a great option. These sturdy containers come in various sizes and are designed to keep out dirt, moisture, and pests.
You should avoid keeping it in any area that could become too hot or too cold. Ideally, you should choose a location that remains at room temperature and away from direct sunlight. 
Your ammunition storage area should be kept secure from unauthorized access. If possible, it is best to store your ammo in a locked cabinet or closet with the key securely hidden. 
Keeping Humidity And Temperature Levels In Check 
It's important to store your ammunition in a place where it won't be affected by humidity and temperature. 
It should also be away from any heat sources like radiators or heaters, as well as areas with high levels of moisture such as bathrooms or laundry rooms. 
A cool, dry area like a closet or basement is the best choice for storing ammunition. 
It's also a good idea to wrap each individual box of ammo in an airtight plastic bag and store it inside a sealed metal container with ventilation holes to help regulate temperature. 
This will keep humidity levels low, preventing corrosion or degradation of the bullets, and will protect your ammunition from pests like mice and ants. 
If you're storing your ammunition in a place with extreme temperature swings, like attics or garages, it's best to periodically check the ammo for damage and signs of corrosion. 
It is important to make sure that your ammunition is safely out of reach from curious children and unauthorized individuals. 
Secure gun safes are excellent options for storing your ammo since they are designed to be fireproof and can be locked. 
If you don't have a gun safe, consider locking your ammo in a separate steel cabinet or locker with a keyed padlock for added security. 
Final Word
With proper storage, you can ensure that your ammo will not be compromised by the elements or any other outside factors. 
It's essential to find a specific place in your home where you can store it away from prying eyes and out of reach for children while also making sure that it remains dry and secure at all times. 
You should never underestimate the importance of properly storing ammo – doing so could mean the difference between life and death in certain situations! 
Make sure to use appropriate containers, such as lockable metal boxes or cabinets with strong locks, when storing large amounts of ammunition at home. 
Doing this ensures safety for yourself, those around you, and anyone who may enter your property.