According to the CDC, about 6.8% of children under 18 have a vision condition. The good news is that they can correct most vision conditions with prescription glasses.
Many kids who need glasses are prescribed them early to help prevent future eye problems as they grow up. But how do you choose the right pair for your child? You should consider a few things when buying prescription sunglasses for kids.
This article will walk you through finding the best sunglasses for your little one's eyes.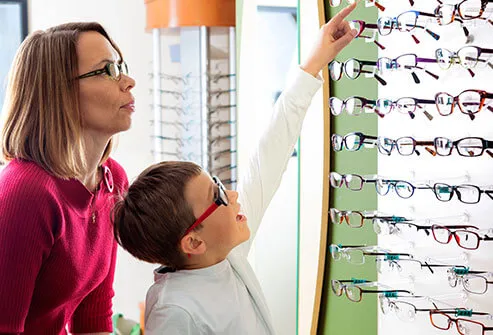 How to Choose the Right Prescription Glasses for Your Kids
Follow these tips to choose the best sunglasses for your child's eyes.
Start with an eye examination.
Before you get same day prescription glasses for your child, schedule an eye exam. An optometrist will examine your child's eyes. They'll determine their eye condition and whether they need prescription sunglasses.
An eye exam helps prevent vision problems and ensure your child's eyes are healthy. It's also an excellent time to talk with your doctor about any symptoms they might have.
Choose the correct frame size.
Glass frames come in a variety of styles and sizes. Your child's face shape will determine what frames are best for them.
Suppose they have a rounder face. Then choose sunglasses with wider lenses that cover more surface area. Suppose they have a longer face. Then opt for smaller frames to keep their features from appearing too wide.
Choose between metal or plastic frames.
The choice between metal and plastic frames is up to you. If your child has a strong prescription, opt for metal frames because they are durable and hold up better. 
Do they only need glasses for occasional use? The plastic frames may be a better option since they're easier to clean.
Go for a good style.
Most parents rarely imagine their kids having their style. But children have ideas about what they want in a pair of glasses. If your child is old enough to express their opinion, ask them what style they prefer. 
You can also look through magazines or online photos of celebrities wearing glasses. It'll help you see if your child has any opinions on those styles.
Consider the fitting at the nose bridge.
The nose bridge is the part of the frame that rests on your child's nose. If this part is too large or small, it can cause discomfort and headaches. It'll also make it difficult to see through the lenses.
If your child has a wide-set nose, look for frames with adjustable nose pads.
Consider the temple style.
The perfect temple on an eyeglass will complement your child's face and fit comfortably. You can find various styles, including straight-sided or curved temples.
Straight-sided frames are more popular. This is because they're easier to find in stores. They are also often less expensive than their curved counterparts. However, opt for a pair with curved temples if you want something that stands out from the crowd.
Choose a high-quality lens material.
When shopping for your child's glasses, look for high-quality lens material. Opt for polycarbonate or Trivex lenses. They are lightweight and durable, which helps prevent the frames from breaking.
Suppose your child has a prescription requiring thick lenses. Then get progressive glasses instead of traditional ones. This eyewear has thinner lenses in the center. It gradually gets thicker toward the edges.
Go for spring hinges.
The glass hinges hold the lenses in place. They are another area to focus on when shopping for your child's glasses. They should be made of high-quality materials that can withstand regular use.
Springs are a common type of hinge that many kids' glasses come with. But you should also look for hinges made from other durable metals.
Consider getting the prescription glasses online or in-store
You have two options when shopping for kids' glasses: buy them in person or order them online. Both options have their benefits, so it's up to you which one you prefer.
If you choose the latter option, ensure that the retailer has a good return policy. This way, your child can try on the glasses before determining if they fit well.
Consider a backup pair of glasses.
If your child is prone to breaking things (like most kids), it's a good idea to have a backup pair of glasses on hand. The second pair of glasses can come in handy if you're out with your child and they break their current pair.
You won't have to worry about finding a new pair of glasses. You can switch out the broken ones with the backup pair.
Conclusion
Choosing prescription glasses for your kids can be a daunting task. However, take your time and consider all the above factors. You'll be able to find the right pair of glasses for your child.