Polish pottery, or also known as polish stoneware, is a folk art that dates back centuries. Some believe it began in the middle ages when farmers began making pottery for their own during the winter. Because it was too cold to farm, farmers found another occupation.
Over the years, the art of Polish pottery has evolved and developed. It has spread to different areas, with Polish pottery floor tile the latest example. If you want to add a unique aesthetic to your flooring, this is one way to do it.
What is Polish pottery?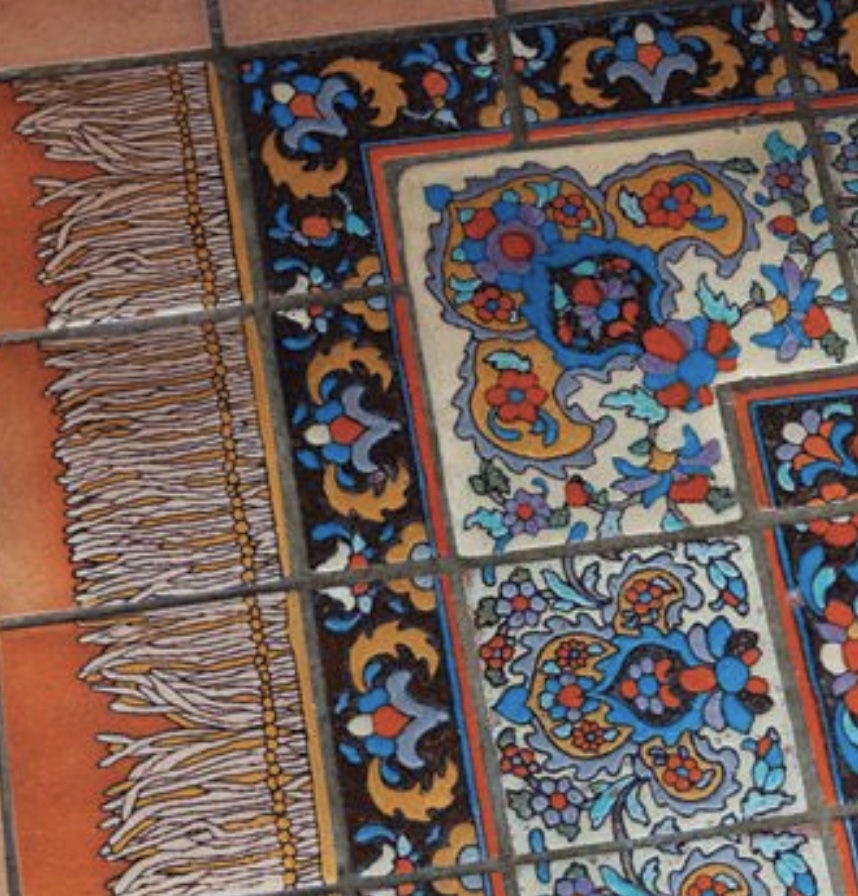 The original name was Boleslawiec pottery, but it then evolved to Polish pottery. It is a collective term for the fine pottery and stoneware crafted in Boleslawiec, a town located in south-western Poland.
Each product is characterized by a blue decorative pattern set against a white background. Sometimes, there are alternative details of greens and yellows.
Today, you can find Polish pottery used for teapots, ceramic tile, everyday use coffee mugs, jugs, dinner plates, breakfast plates, candelabras, and more. All of the authentic pieces will have a stamp on the bottom of each, stating "hand made in Poland".
So, when you want to buy Polish pottery tile, make sure to look for that stamp of approval.
Many people have started using these tiles because of their beautiful and intricate details. Some of the details found on the ceramic tile include abstract florals, speckles, dots, windmill designs, peacock's eye, and more.
Many years ago, Polish pottery tiles were reserved for private collectors and wealthy individuals. But with the commercialization of the industry, they have become an everyday item in the kitchen most people can afford.
In the US, these products are popular because of their beauty, but also strength, and durability.
The history of polish pottery
To better understand the product, let's talk about the history of Polish pottery. We said before that some theories suggest it originated in the Middle Ages. History says it originated in the Silesia region of Poland, where you will find the Boleslawiec village, some 100 miles east of Dresden, Germany.
The minerals found in the clay in this area produce exceptionally strong pottery. This is why many people praise it for its durability.
The town has a long history of producing quality pottery they distributed across Europe. Evidence of pottery workshops dates back to the 15th century. By 1511, a guild of potters had been established. They regulated access to the craft.
By the 18th century, Polish pottery evolved thanks to innovation in styles and materials. Because the city became a part of the Kingdom of Prussia I 1742, the new unity with Germanic lands brought an influx of potters.
New techniques like molded reliefs were invented. By the 1890s, Polish pottery was in high demand, with more than 20 shops operating within the city. There was even a royal pottery school established to further evolve the craft.
During that period, cobalt blue and white patterns were introduced. By the early 20th century, the iconic pattern, known as Pfauenauge, or the peacock's eye, became popular. There were many art deco designs produced.
Today, Polish pottery continues to be made in the same area. It is still hand-made and hand-painted. There are many more small factories that produce pottery. These are usually small family businesses.
Designs and Patterns
Now let's talk about the design and patterns of Polish pottery floor tile. The pottery is hand crafted with pride in small manufacturing companies. All of them are hand painted, using a sponge stamp and brushes. This is how craftsmen paint the art on each piece.
Artists hand-cut the patterns in the sponge and then they use the sponges and brushes to apply the unique pattern. Why are sponges used? Because they keep the paint wet for a long time, allowing the artist to slowly go around one piece at a time.
Modern producers constantly develop new designs and techniques. Some of the classic patterns found today include Old Poland, the Floral peacock, the Crimson Bells, and the Emerald Mosaic. No matter what is your preference, be it classic, modern, traditional, or bohemian, you can find an artisan to make that pattern.
The patterns can be found in virtually any ceramic form.
How to pick tiles for your home?
Now let's talk about how you can choose the right tiles for your home. You might be thinking tiles are tiles, right? Wrong! There are so many tiles that are not suitable for a floor. Some tiles are not good for a high traffic area. And some are not a good fit for showers. How to pick the right ones?
Floor tiles vs. Wall Tiles
First, let's talk about the difference between a floor tile and a wall tile. The main difference is in strength. A floor tile must be strong enough to handle walking on and an occasionally dropped item.
There is a rating for tile strength, called PEI rating. Now, PEI 1 is ideal for walls, PEI 2 is best for bathrooms and kitchens, and PEI 3 is appropriate for all residential applications. PEI 4 and PEI 5 are heavy commercial applications.
When you are looking for tiles, make sure to ask for the PEI rating. If there is no such thing on the label, it must say whether they are acceptable for floors and walls.
How slippery are the tiles?
In the same way, there is a rating for strength, there is criteria for slippery. The COF or coefficient of friction says how slippery the tile is. Different areas need different COF values.
Floor tiles in the bathroom, for example, must meet a greater than .42 DCOS test. Tiles that score less than that can work only on dry walls and walls.
Difference between porcelain and ceramic tiles
Do you want a porcelain tile or a ceramic tile? Porcelain tiles are stronger and denser than ceramic tiles. And they do not absorb as much moisture as ceramic tiles.
Because it absorbs less moisture, a porcelain tile is suitable for shower floor and areas that stay damp or humid.
But it comes with a price. They are less porous, thicker, and stronger. That is tougher to cut and carries a higher price tag.
How many do tiles you need?
When you want to order tiles for your floor, make sure to order anywhere between 15 to 20% extra for your job. When you use small tiles, you can order just 10% more. Remember, it is always better to have a few left over to keep on hand if you ever need to replace a tile.
And it is definitely disturbing to run out of tiles in the middle of a job.
What is so special about polish pottery tiles?
So, why should you try Polish pottery floor tile? Well, these create a vibrant backsplash with hand painted ceramic tiles. And because of the double glaze, they are protected from kitchen mess. It makes them durable against everyday wear and tear.
Mix and match them if you want to achieve an eclectic look. And because it is handmade, all pieces are unique in their own way.
Look for a factory stamp saying "handmade in Poland". UNIKAT pieces often have the artist's signature. But they always have the UNIKAT stamped on them.