Just because the warm weather is waning and the promise of autumn/winter hangs in the air doesn't mean you have to close your garden until next summer. With popular holidays like Halloween, Bonfire Night, and Christmas approaching, many families across the UK are planning how to entertain friends and family from the comfort of their back gardens. 
Whether you're planning to treat your guest to a firework show or a bonfire party, there are many safety considerations and preparations before you can invite guests into your outside space. From sheltering your guests from potentially unpleasant weather with an awning or veranda to keeping the area well-lit until your fireworks light up the night's sky, there's much to do to prepare your outside space for the festivities. 
But this begs the question, how can you prepare for an autumnal garden party? Read our helpful tips below to find out more.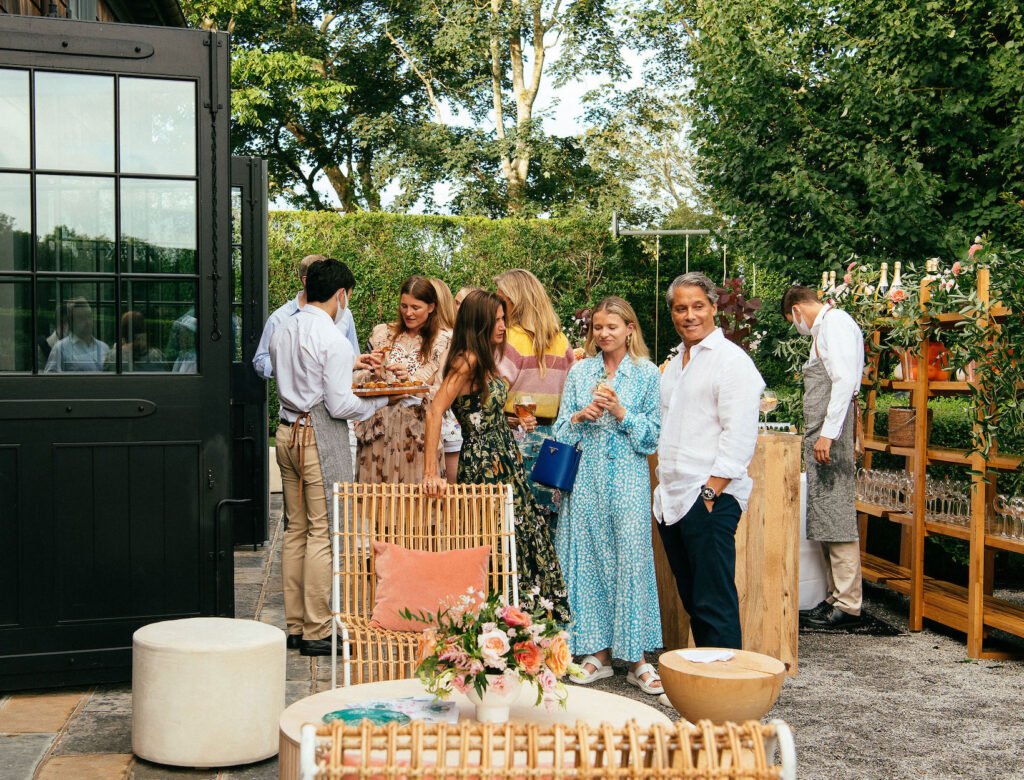 Plan For All Types Of Weather 
Although autumn weather might be pleasing to the eye, it is notorious for being a season where the weather changes all the time. One day you might wake up to a misty morning accompanied by rain showers, and the next, you could be greeted with bitter winds hiding behind sunny rays. 
Due to the unpredictable nature of autumn weather, if you're planning to host a garden get-together, it is essential that you plan for rain, wind, sun, and snow to avoid any nasty surprises for you and your guests. 
Since autumn is known for being on the chillier side, ensure that you and your guests keep warm by providing thick blankets to snuggle underneath while they wait for the barbecue to be ready. You'll find that this little detail will be much appreciated by guests, especially if it turns out to be colder than expected!
Autumn is also known for being wet, so as a precaution, you might consider adding sheltered areas to your garden with gazebos, umbrellas, awnings, verandas, and much more. Doing so will ensure that your festivities go undisturbed in the event of bad weather and prevent moods from turning sour due to the wet! 
For more inspiration, consider looking at the awnings and verandas provided by Nationwide Home Innovations, which are the perfect accessory for garden get-togethers no matter the season. Visit their website to browse their entire range of awnings and verandas and read customer testimonials. Or contact one of their experts for specific inquiries and discover how their innovative products could make your autumn garden party one to remember.
Decorate your outdoor space
As the leaves begin to change color and the days grow shorter, many people find themselves drawn outdoors. There is something about autumn that renews our appreciation for the natural world. If you are planning to host an outdoor party this autumn, there are a few simple ways to decorate your space and create a festive atmosphere. One idea is to use pumpkins as decoration. You can have real pumpkins to carve faces into them, printed pumpkins from the smallest to the biggest, or incorporate balloon or inflatable pumpkins. Customized inflatables have gained popularity in recent years and are widely used for different events and parties. They are usually customizable and are easily matched with the theme of the event and add a special flavor to the day. Another option is to hang autumn garlands made of leaves and berries. And of course, no fall party would be complete without a bonfire. So gather some wood and build a fire pit in your backyard. These decorations will help your guests feel like they are truly in the spirit of fall.
Illuminate Your Outdoor Space 
When you're hosting a garden party, the last thing you want to do is scramble around in the dark, trying to find items or fumbling along, trying to find the steps that lead into your house. As this doesn't make an exciting event, it increases the risk of accidents, putting a damper on the festivities and making your event memorable for the wrong reasons. 
You can find a range of outdoor lighting ideas on the internet or in-store that are perfect for all-season-round use, or if you want to take it a step further, you can find lighting that accentuates the party atmosphere. 
Whether you'd like to take an eco-friendly approach and decorate your outside space with solar-powered candles and fairy lights, or if you'd like to treat your guests to a luxurious experience with an open fire pit and masses of intricate hanging lanterns – you're bound to find something that both flatters your outdoor space and serves a purpose. 
Prioritise Safety 
With holidays like Halloween and Bonfire Night taking place in the autumn months, the frequency of bonfires and fireworks appearing at get-togethers increases. Despite being an excellent way of creating a party atmosphere, bonfires and fireworks have safety precautions that must be followed to ensure the safety of you, your guests, your property, and surrounding wildlife.
For instance, if you have children in attendance, you might consider providing earmuffs to protect their ears against loud firework bangs or gloves when handling sparklers with a bucket of water nearby so they can be distinguished easily. Or if you have pets, you should make every effort to muffle the noise of fireworks to prevent them getting anxious by closing all windows, doors, curtains, and turning the TV up loud to distract them. 
Serve Seasonal Snacks 
One of the best things about parties is the food. If you want to keep your guests fed and watered, you might consider serving seasonal snacks or asking them to bring a contribution that fits your party theme. For instance, if you're throwing a Halloween-themed bash, you could consider providing spooky seasonal snacks like candy apples, toasted marshmallows and pumpkin soup. 
You could even turn it into a fun activity for your younger guests by hosting an apple bobbing contest, decorating spooky gingerbread characters, or creating kid-friendly mocktails that make them feel a part of the action (without the consequences!)