Summer comes once per year, and while you should spend the majority of the warm season soaking up sunshine and enjoying much-deserved rest and relaxation, you should dedicate a weekend or two to home maintenance. Maintaining certain elements of your home is much easier during the summertime, when you will not be fighting cold and precipitation to get your work done. Thus, if you can complete any of the following maintenance tasks during the coming months, you should have a stronger and safer home all year long.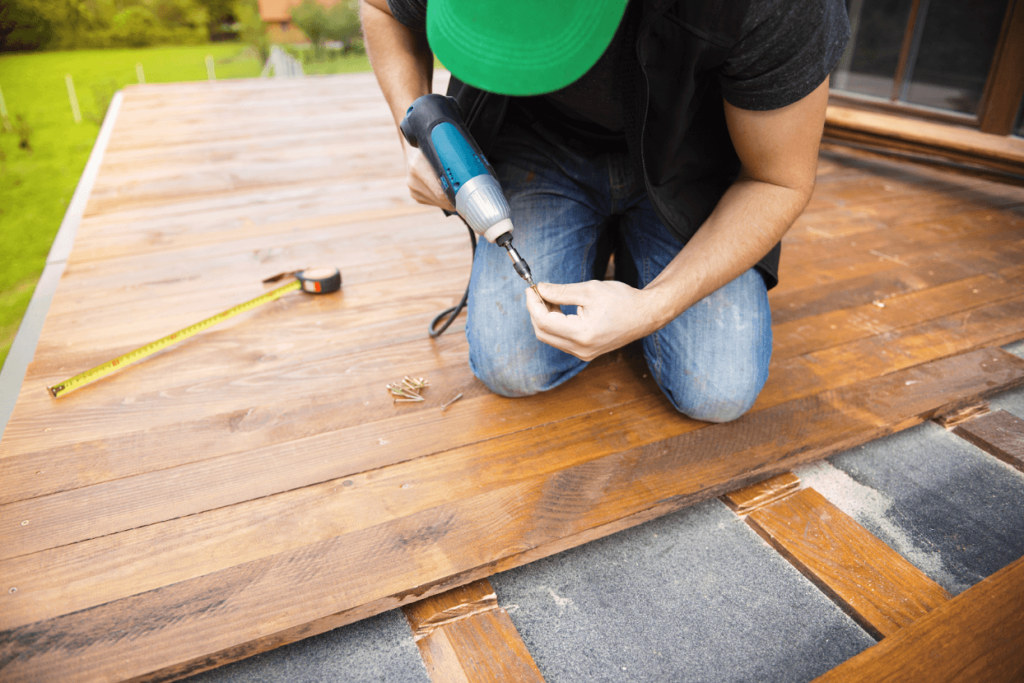 Clean the Gutters
You know you need to clean the gutters, and the end of spring is the right time to do it. Cleaning the gutters is not a particularly glamorous chore — and it is unlikely to be a task that improves the look or feel of your summer spaces — but it is nevertheless critical to get the gunk out of your gutters before the summer season. For months, dirt and debris have accumulated in your gutters, and if you do not remove them now, your gutters could clog and sustain serious damage that puts your roof at risk.
Depending on how extensive your gutter system is, you should set aside at least a few hours to get this job done. With a gutter scoop, you should pull out the larger chunks before washing finer residue down your gutters with clean water from your hose. Once the cleaning is complete, you should readjust your gutters, securing them more firmly to your home with gutter hangers and replacing any sections that seem rusted.
Refinish the Deck
Changing weather treats wood incredibly unkindly, and after a few cold and warm weather cycles, all wooden decks need to be refinished. Fortunately, this maintenance task will elevate the style of your outdoor space, making it more inviting for the summer season.
To start, you should deep clean your deck with a biodegradable cleaner and a stiff brush, which should remove any dirt and mildew on the surface. You can use a pressure washer, but you should be careful to avoid causing serious damage to the wood. Once the wood is clean and dry, you should sand the entire deck to remove rough areas and old gloss. Now, you can stain your deck a new and exciting color; for 2023, the trendiest stains are dark and warm, which adds an elegant yet retro look to your deck.
Check Attic Insulation
The attic serves to insulate your home from the biting cold of the winter and the punishing heat of the summer, which means it might be dangerous to venture into your attic space during the high and low seasons of the year. During spring, the attic should be a relatively temperate place, which means you can take your time exploring it for signs of wear and tear.
As soon as you step foot in your attic, you should look for signs of water damage, pest infestation or other serious problems that will require immediate and professional intervention. Rotten wood and pinpricks of light through the roof are bad signs, as are rodent droppings, feathers and nests of any variety.
Most likely, you won't see any major issues, which means you can turn your attention to your insulation. Experts such as https://atticconstruction.com recommend adding between 10 and 14 inches of insulation in your attic, but over time, insulation blows away and compresses, becoming less effective. If your attic is missing sufficient insulation, you can add more in during spring to make your home more efficient during summertime.
Deep Clean the Outdoor Kitchen
You should want your outside cooking space to be spick and span before you host your first summer barbecue. Keeping your outdoor kitchen clean can be easier with some simple tools and practices, like grill covers that keep out dust and countertop sealants that preserve porous stones like granite and marble.
The grill is the heart of the outdoor kitchen, and it should take primary focus during your pre-summer cleaning endeavors. With the grill on, you should scrub away caked-on food and other debris using a wet stiff wire brush. Especially tough grease spots might warrant a drop of dish soap or specialty grill cleaner. For the rest of the kitchen, you should use soapy water and a rag to wipe away dust. You should avoid temptation to hose the entire kitchen down or use a power washer, which can cause lasting harm.
While you are thinking about your outdoor kitchen, you might consider making some upgrades that make the space even more appealing during the impending warm weather. For instance, you might consider installing a low-profile ceiling fan above the cooking spaces, to help keep the kitchen cool for the grill master. You might also invest in more outdoor kitchen storage to reduce the frequency of trips inside for cookware and tableware.
Wash Outside Windows
One of the worst feelings is spending a day washing the outsides of your windows only for the next day to bring on a rainstorm that spots your windows in dirt and grime. That's why you might as well wait for the end of spring to wash your windows, as the beginning of the summer season is likely to be dryer, preserving your hard work.
For your exterior windows, you should skip any cleaning solution and use your hose to spray off the fine dust that accumulates on the glass, then dry the water quickly with a soft, lint-free towel. While you are cleaning your windows, you should check over your window screens and replace any with holes or frays.
The more effort you put into preparing your home for summer today, the more you can enjoy a safe, secure and stunning home for the rest of the sunny season.