IKEA has many mirror designs in its wide palette of products. Some of them are more popular, others are not. For example, the Stockholm mirror has been around for a while. Among the wide range of wall mirrors, you can choose from the Nissedal mirror, LOTS mirror, and Hovet mirror among others. Today, we will talk about the IKEA Hovet Mirror.
The beauty about IKEA products is that you can modify them. Yes, you can buy them as they are from an IKEA shop. But once you bring it home, you can modify and customize it to fit your interior design needs and space.
For example, you can change its frame, paint it, and cover the existing frame with fabric, decoupage, staining, or something else. Or, you can suspend your mirror differently. For example, if it is a wall mirror with a hook to attach, you can suspend it using a leather belt, cord, rope, or anything else.
Check social media, and you will see that the Hovet IKEA mirror is all over the place. It started off as an influencer product, but it grow to something more.
Quick Review of IKEA Hovet Mirror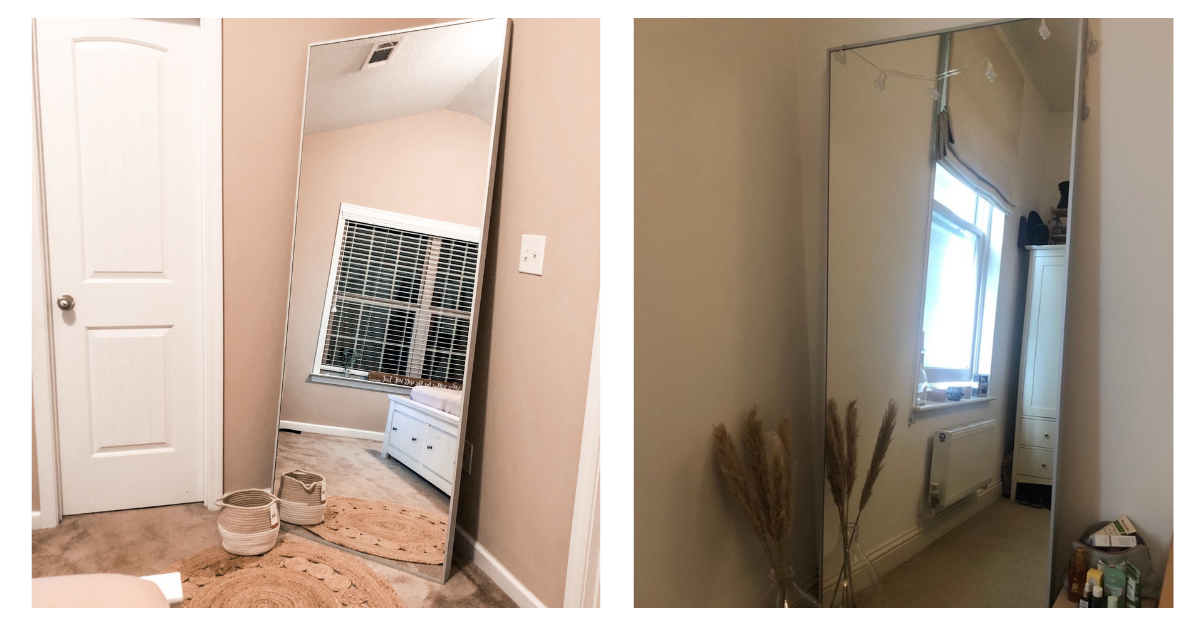 So, why would you need a cheap, over-the-door hanging mirror? What is so special about Hovet IKEA mirror?
Is it just another influencer product? Or is it something more, a versatile DIY product you can adapt to your home interior design?
You can look at the measurements of the mirror, but that will not prepare you for how big it actually is. If you are a shorter person, you might have problems and challenges reaching the top when standing on the floor.
Because of its large size, the mirror comes with some challenges and downsides. For starters, its weight. It is 42 pounds and almost 6.5 feet tall. If you have to move it often, it might be a problem.
The framing is made of aluminum, giving the IKEA mirror a modern look. And the best part is that you can easily upgrade the mirror with spray paint or string lights. More on that later on. For more ideas, you can even check Instagram or TikTok. Social media will give you a lot more ideas, we have just a few to get you started.
To be honest, you can hardly find a mirror of this quality and size for a better price.
How much does it cost?
Speaking of the price, how much does it actually cost? The IKEA Hovet mirror is large, standing at a little over two yards, with dimensions 30 ¾ x 77 1/8″ or 78 x 196cm. It will leave you with a strong impression.
And it costs $149.99 in the US. For a mirror of this size, the Hovet product is quite affordable. It is one of the reasons why the aluminum framed mirror has become one of the latest trends on TikTok. Granted, many influencers use it for outfit-of-the-day videos, not for some interior design ideas.
The best feature is how good it looks. You can hang it horizontally or vertically, on a wall, or place it on the floor.
Many IKEA customers have given it 5 stars rating. And the comments range from "no distortion in the reflection", "Durability of the product", and "good value for money".
Can you hang the IKEA Hovet Mirror?
Now, speaking of how to place it. You can hang the IKEA Hovet product either on a wall or place it on the floor anchored and tilted against a wall.
The best part is that this IKEA mirror can be hung horizontally and vertically. With the product, you also get mounting fittings, which prevent the mirror from sliding on the floor if leaned against a wall.
How to secure IKEA Hovet mirror to the wall?
Let's talk about how you can secure the mirror to the wall. We said that is one of the options for hanging. Remember, full length wall mirrors are a great way to see your entire outfit before you walk out of your home.
But, you have to make sure that these heavy mirrors are safe around children, pets, and even yourself. Here is a step-by-step guide on how to secure this heavy mirror to the wall.
 Determine low traffic location for your leaning mirror
 If the mirror is on a hard surface floor, use a grip surface under it to ensure there is no slipping and sliding
Attach heavy-duty furniture straps to the mirror and anchor them to the wall, ensuring that your screws are in a stud
Now, let's take a deeper look into each of these steps.
What is the best place to lean your mirror?
So, how to select the best location to lean your mirror? One where your mirror will not be easily bumped? It is a tight balance between that, and a place where you can actually use the mirror.
Do not overthink this. Consider a specific location in your home, and then find a place that works. For example, you can put it in the hallway and outside of your bedrooms.
It is a central location for your home.
How to prevent sliding
Now, about that second step. Place the mirror on a rubber grip surface to prevent sliding. When you put a mirror on a hardwood floor, there is always that risk of sliding.
One option is to put a rubber drawer liner under the mirror. Another good option is gripper pads made specifically for furniture.
Once you determine where you will put your mirror, cut a strip of drawer liner with a rubber grip feel, and put it under either side of the mirror.
Furniture straps
Now, the last step is attaching furniture straps to the mirror and wall. The process is quite simple, no matter which furniture straps you will use. Follow the instructions inside the box.
Most kits come with two heavy-duty nylon straps. You stick them to the back of the mirror or other heavy piece of furniture. One end is to the back of the mirror, and the other end is screwed into a wall stud.
Some Popular Hacks with IKEA Hovet Mirror
Now that we know how you can use it and place the mirror, let's take a look at some popular IKEA hacks with your Hovet mirror.
As we talked about in the beginning, many of these hacks can help you adapt and customize your mirror to fit your interior design.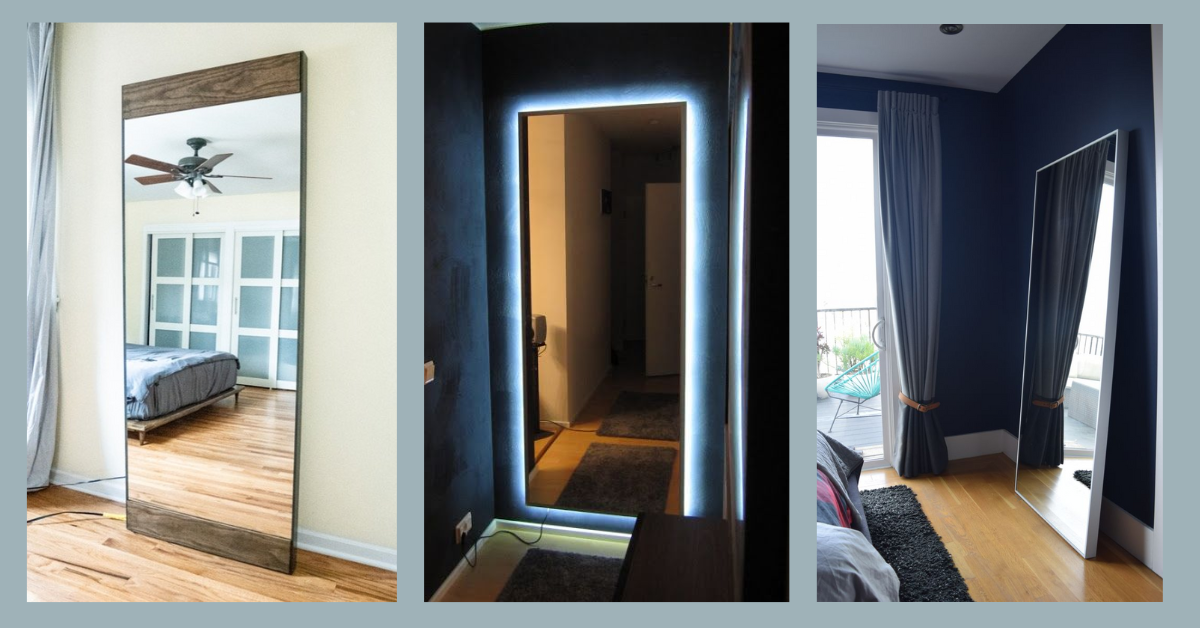 Adding ambient lighting
If your location is the end of a narrow hallway, adding ambient lighting will bring that modern feeling to your home. Basically, you get a contemporary entryway with a mirror that is cheap and looks fantastic. Here are three steps for adding ambient lighting.
Start by taking precise measurements of the height and width of all sides of the mirror frame. Then, saw molding bars to their correct length with 45-degree corners accordingly. This way, you create an additional frame by attaching the molding bars on the mirror edges. Use screws or glue to attach them
Then, attach a self-adhesive LED cable to the backside of the molding bars. Depending on the cable you will use, you might have to cut it in the corners and use some soldered cords. These cords will connect the pieces with each other. You can also use IKEA led bars and cables
Last, you need to get a power supply and LED cable cords behind the mirrors. Drill holes in the aluminum edge and attach the power supply to the backside of your mirror. Finish by connecting the power supply to the LED cable and your new product is ready
Grid Mirror
You can use the IKEA Hovet mirror hack to give it an industrial look. The DIY Grid mirror is a familiar mirror hack. And in the past few years, it is quite popular on social media and on the Internet.
For this hack, you will need spray paint, wood strips, and no more nails or wood glue.
Full body vanity mirror
We talked about how you can add ambient light to your mirror. Well, you can also turn it around into a full-length vanity mirror as well.
You can order LED bulbs from anywhere, even from Amazon. Then, stuck them on the mirror front and add wires taped to the back. It is an easy hack that will give your mirror some glamorous look.
Bathroom mirror with lights
We said in the beginning that you can hang the IKEA Hovet mirror both vertically and horizontally. Well, most of these IKEA hacks were for a vertically placed mirror.
Now, we will talk about how to create a minimalist bathroom mirror with the Hovet mirror. For this idea, you will need to hang it horizontally.
Add IKEA led cabinet lights to provide the illumination, drill two holes into the wall, and attach the lights to the frame of the mirror. And there you have it, a bathroom mirror made with the cheap Hovet IKEA mirror.