When you go to IKEA, you rarely think of food. To be honest, food might be one of the last things on your IKEA shopping list. Yet, once you are inside a shop of the Swedish retailer, you start thinking about food. Maybe because all that walking around can make you feel tired and hungry. With that in mind, today, we will talk about IKEA cinnamon rolls. Yes, that delicious treat you can get inside an IKEA shop.
As you get out of an IKEA shop, suddenly, that conveniently located Exit Cafe looks amazing. Per the statement of the company, IKEA Exit Cafe offers a modern taste of Sweden with honest, affordable, and appetizing food. There, you can find delicious options like Swedish meatballs, cakes, coffee, hot dog, and of course, IKEA cinnamon rolls.
Once you spend $50 on a lamp, spending a few more bucks on a tasty treat looks convenient. The cinnamon rolls might not be the biggest ones you have tried. After all, they are about the size of a thick slice of bread. But they are tasty, highly caloric, and amazing to be honest.
Usually, IKEA sells more than 500,000 cinnamon buns per year. And on Cinnamon Bun Day, they have posted messages like, "You are still the bun I love. You are still the bun I Dream of. You Are still the Bun I want for life".
Nutrition Facts about IKEA Cinnamon Rolls
When you think about treats, you often think of their caloric value. We said before that IKEA cinnamon rolls are highly caloric. Just how high?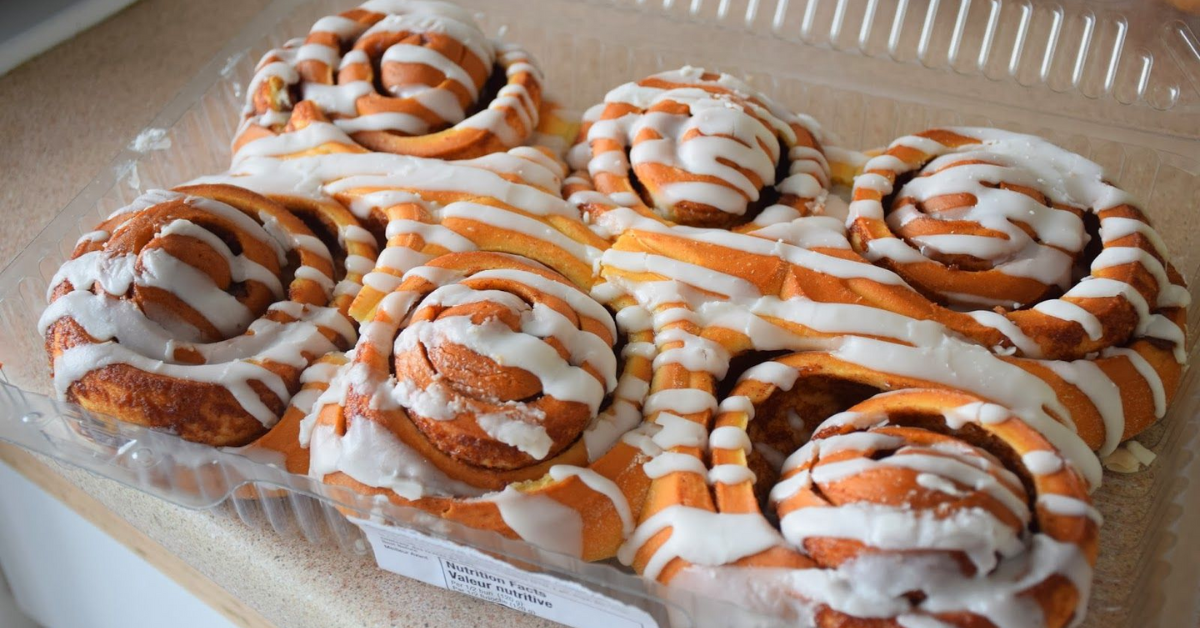 Well, here are some nutrition facts about them. Per several sources, they pack between 300 and 400 calories. Some sources say higher than 300, others around 300. Here are some other facts:
 Total fat: 9g
 Saturated fat: 5g
Cholesterol mg: 0
Sodium mg: 170
Total carbohydrate: 49g
Sugars: 17g
Dietary fiber: 0g
Protein: 7g
Why are they so popular?
As we said before, IKEA cinnamon buns are quite popular. The Swedish retailer sells around 500,000 per year. Why are they so popular? Well, think about this for a second. You go to IKEA, you get tired of all that walking, and you spend hundreds of dollars on furniture items. What is a buck or two for a tasty sweet treat?
Right? We all get hungry after walking for hours in IKEA. And we deserve something tasty to end our trip. Let's be honest. People who grab the cinnamon rolls know they are not getting a nourishing snack.
Yes, they do pack around 400 calories per Swedish cinnamon roll. There are also better alternatives at the check-out exit café. For example, a cone of frozen yogurt, which has fewer calories.
Or, if you like, you can share with friends. Simply cut the cinnamon bun into two or four pieces, and share with your shopping buddy, friends, loved one, or kids. And then you get a reasonable snack amount.
Ingredients and How to Prepare
What are the ingredients in IKEA cinnamon buns? They come frozen and ready to bake. Check the ingredients list, and you will see the following list.
The list includes wheat flour, water, sugar, margarine (vegetable oils, water, salt, emulsifier, vanilla custard (water, sugar, thickeners (1414, 401), whey powder (milk), fat powder(coconut oil, glucose syrup, milk protein, stabilizer (451), decoration sugar (sugar, rapeseed oil), yeast, bread glaze(wheat starch), cinnamon (2.8 %), vanillin sugar (wheat starch), thickener (1414), salt, cardamom.
Now, how to prepare these frozen cinnamon buns? Simple, just heat your oven up to 170 or 190 Celsius (340 to 370 Fahrenheit). Then, place the frozen buns directly on a baking tray and bake in the middle of the oven for 15 minutes.
How to prepare IKEA-inspired cinnamon rolls
Let's be honest, there are hundreds of cinnamon roll recipes out there. You can also find many recipes for sticky buns, which is their doughier and caramel-coated sister.
Most recipes require time for the dough to rise. If you love fresh bread and enjoy baking, then you will love this recipe for IKEA cinnamon rolls fresh out of your oven.
Now, why would you try to improve something that is already delicious? Well, let's be honest, IKEA rolls can be bready. And you can make a lot healthier version of the popular treats.
You will need only 30 minutes of baking at most, and your house will smell of cinnamon and warm rolls. And, here is a dirty little secret, they will taste better than those you can buy for a few dollars at the IKEA Exit Café.
Ingredients list:
1 package of Trader Joe's plain pizza dough
3 tablespoons of melted butter
1/3 cup of granulated sugar
1 tablespoon of ground cinnamon
For the icing:
1 tablespoon of whipped cream cheese
1 tablespoon of buttermilk
¾ cup of confectioner's sugar, sifted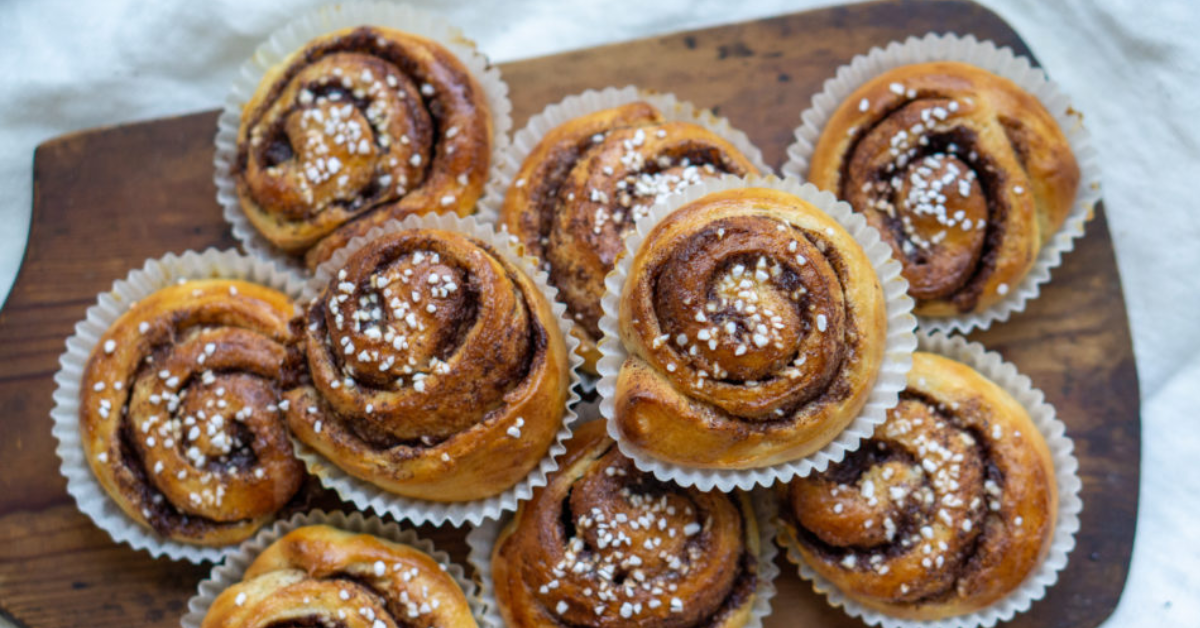 How to make it?
When it comes to baking, we always start with preparing the oven. So, preheat the oven to 375 degrees. Then, combine cinnamon and sugar. Get a lightly floured surface, and roll pizza dough into a 9-inch square. Then, brush with melted butter and sprinkle with cinnamon sugar. When doing this, leave ½ inch border of plain dough around the edges
It is time to prepare the dough. Roll it to form a tight log, and pinch it to seal the seam shut. With the seam side down, cut the dough evenly into six pieces using a serrated knife. Place in buttered pan, and brush tops with the remaining butter
Bake the cinnamon rolls until they receive golden brown color. Usually, this takes between 20 and 25 minutes. Before you put the icing, cool the rolls for a few minutes
Now for the icing, whisk cream cheese and buttermilk in a large bowl. Whisk until you get a thick and smooth mixture. Sift in confectioner's sugar, and whisk until you get a smooth glaze. Usually, it will take you about 30 seconds
Drizzle glaze over buns using a spoon. If you want to get fancy, for example, when you have guests coming over, fill a plastic Ziploc bag with the glaze, cut off the tip of one corner, and drizzle in a professional-looking zigzag. Always serve the rolls warm