Knowing how to store carrots helps you have them always fresh. Before telling you all about how to store them, here are some beneficial facts about carrots.
Nutritious Facts and Health Benefits of Carrots
Carrots are root vegetables more known to be the perfect health food.
Carrots are full of vitamins, minerals and fibres that are good for your health. The fibre in carrots can help keep blood sugar levels under control. They're loaded with vitamin A and beta-carotene, which there are resources that suggest that carrots can lower your diabetes risk. They can strengthen your bones too. Carrots have calcium and vitamin K, both of which are important for bone health.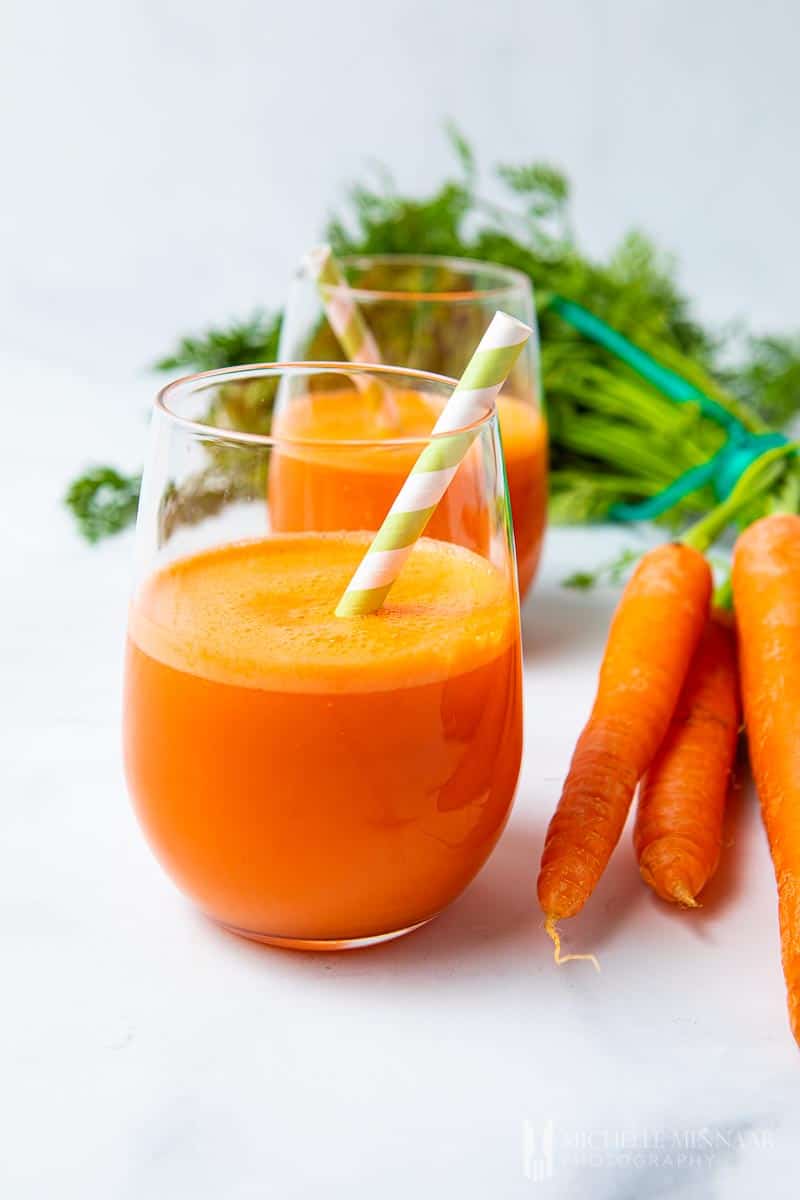 You can enjoy them raw or cooked. However, if you cooked them cut, it can reduce their health nutrients by 25%. Baby carrots are perfect for a snack. Enjoy them as crudites with dips, hummus, in salads, boil them as a side portion, or cook them in your favourite meals. There are tons of ways to eat carrots.
They're a weight-loss-friendly food and have been linked to lower cholesterol levels and improved eye health.
Carrots will boost your immune system. Eating carrots regularly creates a protective shield for your body from germs.
What's more interesting, their carotene antioxidants have been linked to a reduced risk of cancer.
One study found that a carotenoid-rich diet may protect your skin from ultraviolet (UV) damage and improve skin appearance. Carrot juice provides vitamin C and beta carotene, two antioxidants that may protect your skin from damage.
Carrots are found in many colours, including yellow, white, orange, red, and purple.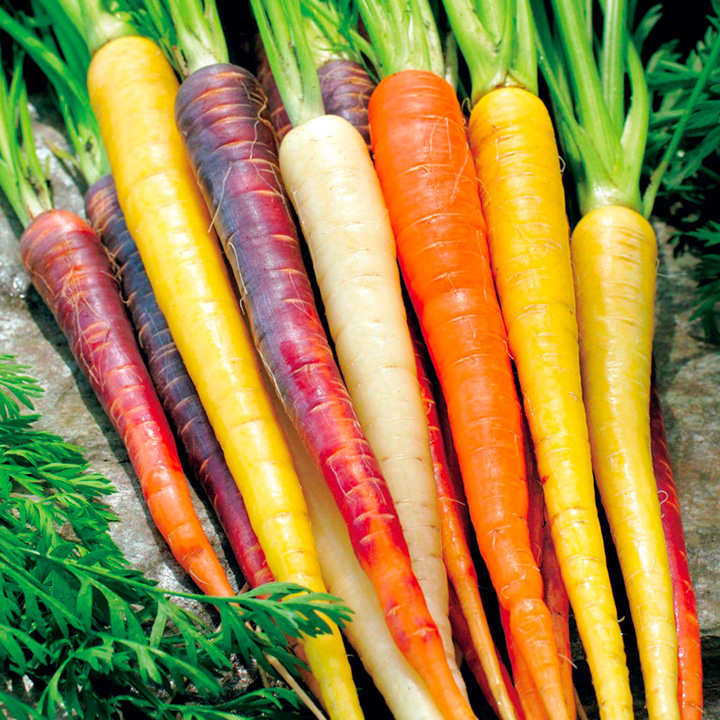 In addition to their sweet flavour and satisfying crunch, and have ready to enjoy carrots, it is crucial to know how to store them properly.
Do you have a way to store your carrots and keep them as moist as possible? Do you keep them in the fridge? How do you prevent them from becoming wilt?
Prevent Carrots From Getting Soft So They Don't Lose Nutrition
Carrots are known for their crisp, crunchy texture when eaten raw, but these root vegetables can get soggy and limp and even wilt you don't store them correctly.
First, if you are buying carrots with their green leafy top, make sure you cut them off when you get back home. That green leafy part of the carrots causes them to wilt prematurely as they pull moisture from the roots.
So don't be afraid of the wonky looking carrots, they are equally delicious and suitable for soups and stews. In fact, the dirt on root vegetables helps to retain their protective skin and ensures that they will keep for longer. Pre-cut carrots or mini carrots have a much shorter shelf-life than whole carrots that haven't been cleaned or cut.
Once you are done with your shopping, remove the carrots from plastic packaging to avoid the 'sweating' that leads to mould formation.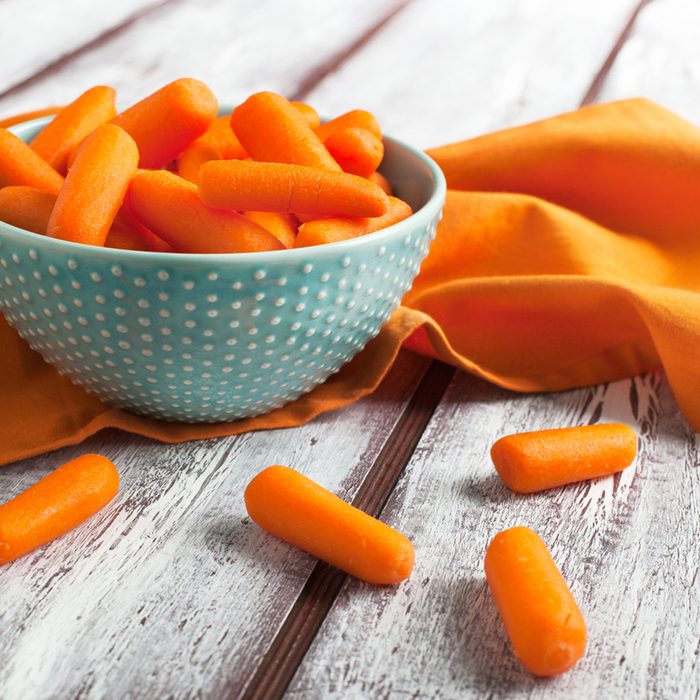 Carrots should be kept in a coldish place. This can be a dark colder room in your house or the loose in the vegetable drawer of your fridge. Important, do NOT wash the carrots before putting them into the fridge.
Wash just before using, since the added moisture in the bag could cause spoilage. Carrots begin to go limp once exposed to air.
5 Most Common Way to Store Carrots:
Carrots can keep in the refrigerator for up to two or three months if properly prepared for storage.
Some people recommend that you should line the vegetable drawer at the bottom of the fridge with a thick layer of absorbent kitchen paper. This will keep the carrots fresher for a much longer time. Be checking the paper once or twice a week, and change it when needed. Carrots give off a lot of moisture in the fridge and it's important to keep them dry.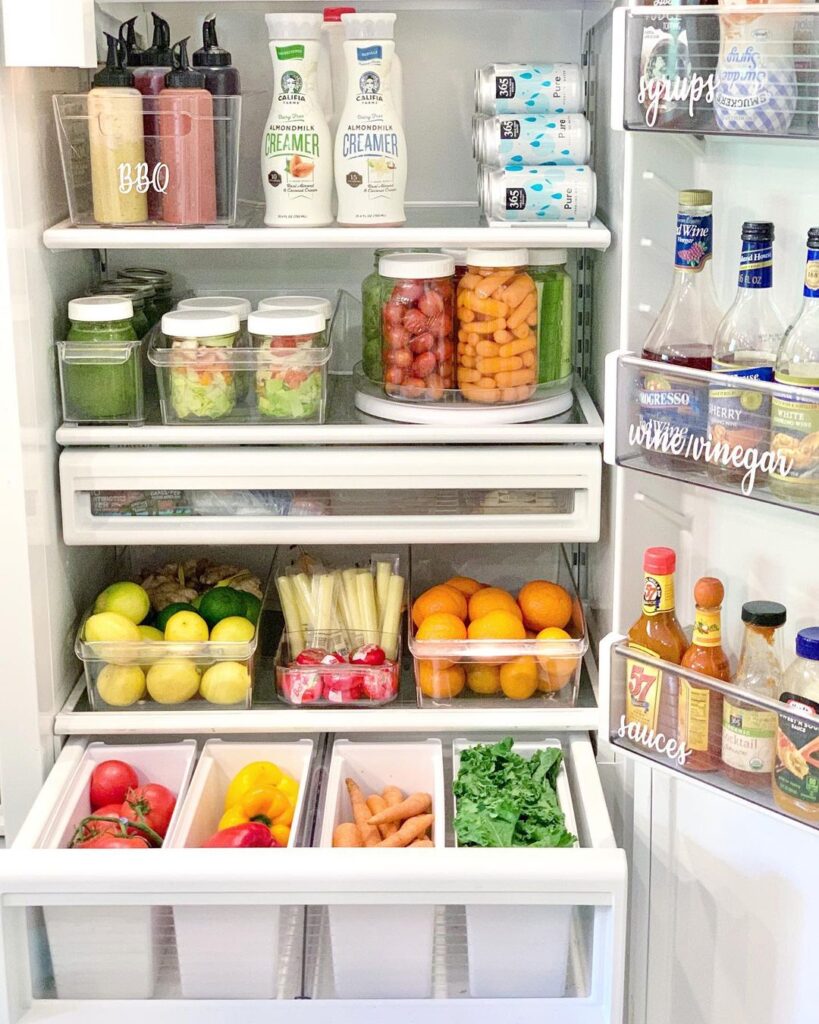 Another way to store fresh carrots is to put them in a large bowl so that there is at least 1-inch of headroom between the top of the carrots and the rim of the bowl. Fill the bowl with clean (ideally filtered) water. Cover the bowl with plastic wrap or its sealable lid and place it in the refrigerator. Change out the water once a day. Carrots will keep fresh and superbly crunchy for up to a week this way. This is not recommended for longer-term storage (no longer than 2/3 weeks), as the carrots can go slimy, have an unpleasant smell and lose flavour.
Carrots are root vegetables and contain 86-95% water. When the carrot is submerged in water, it absorbs it through osmosis.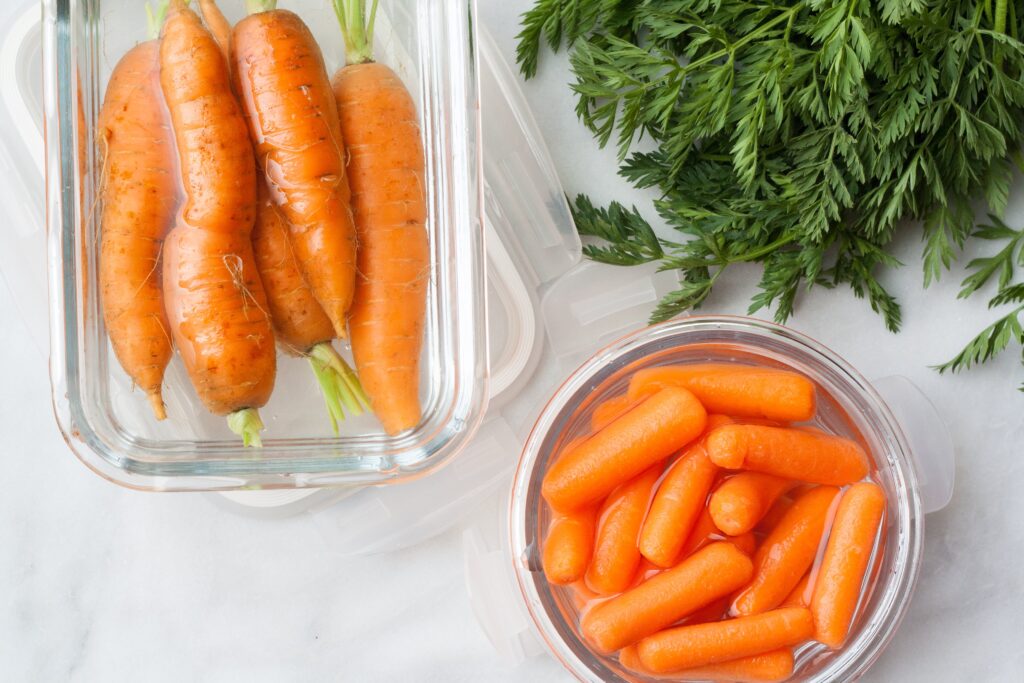 If you need carrots long term, you can also use the freezer. You just have to be sure to blanch your carrots first. Once you let them air-dry and cool off, throw them in a resealable or vacuum-sealed bag and toss them in the freezer until needed.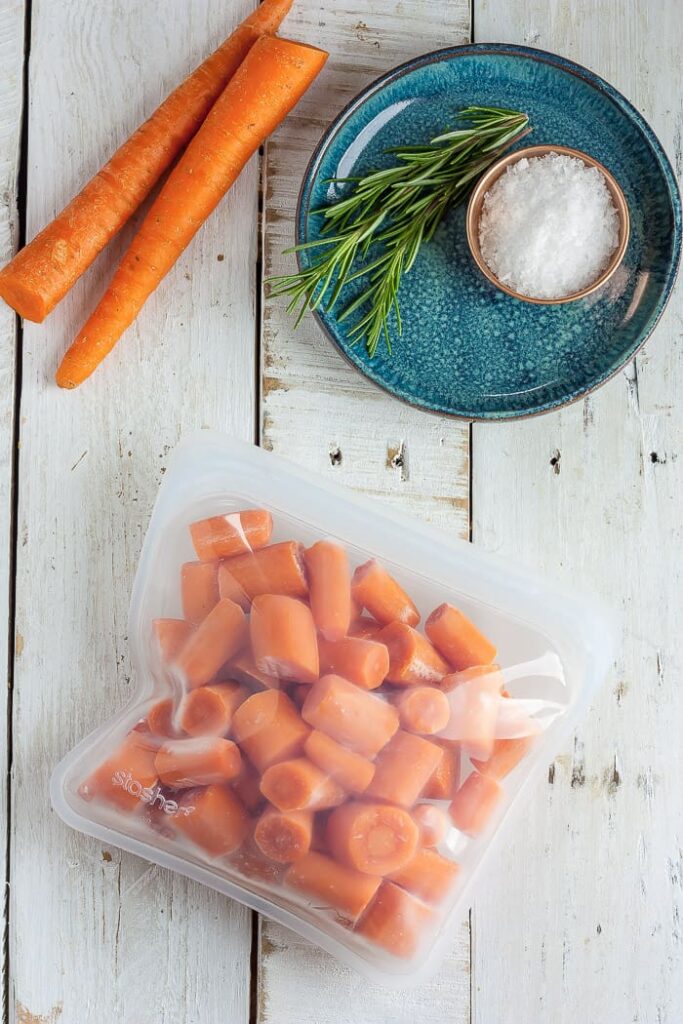 Store freshly cut carrots – Did you cut more than you should have while cooking? There is a solution! They can be kept in plastic bags in the refrigerator, but to prevent them from drying out, either wrap them in moist paper towels or store them in cold water. Loosely cover the water to ensure no debris gets into the water, but don't use an airtight container. They will last for about 2 to 3 weeks.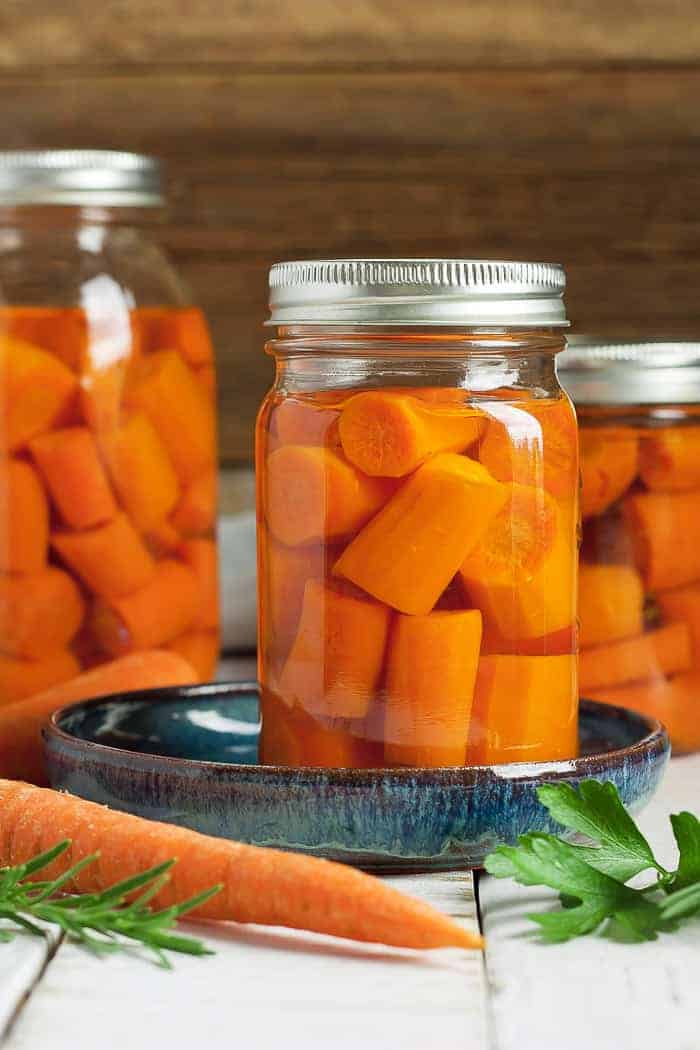 Canning is another way to store carrots. It is rather an easy way to preserve and prepare them for quick weeknight meals at the same time.
The first step to canning carrots is peeling and slicing. This is optional, and you can just stuff whole carrots into mason jars. However, it is recommended as the peels can turn a bit stringy in the canner.
There are two ways to can carrots – raw pack and hot pack.
Raw pack – means you just place the raw carrots into the canning jars. Cover with boiling water and then load them into your pressure canner.
Hot pack – often results in higher quality canned goods because it helps remove some of the natural air pockets in the process before canning.
The choice is yours!
Sometimes though, despite your best efforts, your carrots will wilt. If that happens, don't worry. You can always use them for lots of delicious recipes like carrot cakes, pickled carrots, soups etc.
Here are some more helpful links – try these gourmet carrot recipes:
Pickled Carrots – www.tasteofhome.com
Carrot Cake – www.livewellbakeoften.com
Carrot Cookies – www.delish.com
Fall & Holidays Carrot Pie – www.craftycookingmama.com
Carrot Soup – cookieandkate.com
Roasted Carrot Dip – www.crowdedkitchen.com