There's nothing better than sitting down to a good movie, turning on your favourite TV show, or watching the big game with your friends and family in the comfort of your own home. As a homeowner, you want to ensure that you create a space in your home where you can truly switch off, relax and be entertained. 
While, in the past, having an entertainment room was something that was often reserved for those with a little more disposable income, this is no longer the case. As technology has evolved over the last number of years, it has also become much more accessible and affordable, allowing any homeowner to create their perfect home entertainment room.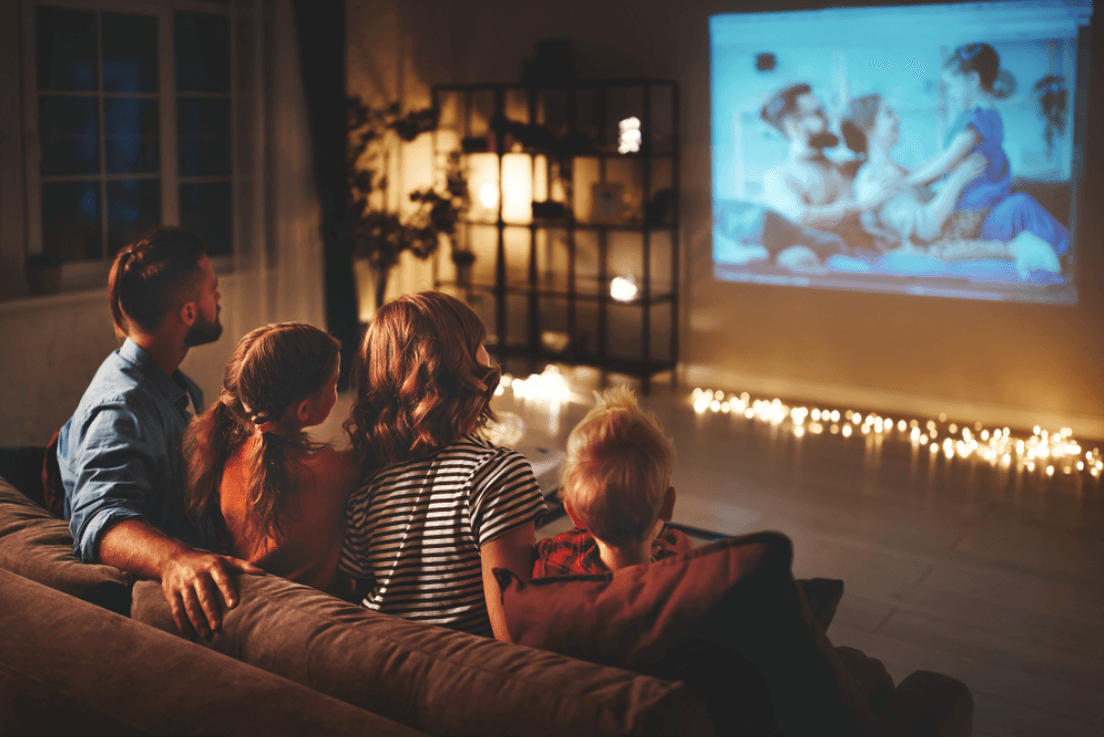 When you begin the process of designing a home entertainment room, however, it's easy to become overwhelmed with all of the options that are available to you. From choosing a screen to navigating the different soundbars on option, selecting the right furniture, fine-tuning the perfect lighting set-up, and all the other bits and pieces that you'll need to consider, there is certainly a lot to think about. 
To ensure that you create an entertainment room that you can truly enjoy, it's important to take some time to consider how you will be using the space, set yourself a budget, and look for ideas and inspiration online, in showrooms and in interior design magazines. With a solid plan in place from the start, you can be sure that you will have every chance of creating a home entertainment room that you will love. 
Let's take a look at just a few things that you need to focus on to ensure you create the perfect entertainment room for you and your family's leisure needs. 
Choosing The Right Screen 
Having the right screen is crucial in any entertainment room. In most situations, you will need to choose between a projector and a screen combination or alternatively, you can opt for a larger Sony TV. While projectors can offer a great picture and are generally the more budget solution, they are much more susceptible to interference from other light sources. 
When it comes to choosing a TV, there are countless options available depending on your budget. Some things to keep in mind are to look for a model that can be wall-mounted. We recommend ensuring that it has at least 4K resolution, alongside choosing a size that is suitable for your space.
Selecting The Right Sound System 
Once you have decided on your display, the next thing you will need to consider is of course, your sound system. Adding a compact soundbar can make a huge difference to your listening experience. Soundbars also don't take up nearly as much space as a full surround sound system and are significantly easier to install. 
On the other hand, if you want that all-immersive wrap-around sound, a multi-speaker system might be the best choice for you. A 5.1 setup is the most common choice which features five speakers and one subwoofer. However, you can also opt for more compact setups such as a 2.1 or a much larger surround sound solution such as a whopping 9.1 surround sound system.
Finalizing Your Furniture Choices
With your screen and sound all set up, it's time to turn your attention to comfort. In many cases, using your existing living room furniture can be a great option. If you have a larger budget, or perhaps if you are creating a dedicated gaming or movie room, you may choose more specialist furniture. 
There are a variety of gaming chairs on the market nowadays and you can also choose home theatre style furniture that can make you feel like you're at your own private cinema. If you will be having lots of family movie nights with the kids and maybe some of their friends from time to time, beanbags can be a great addition, as they will ensure that there is plenty of seating for everyone. 
You can also add an entertainment unit, which'll ensure that all the tech and hardware your family uses for enjoyment are properly organized and safe. No tangled and unsightly wires and cables that could put a damper on your viewing or listening experience. Whether you choose one that's elegant or minimal, it is a piece of furniture that will elevate the look of any room.
Personalize Your Space
This is your very own entertainment room so make sure that you put your personal stamp on it. Paint your entertainment room a colour that you like and look for inspiration to help you design a space that best reflects your personality. Decor like posters of your favourite films or video games always look great or you can add bobbleheads, figurines, and other memorabilia that you have to make the space your own. You could even go the extra mile! Purchase costumes of your favorite characters and put them up as wall decor. You could also dress up mannequins in these costumes and set them up in the character's iconic pose. Finally, additions such as a mini-fridge or a popcorn maker will ensure that you always have plenty of snacks and beverages at hand when you're enjoying your new entertainment room moving forward.
Create The Perfect Entertainment Space For You And Your Family
Having your own entertainment room at home allows you to have a space where you can hang out with friends and family and spend quality time together.
It can get heavy on your bank account, but you always have the option to customize and DIY some things for your home entertainment room. From repainting old console tables to replacing hardware like table legs with more contemporary ones, the possibilities to save money on such projects are endless.
Following the tips outlined above, you can ensure that you create a home entertainment room that will be suited to your needs and that you can enjoy for many years to come.