With a population of 5.64 million, Singapore continuously ranks high as one of the most popular destinations for an ex-pat, with 2.52 million of Lion City's population made entirely of immigrants. Due to the city's high quality of life, pro-business attitude, attractive investment opportunities, highly qualified workforce, and much more, it's not challenging to see Singapore's appeal to ex-pats.
For those set on moving to Lion City, finding accommodation should be number one on your priorities list. Because of its sheer size, Singapore is split up into several districts, and within these, you can find some of the best (and worse) areas to live in.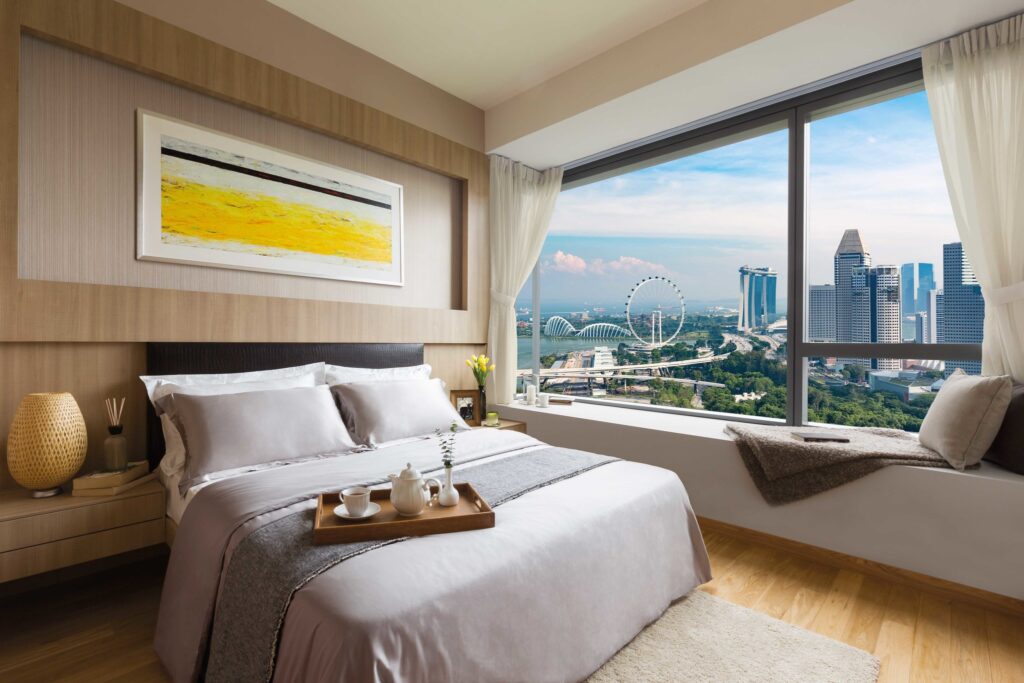 Although various factors will influence where you decide to settle, like how much you're willing to spend, which amenities are close, school catchment areas, how close it is to the town centre etc. Some districts are known for being better than others influencing factors aside. To aid you in your house-hunting, we list some of the best areas to settle in below: 
Tiong Bahru (District 3)
Of course, we had to mention Tiong Bahru on this list. Being one of the oldest housing estates in Singapore, it has a charm that appeals to all who visit; with its low-level housing and interlocking design, it's a good choice for ex-pats who love the idea of a close community and don't fancy living in an apartment complex. 
Tiong Bahru interweaves heritage with the modern world. As well as housing some of the most unique accommodations in Lion City, it is also populated with many cafes, restaurants, and little shops, which are excellent for escaping the hustle and bustle of Singapore's city centre. 
Due to the housing estates' age, those who seek housing here are best off speaking to knowledgeable professionals like the team at PropertyGuru, who offer tailored, expert advice about Singapore's property market. So, if you're looking for the best home loan in Singapore, consider speaking to a team member today and see how they could help you find the perfect settlement area. 
East Coast (Districts 15 and 16)
Are you the type of person who prefers peace and quiet over the hustle and bustle of a city centre? If this is the case, even in a concrete jungle like Lion City, various districts offer some respite from the noise and fast-paced action of busier areas like Bedok, Tampines, Hougang, and many more. 
The East Coast, situated in districts fifteen and sixteen, is the perfect example of this, with a bit of selection of stunning apartments boasting sea-front or riverside views and a whole host of restaurants and little shops for residents to explore at their leisure. 
When you're not spending your days relaxing at home, the East Coast offers its residents a variety of activities to precipitate in from rollerblading, windsurfing, canoeing, and much more, making it an ideal housing estate for families to settle down in. 
Plus, if you intend to move out to Lion City with small children, the East Coast is only a short distance away from some of the most popular international schools in the area. And there is lots of open space for your little one to enjoy, ultimately giving you and your family more room for your money. 
Sentosa (District 4)
Having earned the moniker' resorts island', Sentosa is another one of the best locations in Singapore, especially for homeowners with young children due to its amenities. More notably, Sentosa is home to the Universal Studios theme park, which attracts around 1.2 million visitors yearly, giving it its nickname. 
Sentosa is a sensible area to settle down in if you desire high-end living but can't afford Marina Bay prices or want to be further away from the central city. The only downside to living in Sentosa is that homeowners will have to commute to and fro the mainland, but luckily for those without a car or who cannot drive, it is home to an excellent public transport system. 
Like Tiong Bahru, this district is the place to be if you want to feel the benefits of a close-knit community, with a collection of stunning studio apartments for those travelling solo or houses with waterfront views for those travelling as part of a family. Ultimately, an excellent choice for those that enjoy a lively area with plenty of things to see and do. 
Marina Bay (District 1)
Without mentioning Marina Bay, no list of the best areas to live in Singapore would be complete. Being one of the most affluent districts, housing in Marina Bay is very sought after by wealthy ex-pats since it boasts a modern design and plenty of green spaces to explore. 
More commonly recognised as the area which hosts the Formula One Singapore Grand Prix, Marina Bay isn't just home to stunning accommodation. Still, it's also close to amenities, has lots of open space for public and residential use, and is home to various special events like firework displays, art shows, and holiday events, making it perfect for homeowners who like to be surrounded by action.