For all the big Harry Potter fans, there are many indulgent sweet themed treats out there. Today we recommend you homemade Harry Potter cupcakes.
A cupcake is a small cake designed to serve one person, which may be baked in a small thin paper or aluminium cup. The first and foremost difference between cupcakes and cakes is the size. A cupcake, as the name speaks, is the size of a cup – small. The cake is a form of bread or bread-like food.
Some people confuse cupcakes with muffins. But they are two different things. Muffins may replace butter with a liquid form of fat, such as vegetable oil. The amount of butter and sugar is higher in cupcakes than in muffins. While the cupcakes are made by creaming the butter and sugar together to create a smooth, fluffy batter.
Also, cupcake batter is beaten significantly longer than muffin batter; this creates a uniformness of air bubbles throughout the cupcake. On the other side, muffin batter is beaten briefly and remains relatively lumpy.
Once baked in a cup-shaped mould, frosting and other cake decorations such as fruit and candy may be applied as toppings, in this instance Harry Potter cake decorations.
There are so many things you can create as Harry Potter cupcake toppers! You could do a Gryffindor scarf, the golden snitch, a lightning bolt, Harry Potter's wand, etc.
If you're new to the Harry Potter world, this may be your first time hearing about butterbeer. Butterbeer is a famous wizarding beverage that's a favourite treat of Harry and his friends at Hogwarts. In the Harry Potter books, it's served in Hogsmeade at the Three Broomsticks Inn and at the Hog's Head Inn.
It tastes like a butterscotch cream soda with a creamy foam topping. YUM! It's such a sweet and tasty beverage and the best part is that it's inspired lots of other decadent recipes, including these Butterbeer Cupcakes.
These delicious cupcakes are the perfect treat for your next Harry Potter movie night or party!
Easy Harry Potter Cupcakes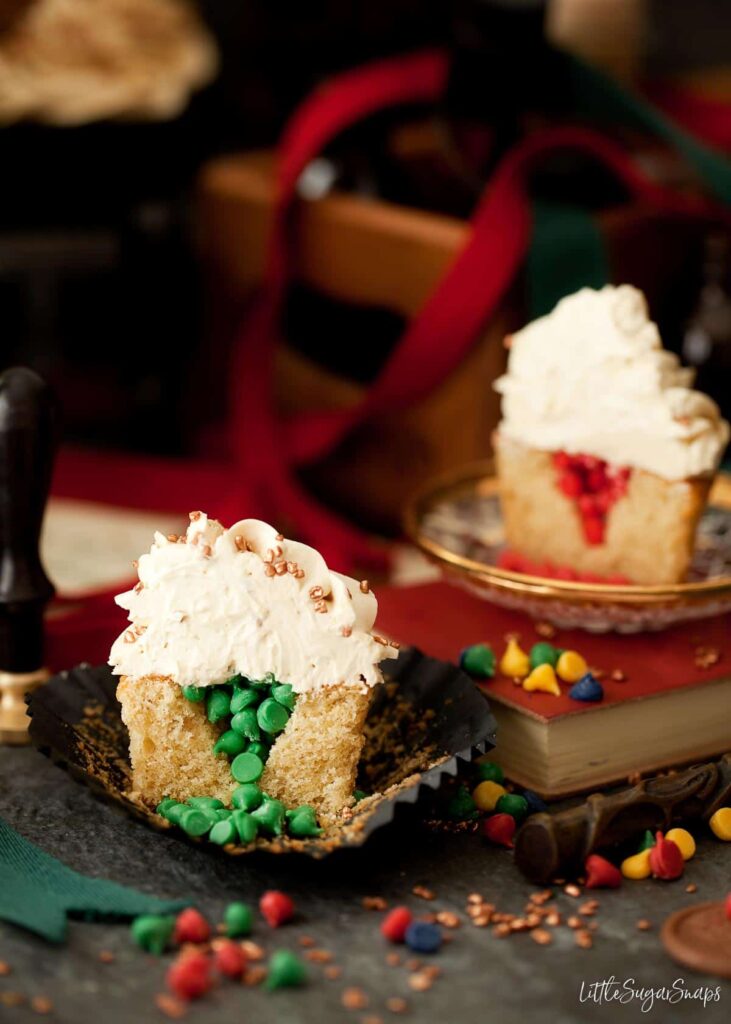 Recipe via littlesugarsnaps.com
These Harry Potter cupcakes are immense fun for Hogwarts fans. Each butterbeer cupcake is filled with a stash of red, green, blue or yellow candy drops, (representing each of the 4 Hogwarts houses) which remains hidden under a swirl of butterbeer flavoured buttercream until bitten into. How cool! They are especially fun for all children in the family or for fans to find out about their house. You can play guessing games while enjoying them and the winner gets one extra!
Harry Potter Sorting Hat Cupcakes
Recipe via goodhousekeeping.com
These are the perfect treat for Halloween. When you bite into these gooey chocolate cupcakes, that are topped with the Harry Potter sorting hat, your schoolhouse is revealed. Find out whether you're a Gryffindor, Slytherin, Ravenclaw or Hufflepuff! A similar principle to the cupcakes we mentioned above, just instead of the candy drop, these are filled with buttercream icing. Go the extra mile by making hats. Kids and adults will love them too.
Easy Candy Filled Harry Potter Sorting Hat Cupcakes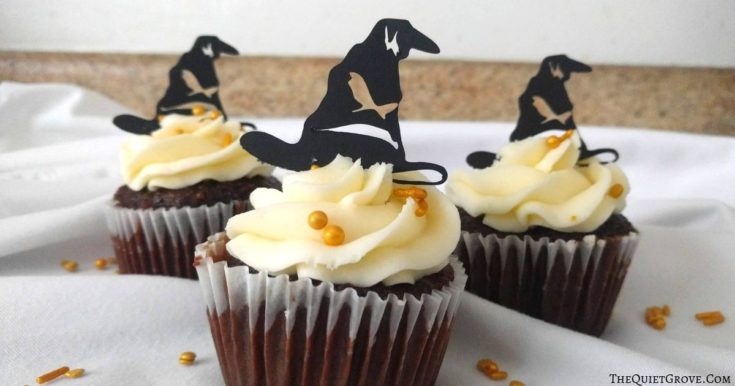 Recipe via thequietgrove.com
The cupcakes are your basic Chocolate cupcakes with the centre cut out and filled with M&Ms then topped with a rich buttercream frosting that is sprinkled with gold sprinkles and a fun little Sorting Hat cut from black cardstock (using a Cricut machine). If you want to shorten the hustle of baking the cupcakes, buy your favourite ones from the supermarket and focus on decorating. You will save plenty of time. However, we always recommend home-baked cupcakes.
Harry Potter Cupcakes Gryffindor Scarf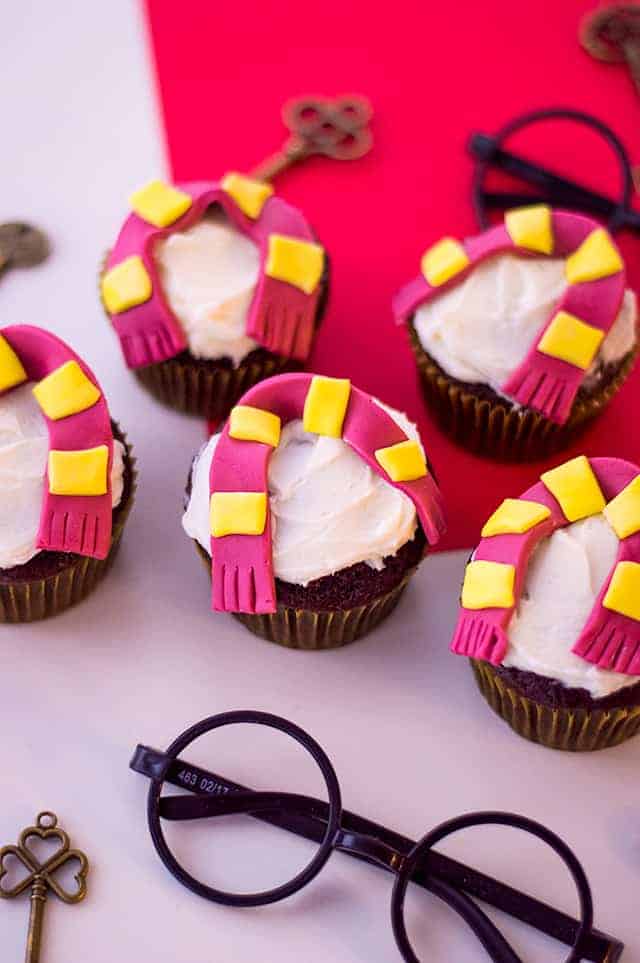 Recipe via cookiedoughandovenmitt.com
These easy Harry Potter cupcakes sport a fondant Gryffindor scarf as cupcake toppers. The cupcake is made from a chocolate cake mix and topped with homemade vanilla frosting. The scarves are made from white fondant. Divide it into two and add in one piece burgundy gel food colouring and the other yellow gel food colouring. Dust your work surface with cornstarch before rolling out the coloured fondant. And of course, shape them into scarves. You'll need to cut some tassels on the end of each fondant to resemble a scarf.
Harry Potter Chocolate Pumpkin Cupcakes With Butterbeer Frosting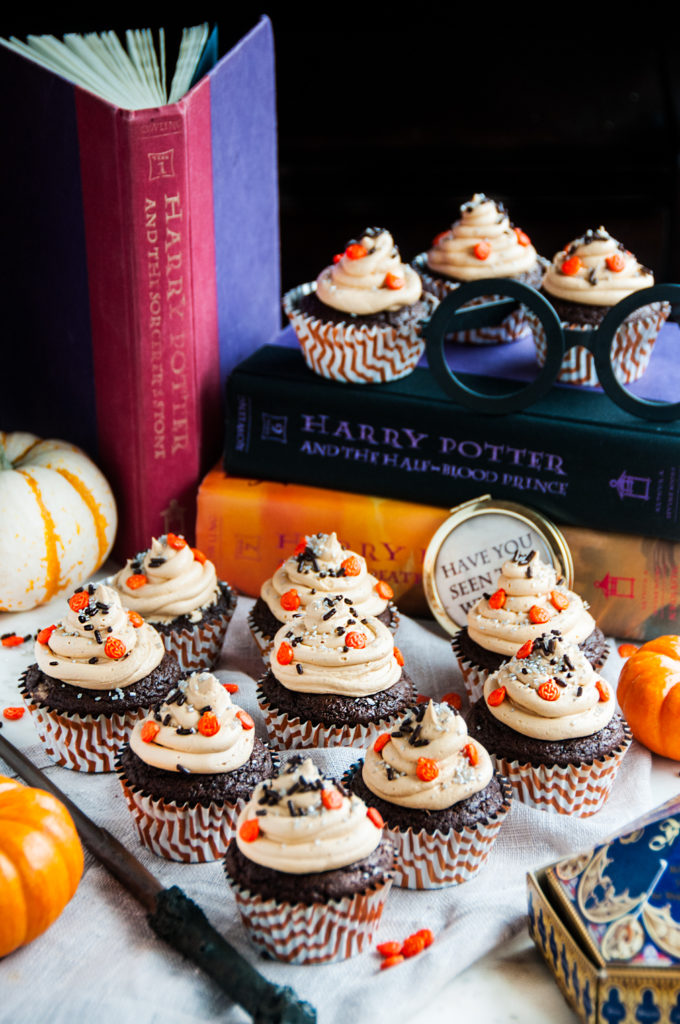 Recipe via aberdeenskitchen.com
Whether you're into Harry Potter or not, you're going to love these! Get ready for some Harry Potter Chocolate Pumpkin Cupcakes with Butterbeer Frosting! Harry Potter paraphernalia is definitely part of many people's Halloween decor. These cupcakes are so dense, moist, and uber chocolatey, you can have your cake and want to eat another too. This recipe uses sprinkles as decor; pumpkin as it is for Halloween.
Sorting Hat Cupcakes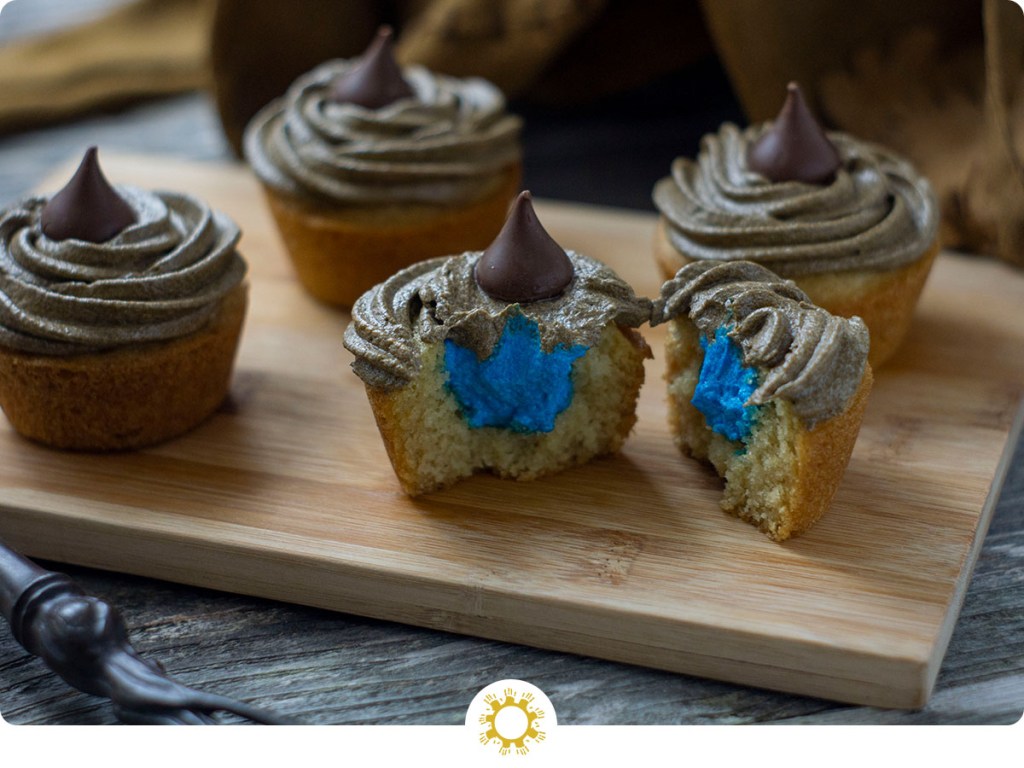 Recipe via sonshinekitchen.com
If you've ever wondered which Hogwarts House you would be sorted into, then wonder no more with these delicious and fun Sorting Hat Cupcakes. In this recipe, you will find out how to make all four colours, plus the brown frosting on top. Click and find out step by step how to make the cupcake itself and the Harry Potter decor.
Vegan Harry Potter Sorting Hat Cupcakes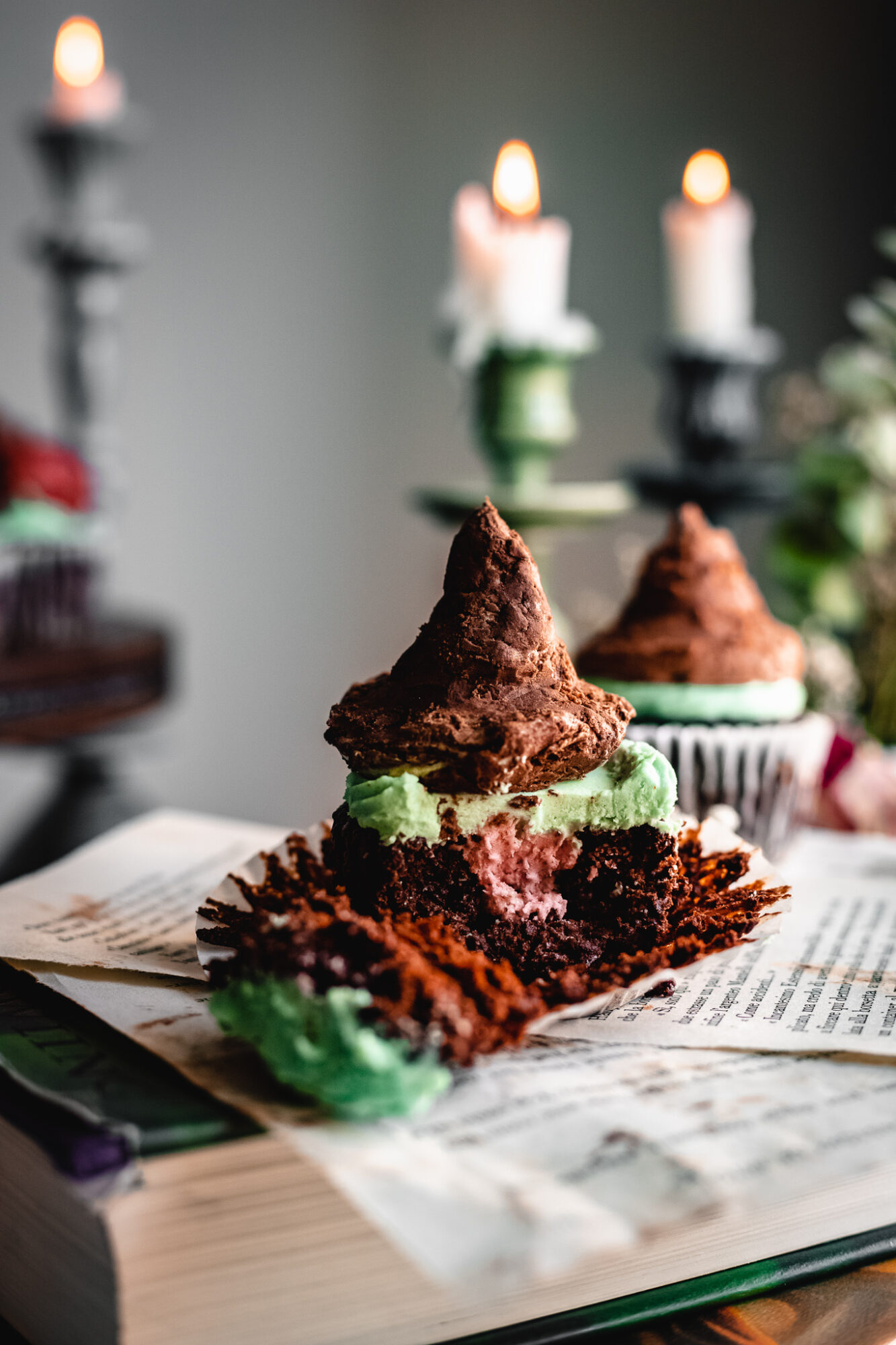 Recipe via thebananadiaries.com
Super fun and easy vegan Harry Potter sorting hat cupcakes that are perfect for any Halloween party and to satisfy all vegans! They are filled with each Hogwarts house colour. No doubt you'll have so much fun being sorted into your houses. These Harry Potter sorting hat cupcakes do not lie. Any witch or wizard, of any and all ages, will absolutely love finding out which Hogwarts house they've been chosen for. Waste no time and start preparing them. All vegans out there, this is heaven!
House Sorting Cupcakes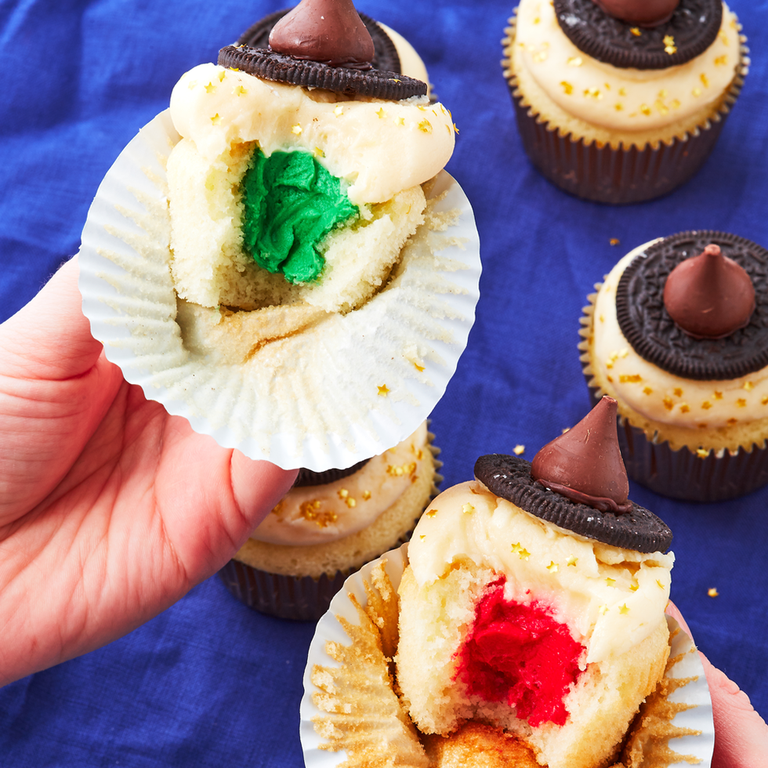 Recipe via delish.com
This recipe was created in anticipation of the worldwide Harry Potter Book Night. Made with a cream filling and vanilla buttercream, these fun treats are a delicious way to sort guests into Hogwarts Houses on the fly. To make the hats, use a butter knife, spread the chocolate onto the bottom of a Kiss and press into the centre of the Oreo cookie. How innovative! They're also a wonderful conversation starter at any Potter-themed event.