There are a number of public holidays that are already pretty food-oriented, like Thanksgiving, the 4th of July, Easter, and Christmas. But, in recent years, food-centric parties have increased, and they do provide you with a great opportunity to socialize too. Food always has a way of bringing people together, and as such, making your party more food-centric can be a great way to start a conversation and foster connections. Preparation is key; read on to learn more.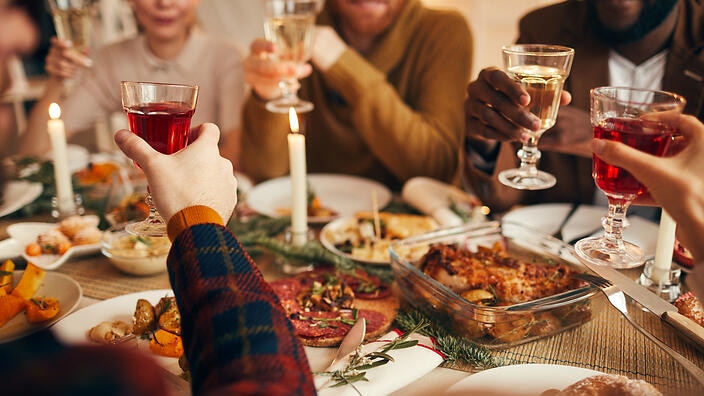 The Guestlist
Firstly, before you can start to put anything else together for your party, you need to think about the guest list. Who are you going to invite? For the most part, you are likely to know them pretty well, which means that you should have an idea of their likes and dislikes as well as any dietary requirements. This is likely to affect your theme and, obviously, the menu too. For example, if you plan to invite people with allergies, then it would be wise to steer clear of the allergens, or if you are inviting vegetarians or vegans, then you will need to consider this and cater to them too. 
When & Where
Once the guestlist is done and dusted, you can start to think about when and where you are going to throw the party. For the most part, the party is obviously going to happen in your home or your yard; if you choose to hire a venue, they tend to take care of the food for you. The size of your home is also obviously going to affect the number of guests that you can invite too, so be mindful of this. The date of the party is also important. It might lend itself to the choice of theme well. It could also affect the seasonal produce, which could change the menu.
Decide on the Theme
After working out some of the logistics like the when and where of the party as well as the guest list and taking onboard any of the necessary dietary considerations, you can start to think about the theme. There is a ton of different food themes out there for you to explore, and you can find inspo online, from Greenvelope's taco party ideas to checking out Etsy for luau ideas. You could even go for something easy like a BBQ if you want to throw the party during the warmer months or something like a fondue party in the winter. Remember to consider if the theme is going to be inclusive and accessible for all guests or not. 
Alongside choosing the theme, it is also worth considering which serving style it lends itself to. Arguably buffet style is the easiest. It also enjoys that you get to enjoy the party too because, for the most part, the buffet can be prepared in advance, minimizing the time that you have to spend in the kitchen. However, you might also want to consider a tray pass or even a sit-down, plated meal if it is in keeping with the theme and vibe of your party. Consider how formal the party is. If it's just a fun get-together between friends, then a buffet should be totally fine. 
Come Up with a Budget 
After having decided on your theme, you need to think about coming up with a budget. Obviously, some themes are going to be more expensive than others. The budget will need to cover all of the food and decorations. If you want to make things cheaper, you can always ask your guests to contribute a dish within the theme. You might also be able to save money by choosing dishes that can be made with fresh produce, which is often cheaper to purchase. It might also be worth ordering some things in bulk if possible or shopping at a market to get the best possible price.  
Ask for Help When You Need it
As mentioned above, you shouldn't feel awkward or embarrassed if you need to ask your guests to contribute something to the party in terms of food or beverages. Most people tend to bring something for the host anyway. If you are asking people to bring a dish, it would make sense to be organized and try to keep track of what they are bringing so that multiple guests don't end up bringing the same thing. However, if you have been ambitious in terms of your theme and menu, it might also be worth enlisting some help from your friends or family. You could ask them to come round early and help you to get the food ready before the party starts. 
Don't Forget the Entertainment
Obviously, any food-centric party is going to allow the food to be the star of the show. However, you obviously need to think about what else is going to happen at the party. The specific activities are likely to depend on the occasion and the time of year. In some instances, simply making a playlist and setting up the speaker is enough to facilitate the party and provide the background noise whilst everyone catches up. If the party is outdoors, then you could set up some lawn games. There are a lot of choices, admittedly. 
Develop an Itinerary
Planning any party can be stressful, and obviously, with a party that is so food oriented, this task becomes even bigger. In addition to thinking about the timings within the party and what other activities you want to do, it might make things easier for you to develop a timeline or itinerary of what you need to do to prepare. Think about when you will need to buy the ingredients and start prepping to food. It helps to ensure that you aren't going to get overwhelmed or forget anything.
If you're planning a party, consider adding a refreshing painkiller cocktail to your itinerary for a delightful and stress-free beverage option.
Prep In Advance 
Prepping in advance is one of the best ways to ensure that you get to have fun at the party too. There are a few prepping tips that could make things easier for you. Obviously, you want everyone to have a nice time, and God forbid anyone gets sick from the food. Cross-contamination is a very real risk. Try to keep separate chopping boards for raw meat, cooked meat and produce. Do not use the same utensils. 
Make sure that any food cooked in advance is reheated to the proper temperature to kill off bacteria and avoid food poisoning. You might want to get a food thermometer in order to check the internal temperatures of any of the meat or seafood that you plan to serve. A lot of foods will also require refrigeration; make sure that they aren't left out of the refrigerator for too long. Hygiene is also obviously incredibly important. You need to ensure that you are working in a clean environment from the offset. Tie any loose hair back, and it might also be worth wearing gloves too; otherwise, you will need to remove rings, bracelets and even earrings too. 
To Sum Up
The refreshments served at a party are always integral to the enjoyment of the guests, so why not lean into this and throw a party that centers around food? There are a lot of different dishes for you to choose from that would work to this end. Be sure to use the above guide to help you to plan your next sizzling soiree.