A kitchen island is a freestanding cabinet. It can match your existing kitchen design or compliment it. Sometimes, a kitchen islands comes with stools around it for extra seating. It can also include integral storage drawers or cabinets.
If you have a bigger kitchen, the kitchen island serves as the hub of the kitchen. This product adds precious counter space and storage capability.
Kitchen islands come in different sizes, shapes, and finishes. They are practical, but also attractive and decorative.
There are many advantages of having a kitchen island in your home. More storage, eating area, room for appliances, and room. All that is left is to choose the kitchen island for you. We have some ideas how to make a kitchen island easily.
1. Kitchen Island From Cabinet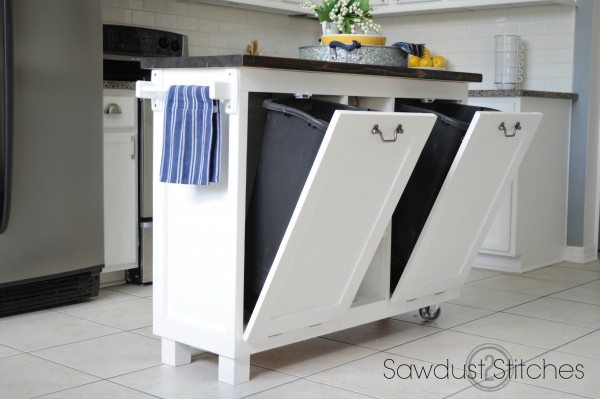 For most of our kitchen island projects, we will re-purpose an old furniture piece. We start off with a cabinet. The beauty of a cabinet is it offers a lot of storage space. It looks clean, neat, elegant, and it serves a purpose. What more can you ask for?
2. Kitchen Island From Desk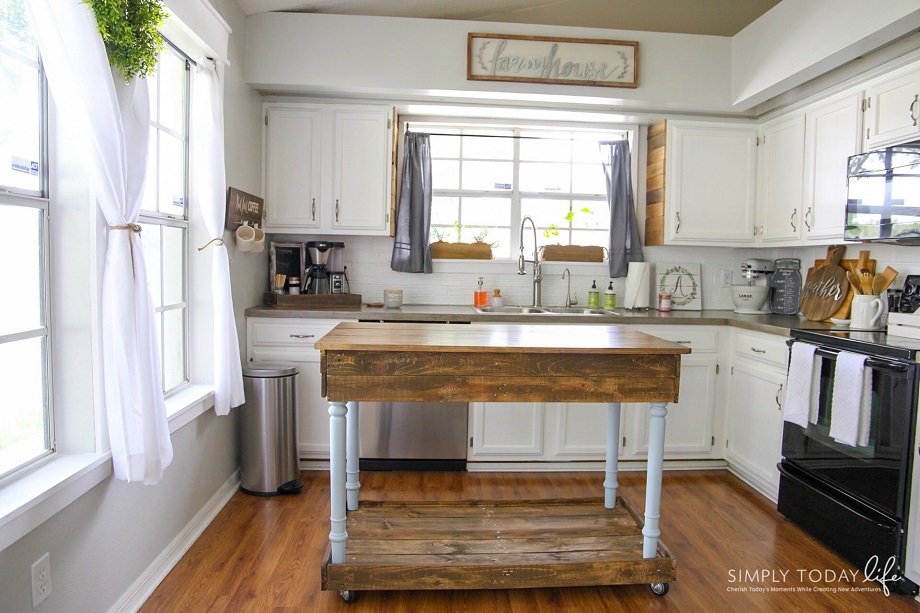 Speaking of repurposing items, we go with a desk now. This project looks much better if you want a clean look without drawers. You still get some storage space, but it looks cleaner and transparent. Plus, the wooden finish adds a rustic and glamorous feeling to the room.
3. Kitchen Island With Breakfast Bar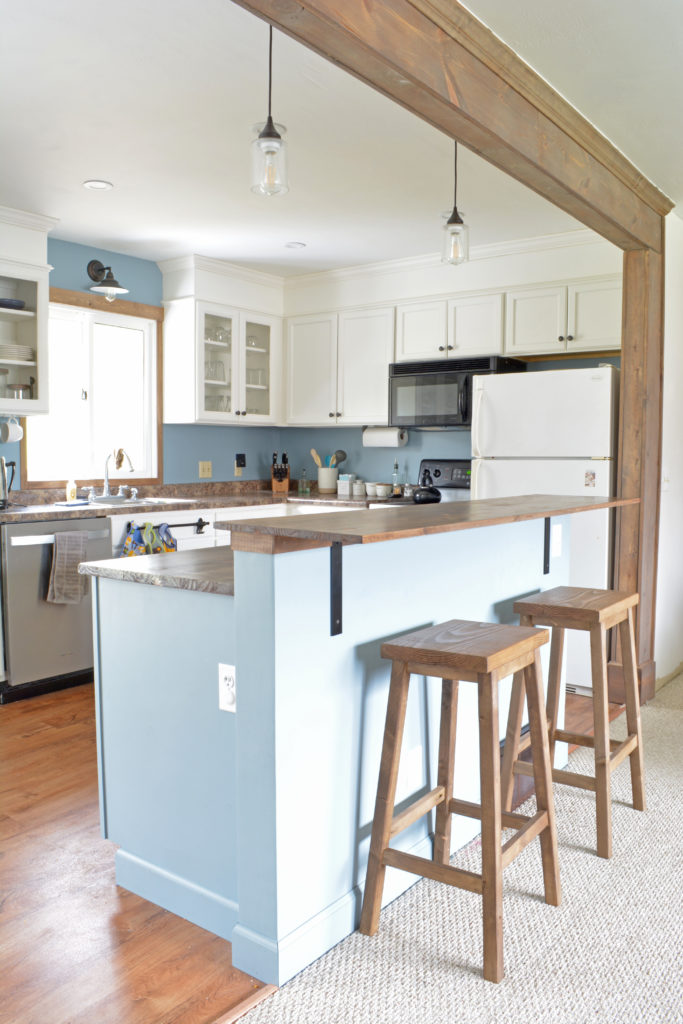 We said before that kitchen islands can serve different purposes. If you need a dining table, you can use the kitchen island for that as well. All you need is a bit of an extension and two bar stools. That is it. You prepare food and eat it at the same place. Neat, right?
4. Pallet Kitchen Island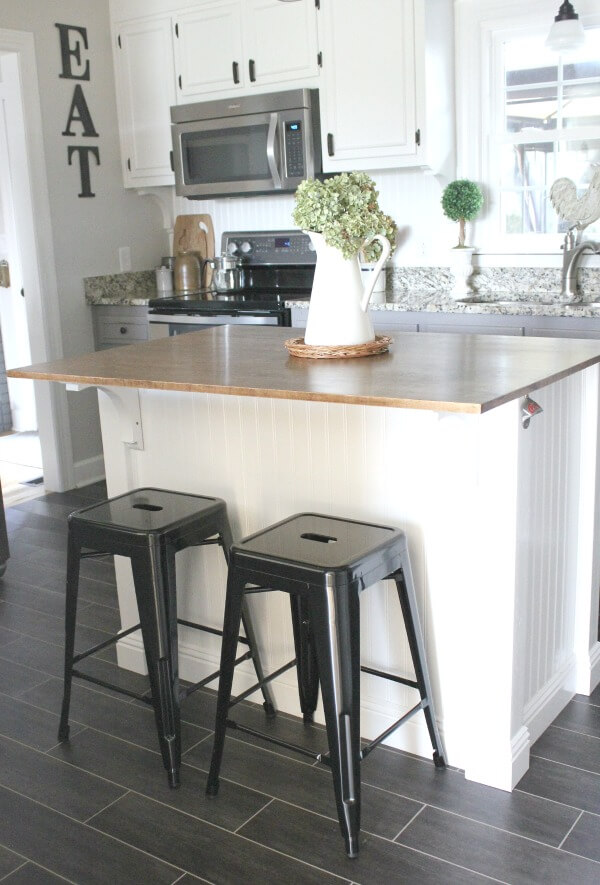 This might come as a surprise for you. But you can make this kitchen island from old pallets. Find some old pallets hanging around at a construction site. You might even get them for free. That is how cheap your kitchen island can be.
5. Brick Kitchen Island
If you have a bit more time to invest in your kitchen island, this is the project for you. Bricks look rustic, rugged, but elegant and glamorous at the time. You will need to build your kitchen island from scratch. But one by one, bricks come together. The end result is a warm feeling for your room.
6. Kitchen Island With Larger Countertop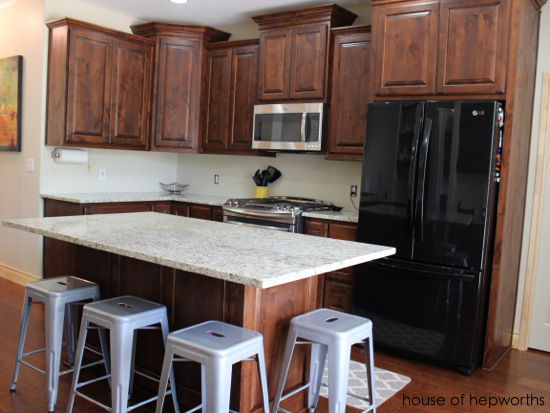 Many owners use the kitchen island as a countertop. It comes in handy when you lack countertop space for working. You can use a bigger length of the countertop if you like. This item definitely helps you fill any void you have in the kitchen. More countertop? Checked! More storage space? Checked as well.
Some setups, like quartz countertops, are better done via professional installation, though this can be a DIY project with the right hands.
7. Kitchen Island Cart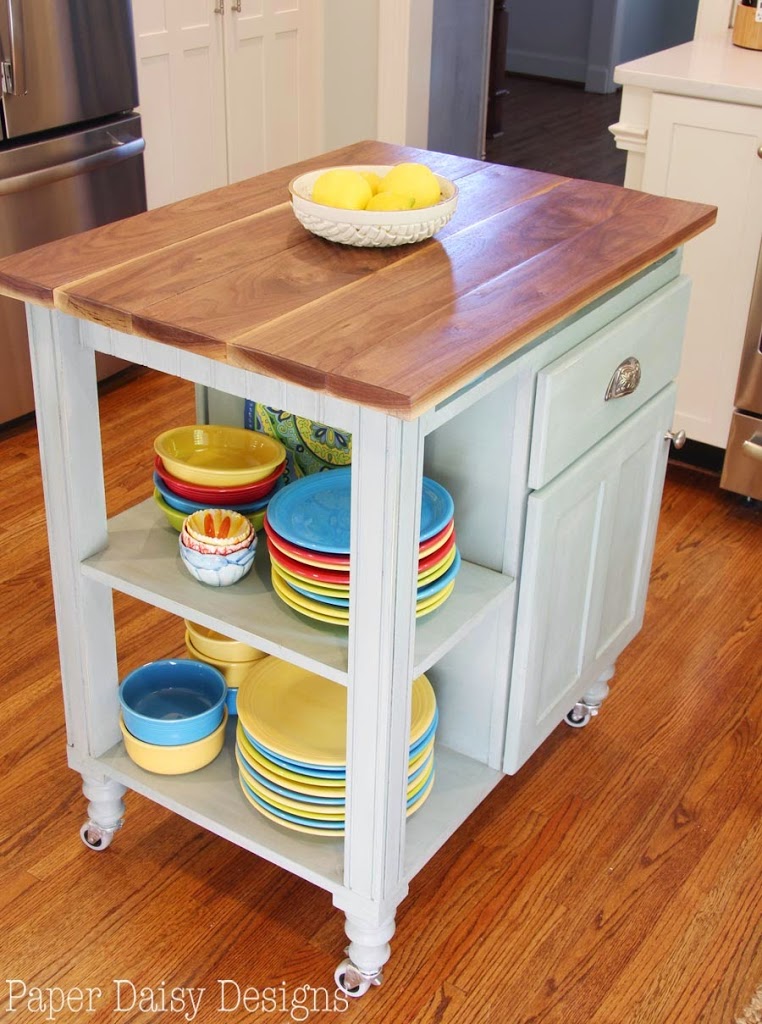 For those of you living in a small apartment, we know the struggle. The mobile kitchen island kart is one of the more popular furniture pieces for small spaces. It solves all your problems. You get storage for kitchen utensils, countertop space, and you can even use it as a table. Move it around depending on your needs.
8. Kitchen island With Pantry Storage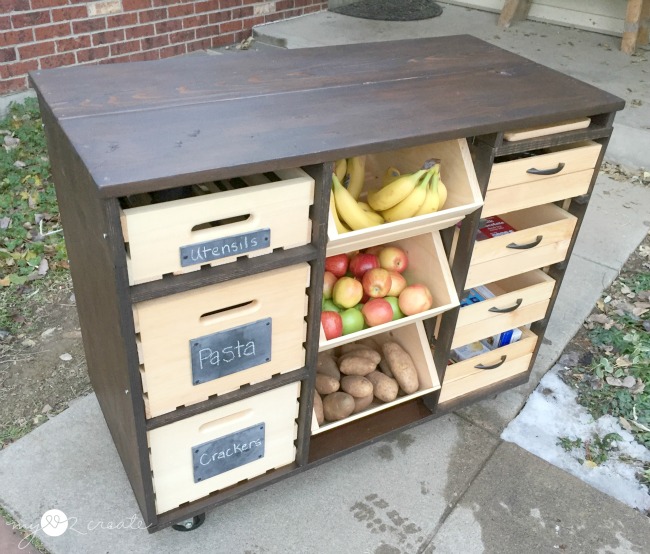 We love the organizing aspect of this kitchen island. This way, you keep everything clean, organized, and neat in your kitchen. And you can fin the products for the island on a flea market. You need some boxes, and a furniture piece to serve as the base for the island.
9. Stock Cabinet Kitchen Island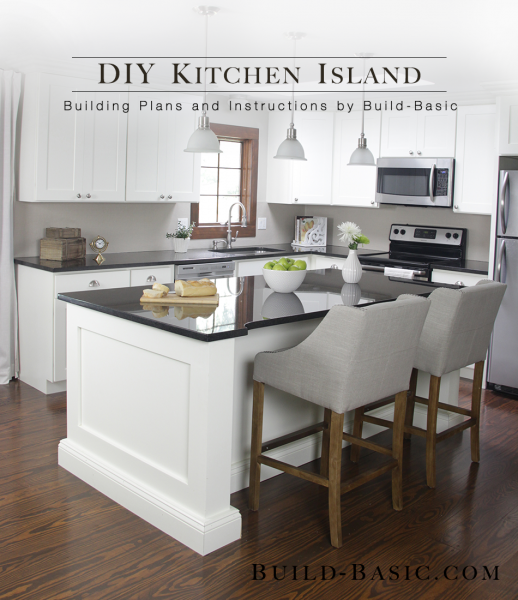 Here we have a contemporary and modern kitchen island. The black and shiny countertop is the shining star of this furniture piece.
10. Double Shelf Kitchen Island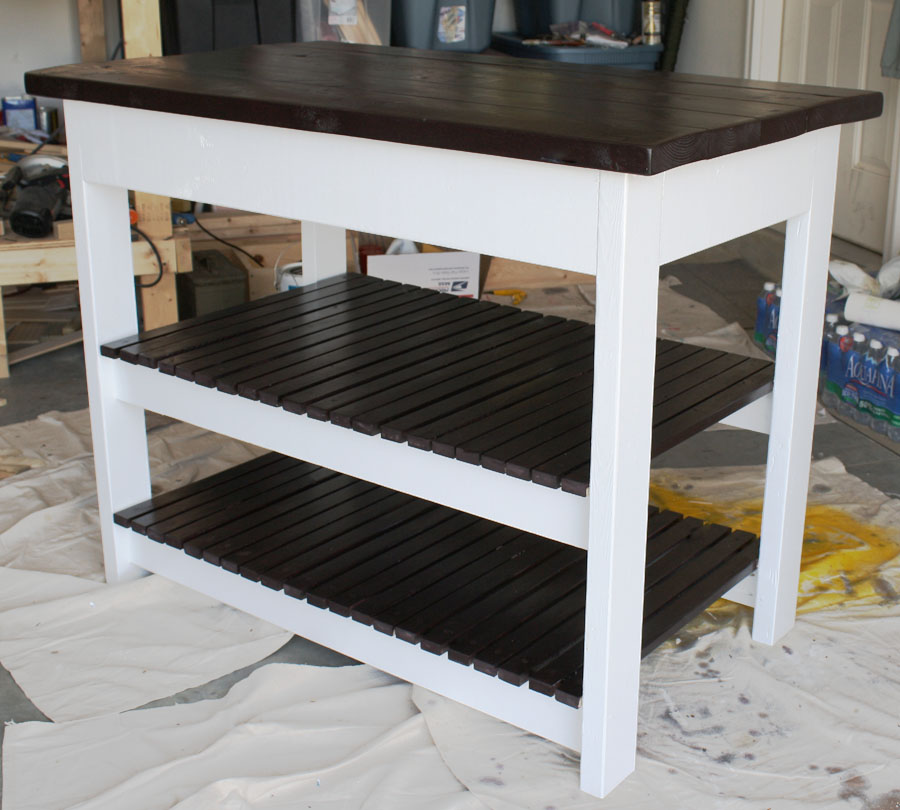 Basic, yet functional. That is the thing most people search for. And we have a project that checks all the boxes. You get storage space thanks to the two shelves. And it still looks fitting in any kitchen.
11. Cabinet Box Kitchen Island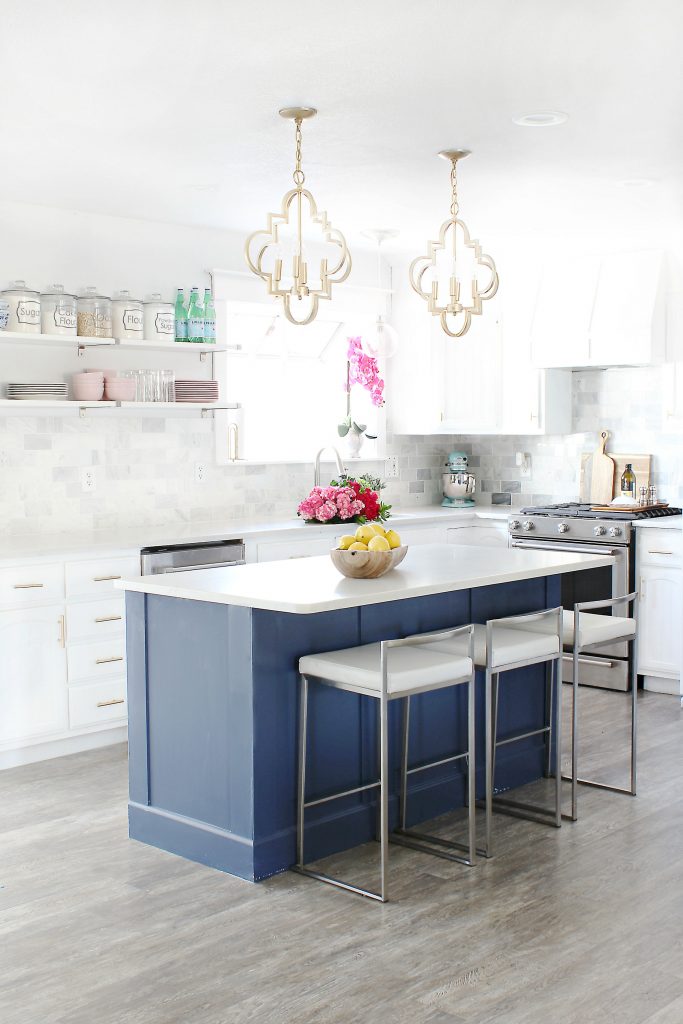 We had a cabinet box before. And here you can see how you can use the cabinet in different ways. It is all about your imagination. Before, we used a cabinet kitchen island to add space for breakfast and dinner. No such extension here. Yes, you can still dine, but it is more about using the countertop. And who doesn't love the enormous storage space you get?
12. Drop Leaf Kitchen Island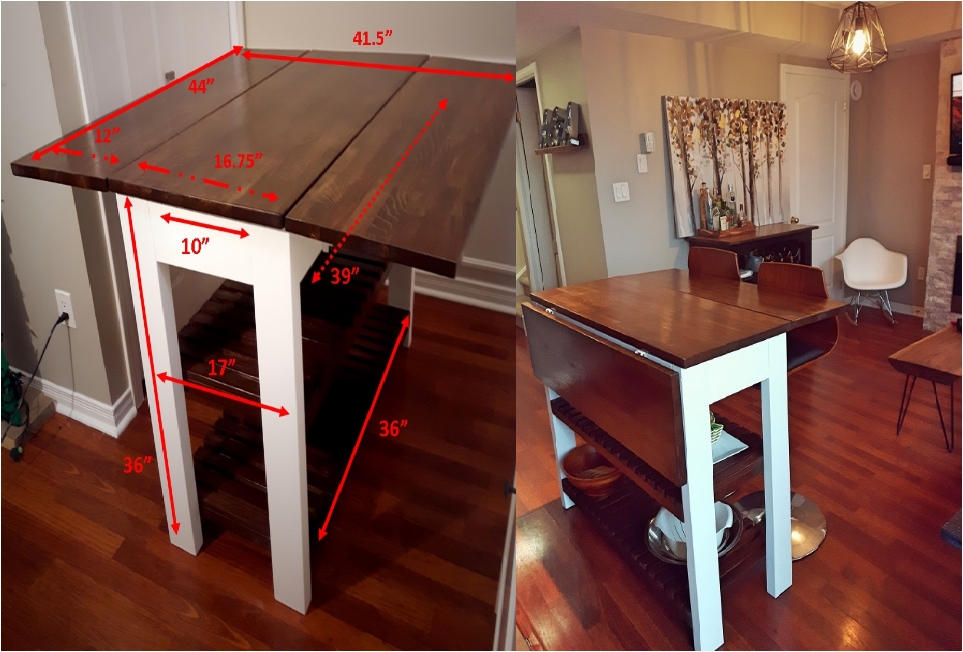 Many people live in small apartments nowadays. Hello New York, right? Well, there is no reason to sacrifice functionality when you live in a small space. This kitchen island will fit right into any space.
13. Kitchen Island With Winerack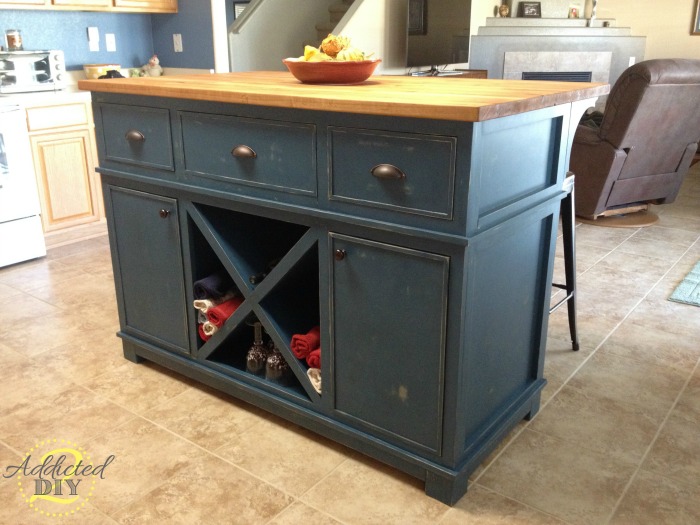 The trend in kitchen islands, or any other kitchen furniture is to feature a winerack. Well, it is fitting. Who doesn't love a nice glass of wine after a hard day of work? Plus, wine and dine, right? Wine goes perfectly with food. So keep it close!
14. Upper Cabinet Kitchen Island For Small Kitchen or RV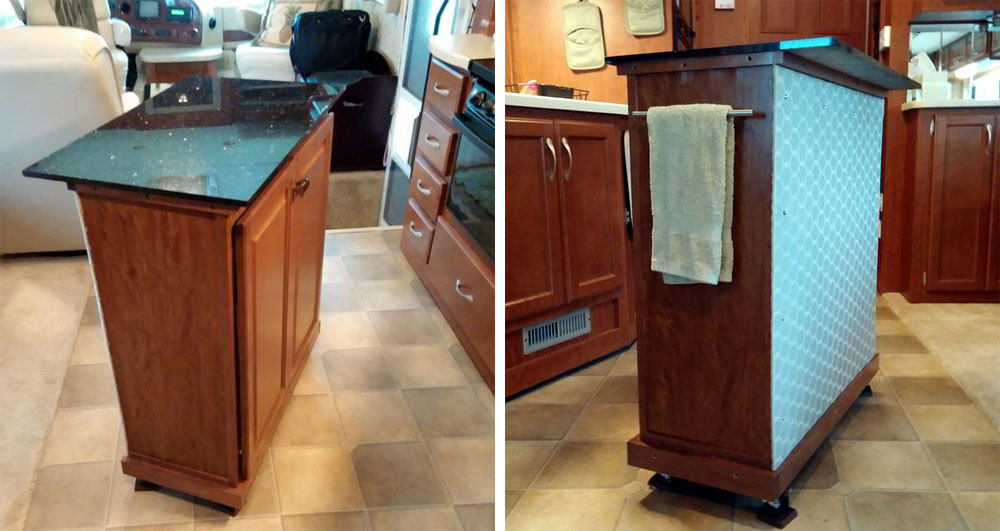 We talked before how some people need something fitting for a small apartment. Well, here is another cabinet that will fit into a small New York-style apartment. And it comes with lots of storage space.
15. Kitchen Island From Scratch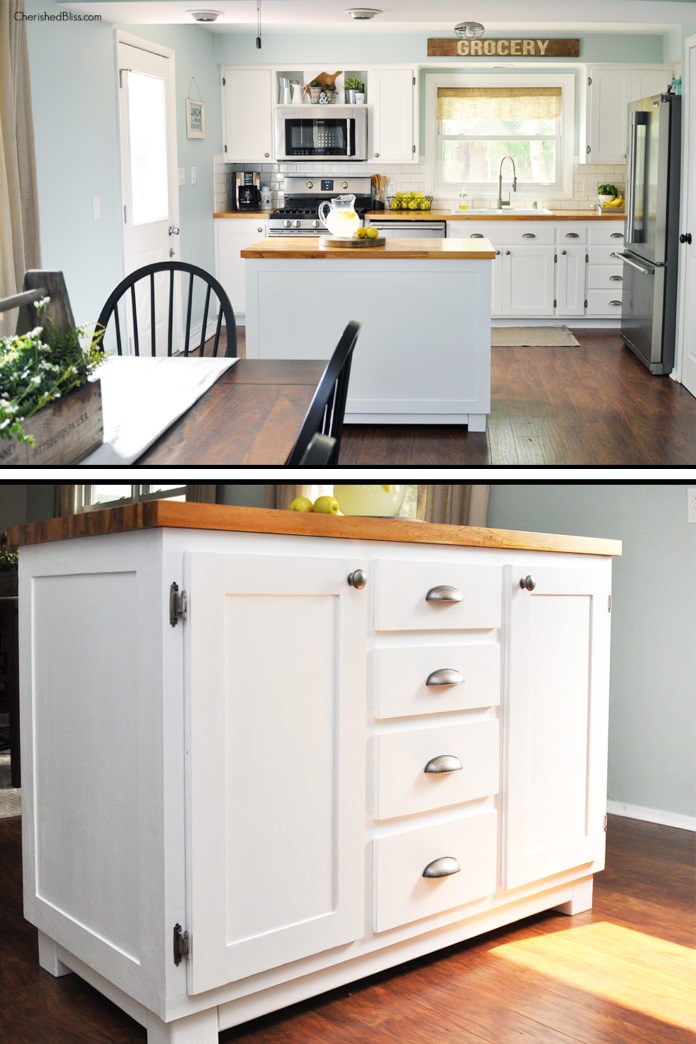 If you have more time to invest in a kitchen island, here is a project you can try. You need to build this island from scratch. Luckily, we have some instructions and guides how to get there. Enjoy your weekend DIY project.
16. Waterfall Concrete Kitchen Island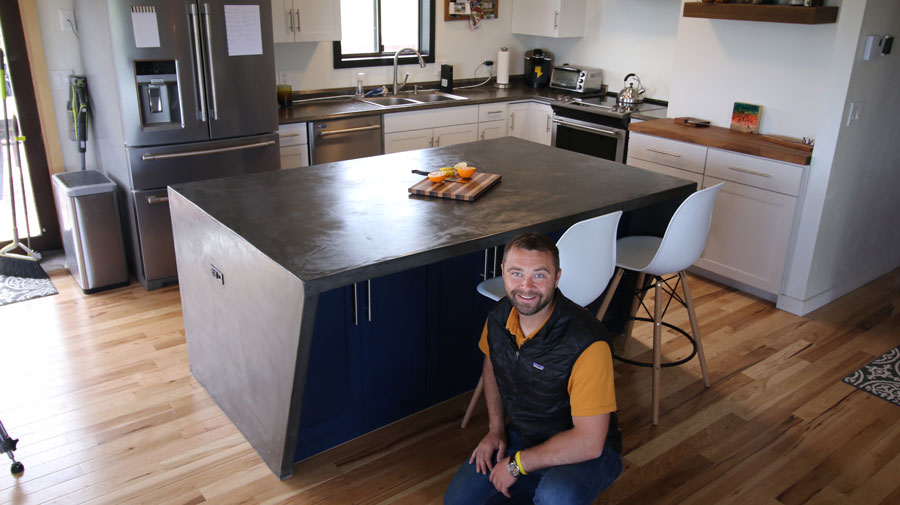 The concrete kitchen island gives your home a bit of that industrial feeling. Industrial interior style is popular right now. And that has been the case for the past few years. Expect more industrial style in the future as well. The best part about industrial style is you need only one small furniture piece. Don't go over the top.
With that in mind, we finish off our list of kitchen islands. Hopefully, you found something that fits right into your style and apartment.