Not all of us are blessed with a yard. When you live in an apartment, you have to make the best of the little space you have. And if you love some fresh herbs, things can get tricky.
But do not worry. Growing herbs is an easy and delicious way to start gardening. And you will always have some fresh herbs and spices for your dishes.
Herbs are easy to grow. They need little sunshine, soil that drains well, some watering, and a little fertilizer. You can grow herbs in pots.
And today, we will show you some ideas for growing herbs in homemade DIY pots. You can make a pot out of everything.
1. Hanging Coffee Cup Herb Garden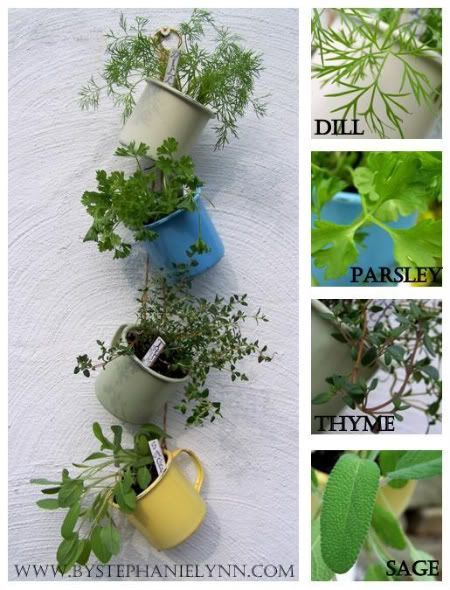 Let's start with some coffee cups. If you have too many of them, and you consider throwing away some, think again. Coffee cups make great herb pots. After all, they are almost the exact size and height. Hang them on the wall to save space in your home for a cozy little garden.
2. Pill Bottle Recycled Herb Garden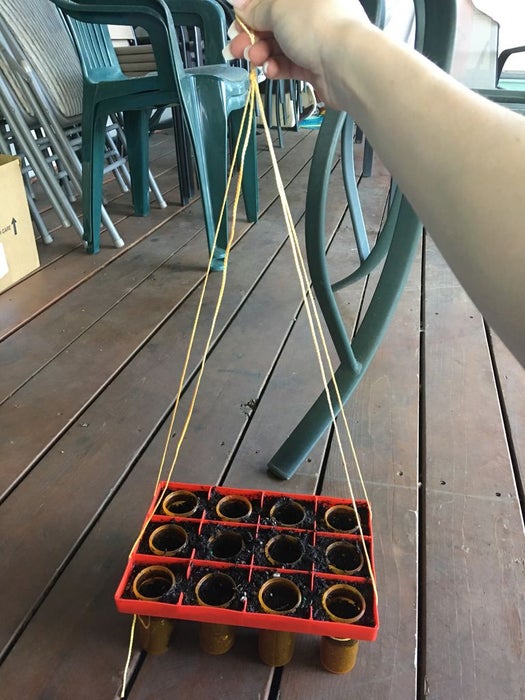 One of the easiest and simplest ways to create a herb garden is to recycle a couple of plastic bottles. Cut the bottles in half or more, and you have a nice pot. If you like, you can combine a few bottles together for a small garden.
3. Spice Rack Herb Garden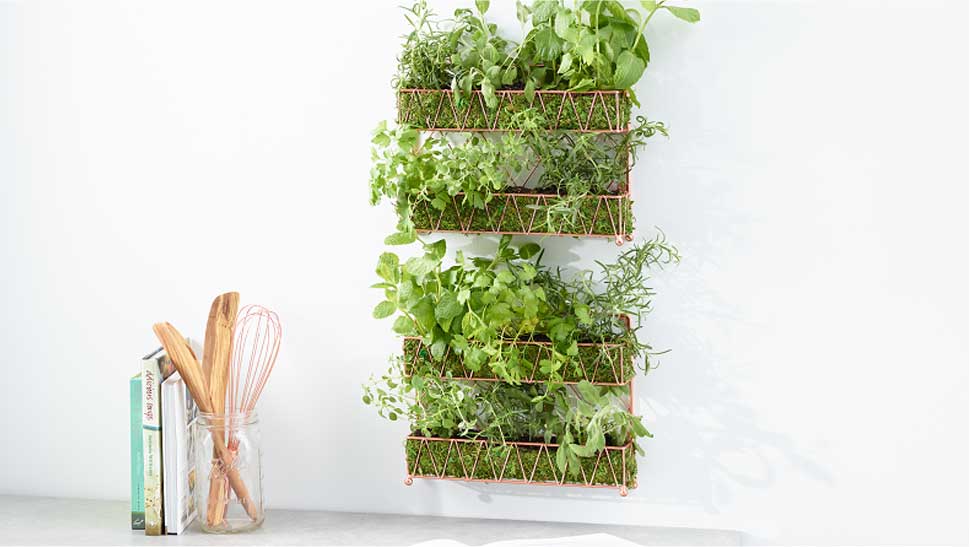 What we love the most about this spice rack is the space. Or in other words, the little space it takes. Many of us have small kitchens. That can make it challenging to grow a herb garden.
Well, with this trick, even the smallest kitchen can fit a herb garden. There is no need to sacrifice space for your herbs and spices.
4. Hanging Garden On Shelves With Holes
The only downside to this project is that you will block some sunshine in your home. But if you do not mind blocking some sunshine from your kitchen window, the shelves make a great spot for a garden.
Make sure to use aluminum pots for this trick. You do not want water to drain on your kitchen elements.
5. Mason Jar Garden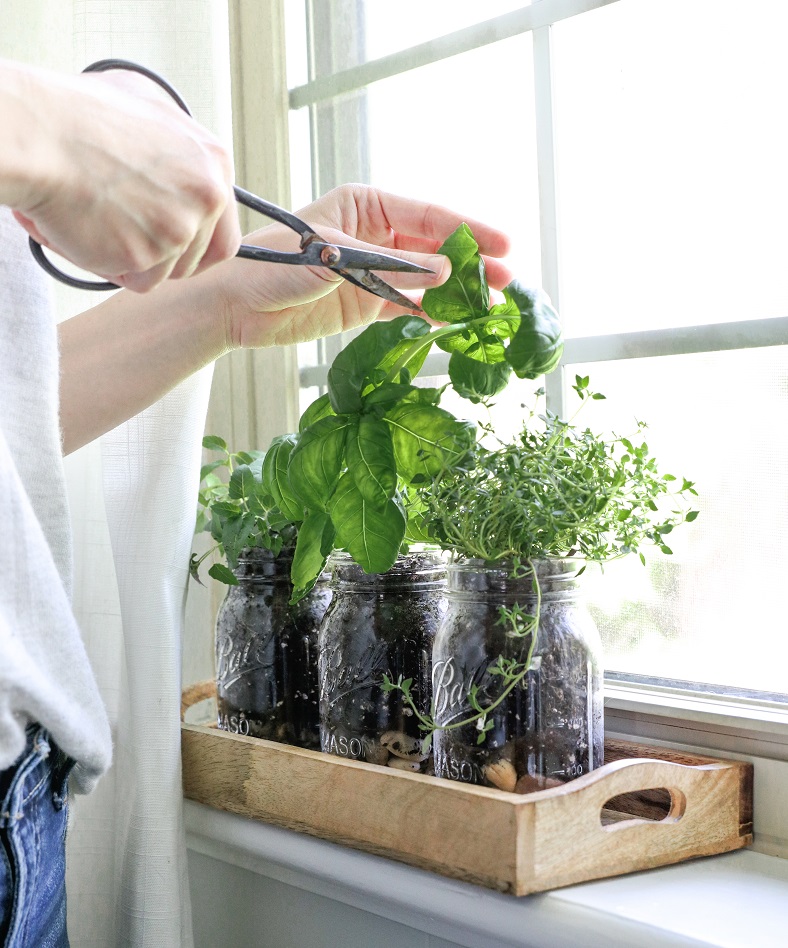 Mason jars fall in the same category as plastic bottles. We all have them, and they are versatile. You can use mason jars for more than 20 DIY home projects.
For this project, we just fill a mason jar with some soil and compost. And plant herbs inside. Put the jars on any shelve in your kitchen.
6. Shoe Organizer Herb Garden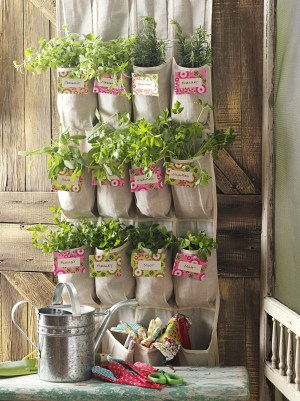 The trick with DIY home projects is to let your creativity wander. You have to think outside of the box. Otherwise, you will never get a good idea. Just look at this project. Who would have thought you can make a great inside mini garden out of shoe organizer?
7. Floating PVC Herb Planter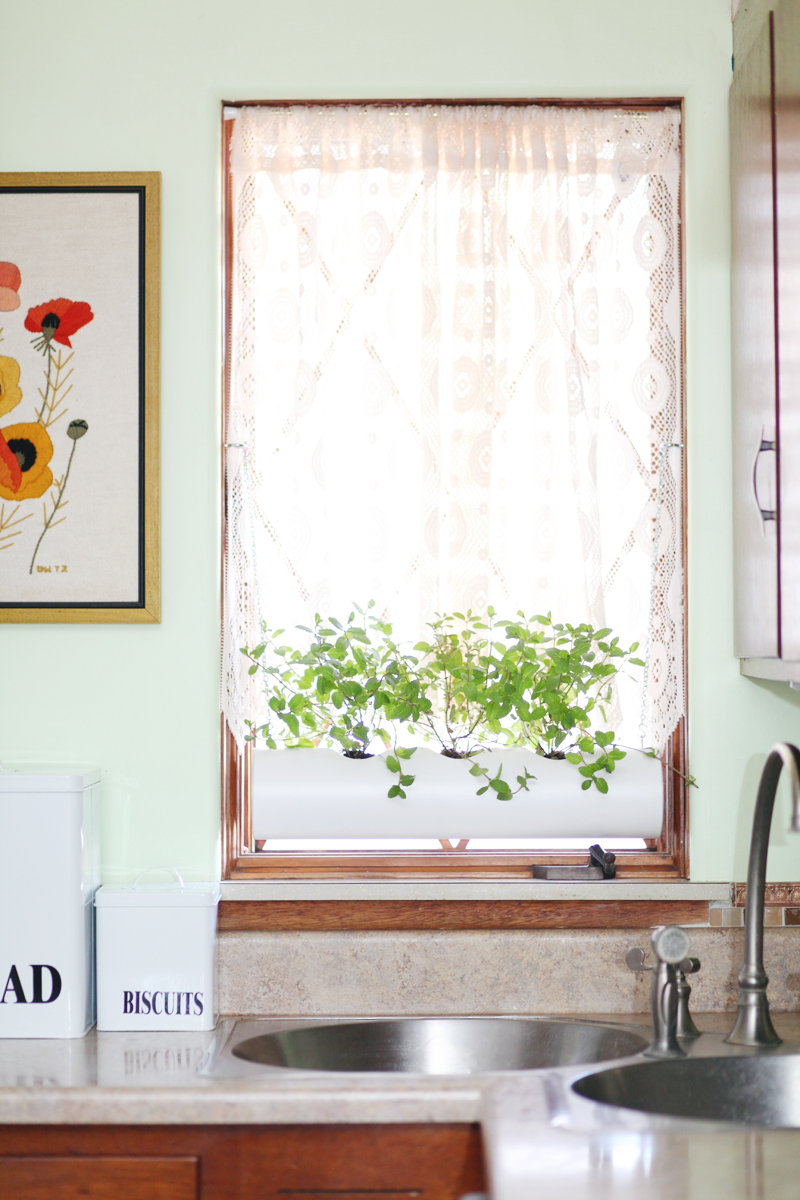 Speaking of DIY home projects and materials, we cannot forget PVC pipes. They are another material we often throw away. Why? Do not underestimate the power of PVC pipes.
And the best part about PVC pipes is that you can dye them to fit your interior. White works best for a green garden. But if you like, you can dye it in brown.
8. Wall-mounted Herb Garden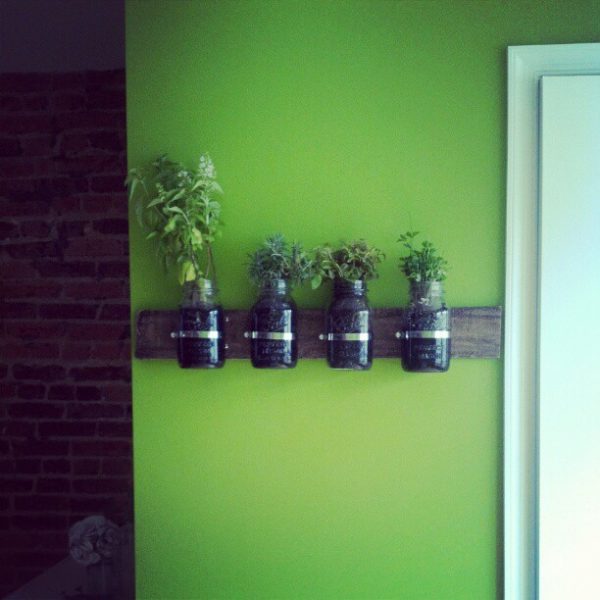 The main goal of an indoor garden is to get greenery in your home, save space, and plant some herbs for cooking. This project checks all boxes. With your herbs on the wall, there is absolutely no wasted space.
9. Indoor Denim Planter Herb Garden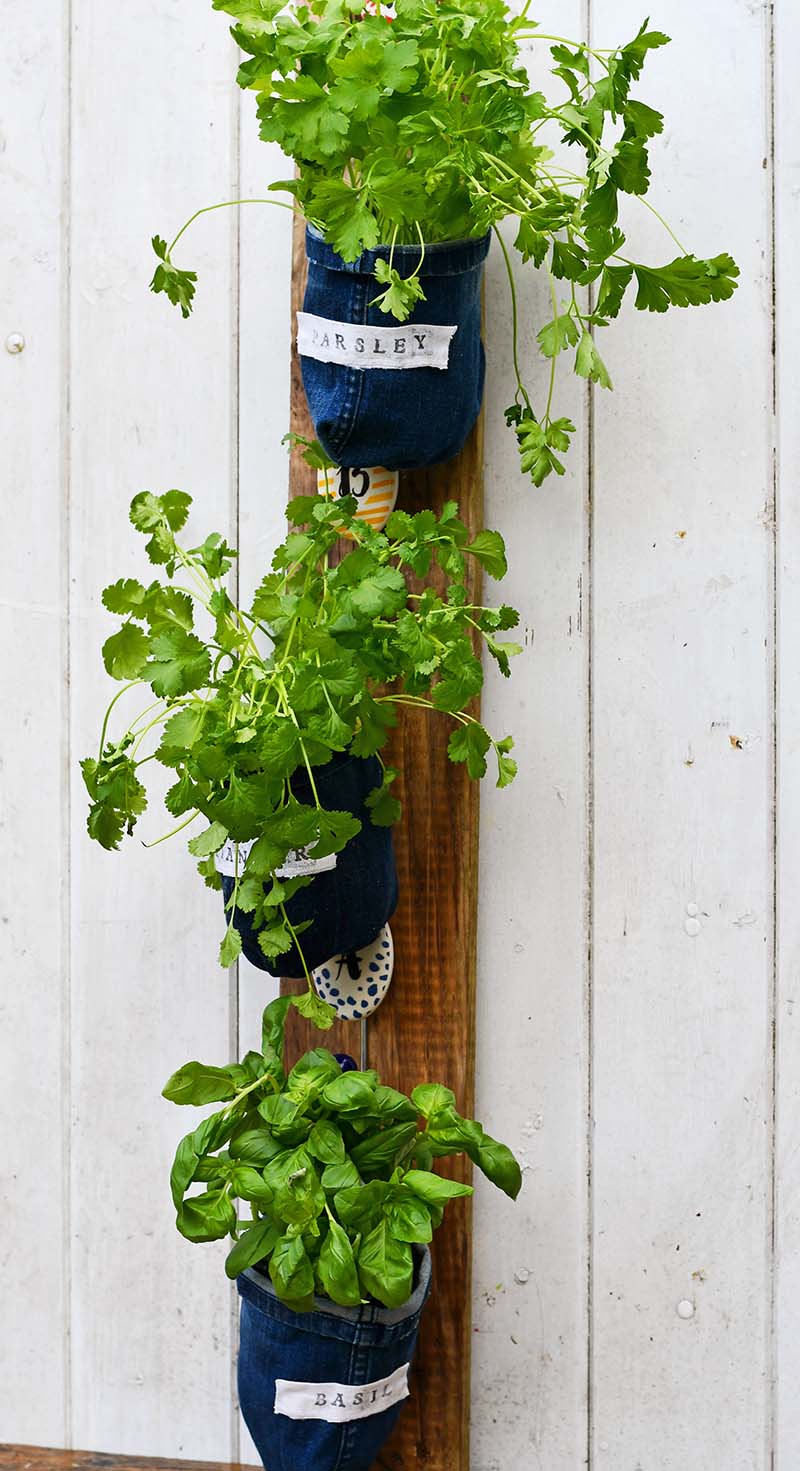 Do you have some old jeans you do not wear anymore? Are you ready to say goodbye to them? Well, if that is the case, here is an idea to put them to a good use. Jeans make a good pot for herbs. They are rather solid, and can carry the weight of soil and herbs.
10. Plastic Bottle Herb Garden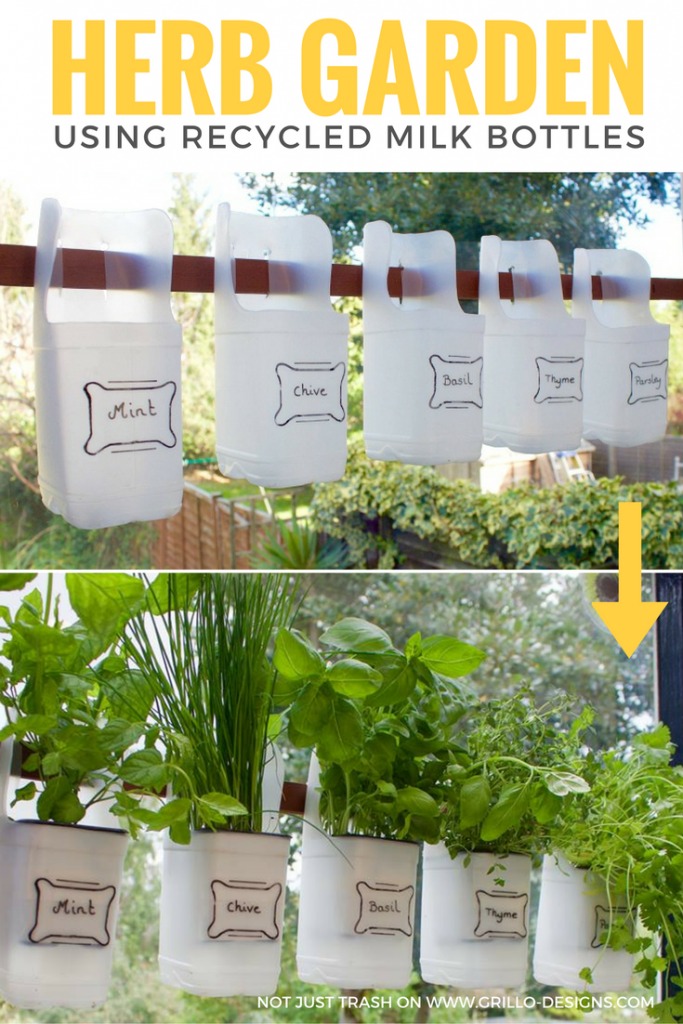 Here is another idea with plastic bottles. We had some bottles before. But they were grouped in a different way. This time, we put them on a rack on the kitchen. And we use some larger bottles. You can label them if you like. But most cooks know which plant is what.
11. Macrame Hanging Herb Garden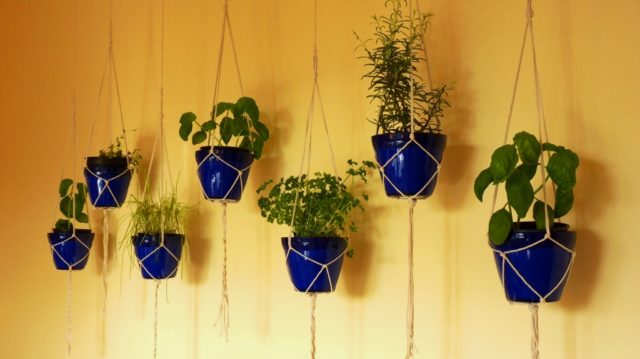 Sometimes, a simple solution seems like something out of this world solution. But it is all about finding the solution that works for you. These hanging pots are a great idea. Simple, yet practical.
12. Hooked Mason Jar Herb Garden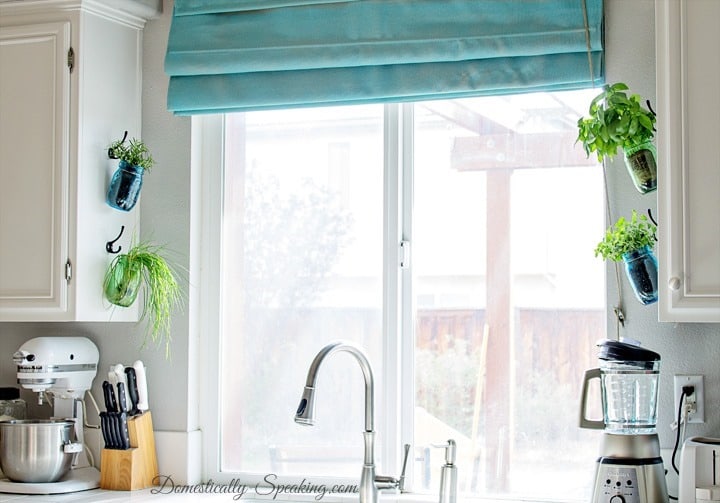 We had mason jars before. Now, we hang them in a different way. Hooks are a great way to add some storage space to your kitchen. Many interior design artists will tell you this trick. It is just a matter of finding what to hang on your hooks.
13. Vertical Balcony Garden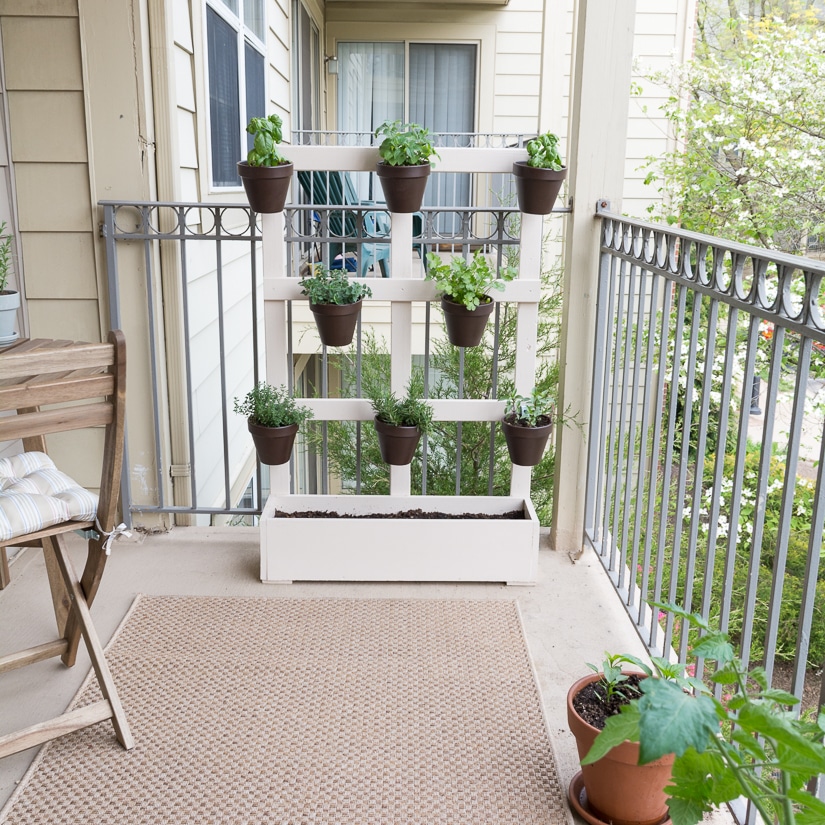 When you have a larger than average balcony, an outside garden is a great idea. Just be careful, you need to be sure your balcony is not under direct sunlight the whole day. If that is the case, look for herbs that can handle the sunlight. With that in mind, a hanging garden on the balcony is a great way to use the space.
14. Greenhouse Space Saver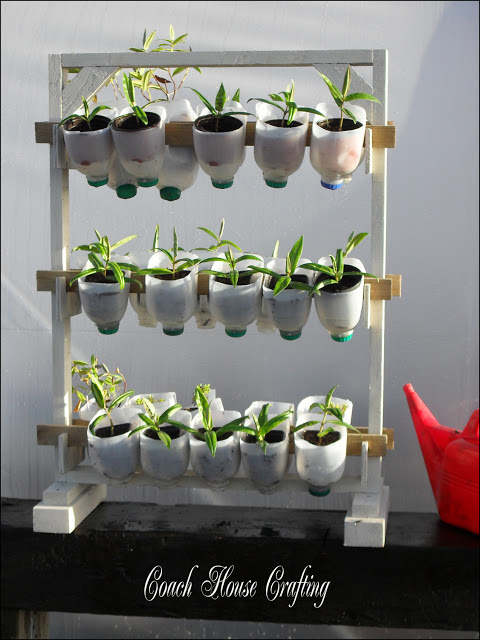 This project will come in handy when you need something to make use of height in your greenhouse. You can also use it to save and free up some space. The idea is light enough to carry in and out. And all you need is some scrap wood and plastic milk cartons. If you already have them in your home, even better.
15. Rolling Herb Garden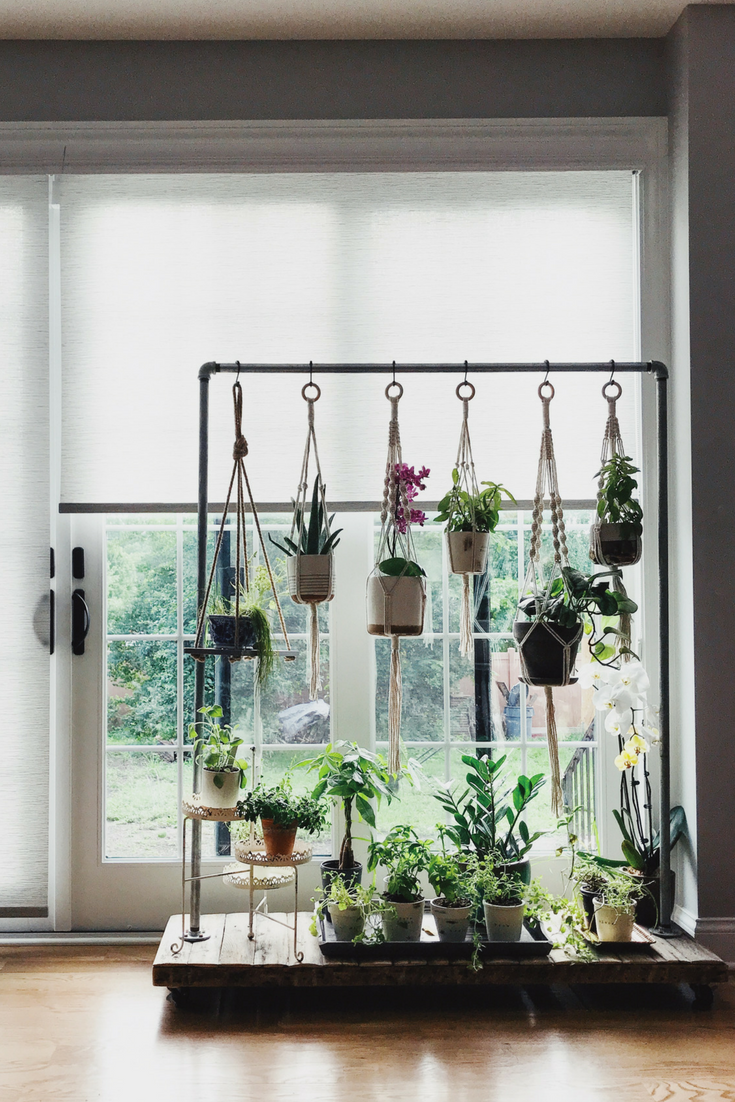 Putting house plants strategically around the home is great. Plants serve as décor, but also purify the air in your home. Do you want to make your home look gorgeous? Well, here is an idea you can try.
16. Pegboard Herb Garden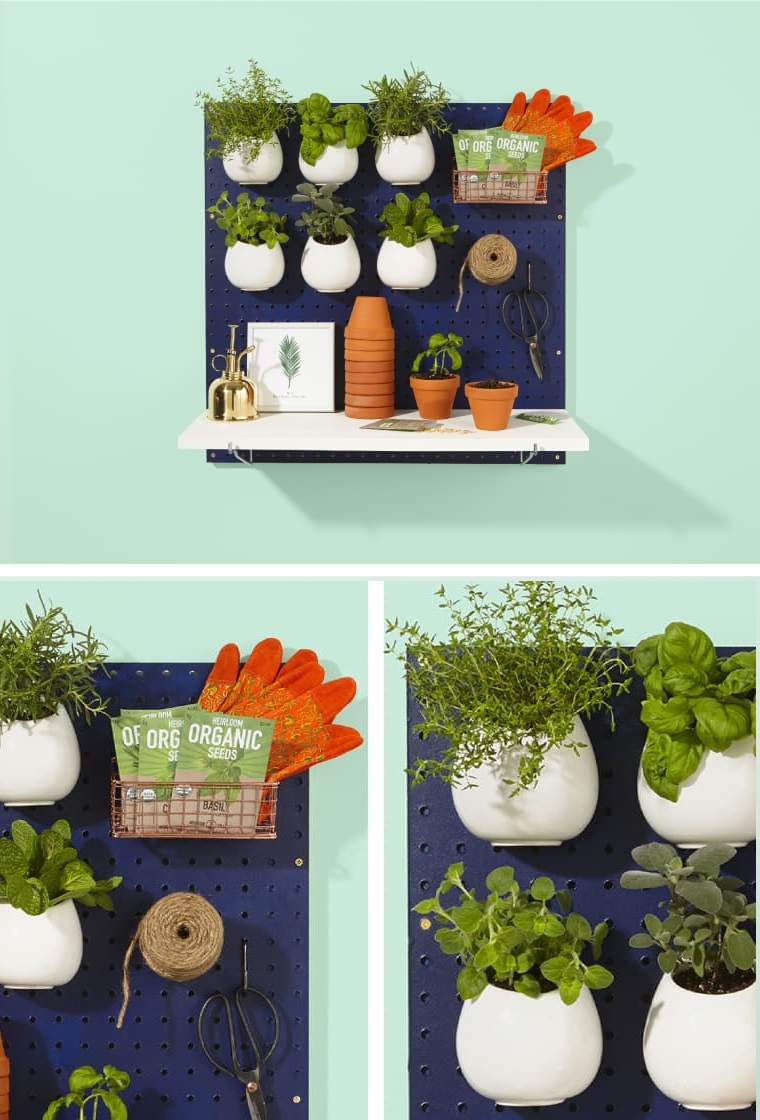 Growing a herb garden in the kitchen can be tricky. When space is limited, growing a garden is even harder. But a pegboard can serve as the perfect solution. This way, the herbs are out of the way. You can position them wherever you like. Just bear in mind, herbs need the right amount of sun.
Bonus: this mini garden will become instant wall art.
17. Kitchen Canister Herb Garden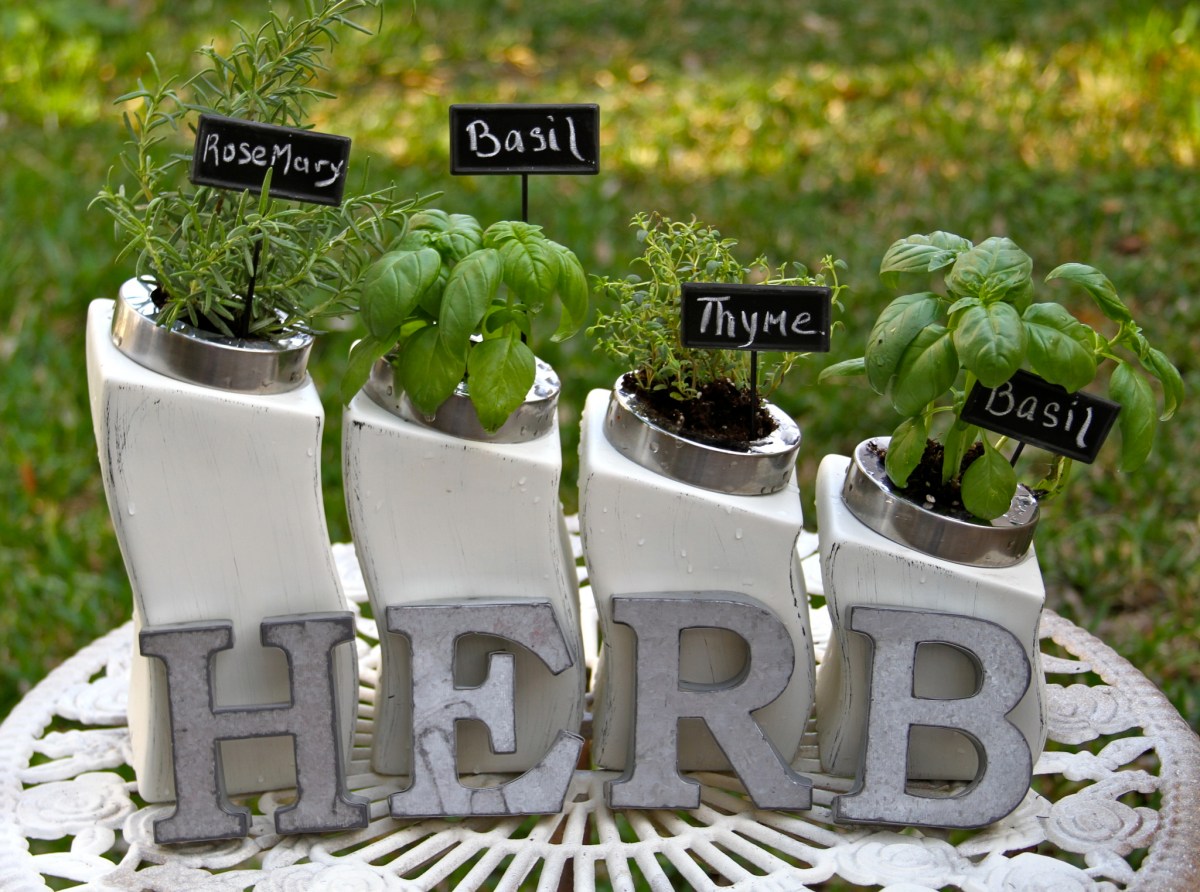 For our last project, we need some kitchen canisters. If you have them lying in your home, it is time to put them into a good use. Here is a way how to repurpose kitchen canisters. A herb garden will take you no more than an hour to set it up. And you will reap the benefits for days and months afterward.
We also look forward to seeing your ideas for a herb garden.