A lot of people and interior designers will tell you that a coffee table is a necessary piece of furniture in your living room. Simply put, you need a place to put up your feet, put down drinks, and of course, anchor the room. Now, there are alternatives for a coffee table. But in the end, whatever alternative you choose, they serve the original purpose.
And yes, coffee tables serve a purpose. They are a decorative element but also a practical element. The definition for a coffee table is a "low table designed to be placed in front of or next to a sofa or upholstered chairs for convenient support of beverages, remote controls, magazines, books, and more".
That is a rather large definition. The simple one you need a place to put your coffee while watching TV.
There are a few rules for a coffee table. It should be at least half the length of the sofa and no more than 4 inches higher or shorter than the top of the seat cushions. This prevents the awkward visual of the coffee table being too high.
With that in mind, let's take a look at some of the unique coffee table ideas.
1. Chevron Coffee Table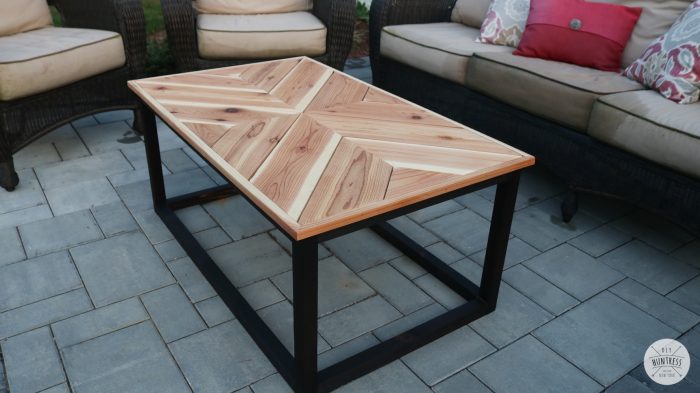 We start off with one of the modern designs. The chevron pattern gives your coffee table a dynamic and modern look. It looks stylish, yet simple.
2. Outdoor White And Blue Coffee Table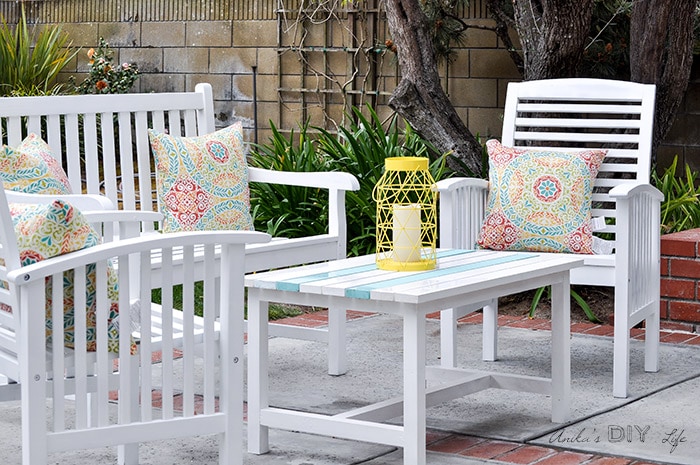 For your outdoor coffee table, you want something more vibrant and lively. White is a great solid color as a base. And then, just a touch of colorful stripes, in this case, blue, provide the table with a unique design.
3. Pallet And Mosaic Coffee Table
One of the best parts about a coffee table is you can use almost anything and turn it into a coffee table. There is a whole industry of flipping products and selling them as coffee tables. Yes, the DIY world gives too much. You can easily make this table at home. And you will save up to $200, which might be the price if you buy this table from a store.
4. Concrete Top Coffee Table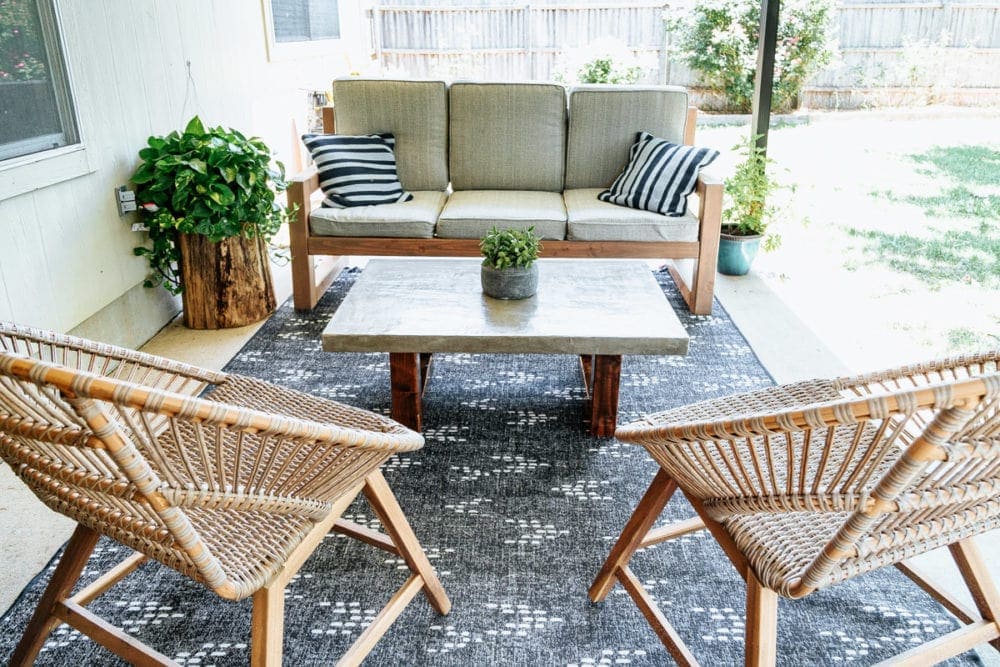 Some people want their table to be more sturdy and stable. That is where concrete comes into play. The end result is a stylish, elegant, and modern-looking table. And one that you can serve a couple of more drinks on top of it.
5. Double Steel Frame Coffee Table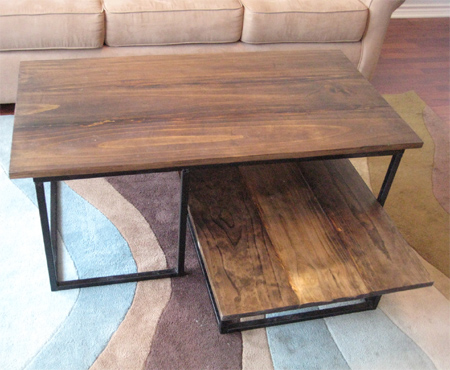 One of the main goals with coffee tables nowadays is to provide more storage. People live in small apartments. And they don't have a lot of storage space. A coffee table with some storage for magazines, books, and newspapers is a godsend product.
6. Angled Legs Modern Coffee Table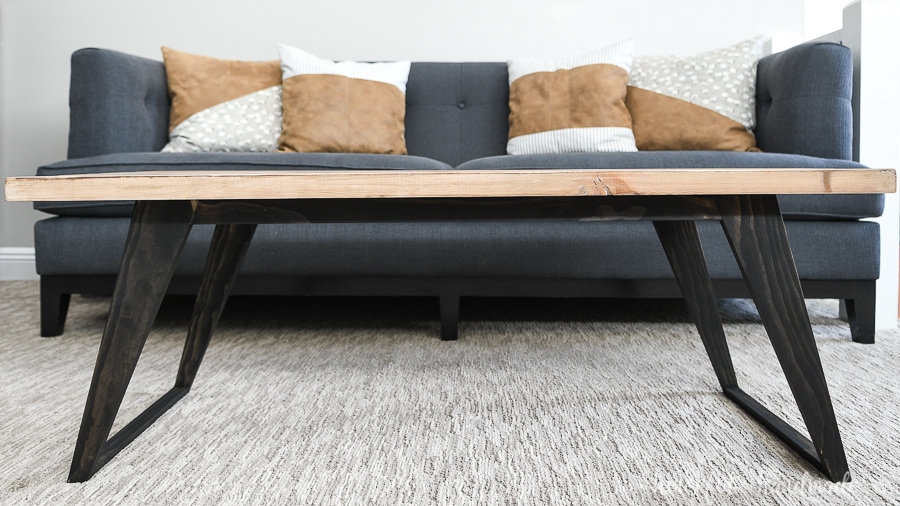 We talked before about the length of the coffee table. This one goes a bit more than half of the length of the sofa. But that is OK. The problem occurs when the table is too short. This modern looking table can help you serve a few more people sitting in different spots.
7. Old Door And Glass Coffee Table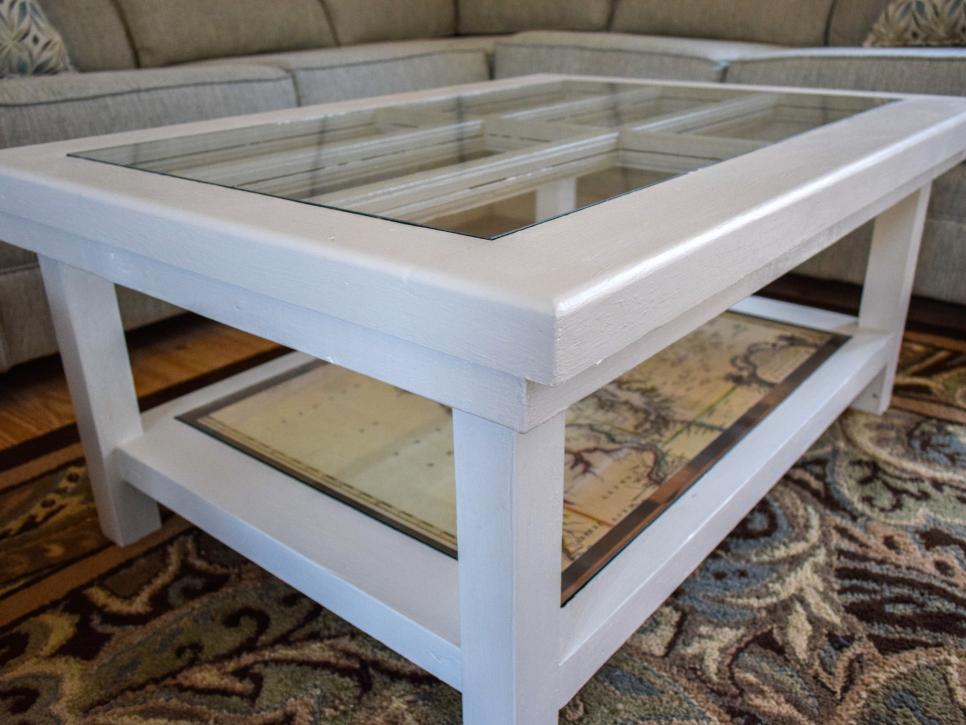 We said before that the DIY industry works tirelessly to turn old and unused objects into functional storage. Take this coffee table for an example. You can buy the ingredients for no more than $30 at a flea market. And then with a bit of work in the garage, you can get a beautiful-looking table.
8. Farmhouse Coffee Table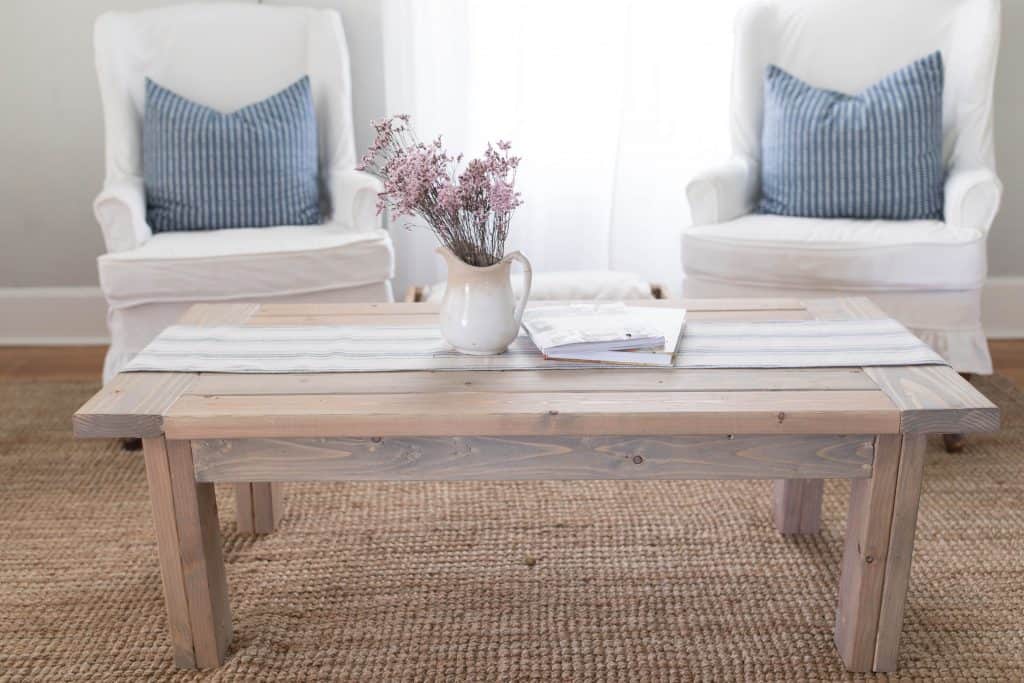 Some people want modern and contemporary design, while others go for a more rustic look. Rustic or farmhouse look translates to wood. The older the wood looks, the better. Sometimes, designers purposely make the wood look older and rugged.
9. Wire Spool Coffee Table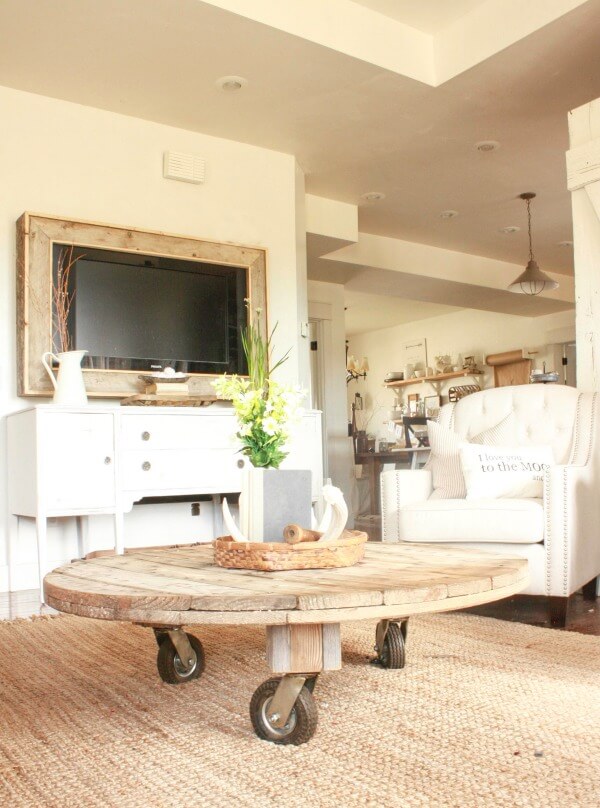 This might be one of the cutest and most unique tables on our list. Basically, it is a simple DIY project. You can make it on your own. And save some money. Most importantly, you get a unique product. Not one of your friends will have something similar.
10. Metal Milk Crate Coffee Table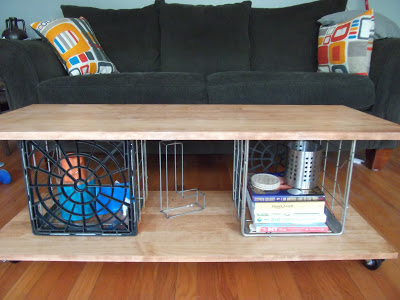 Metal provides a good and sturdy base for a coffee table. In this case, the metal crates serve a double purpose. They provide the base for the wood on top. But they also provide a lot of storage for books.
11. Copper Coffee Table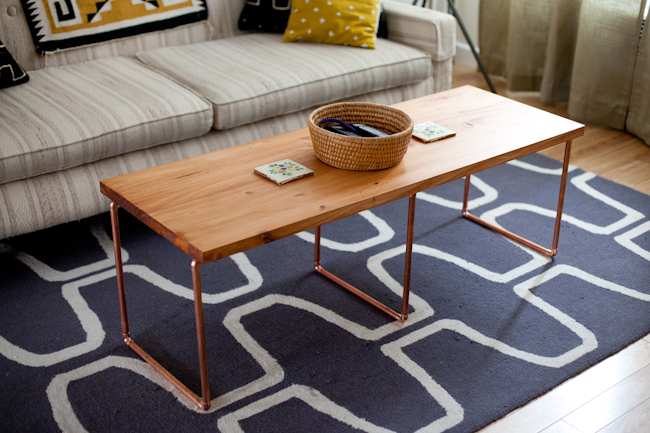 There are many different styles for decorating your home. One of the more popular lately is industrial design. The best thing about this style is that it works in small doses. You do not need to make your entire home looking like a hangar. All you need is one element to complete your modern look.
12. LCD Coffee Table
You can never have enough lighting. And if you are into gaming, the LCD lighting will come in handy when you want to play at night.
13. Tribal Coffee Table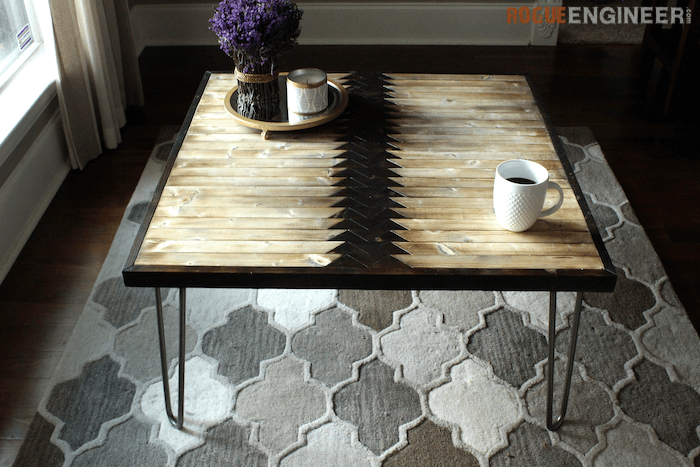 The tribal pattern is quite similar to the chevron pattern. Both provide the same design and decorative element, and that is a dynamic flow. You can turn any table into a modern and contemporary element with tribal or chevron pattern.
14. Lift-Top Coffee Table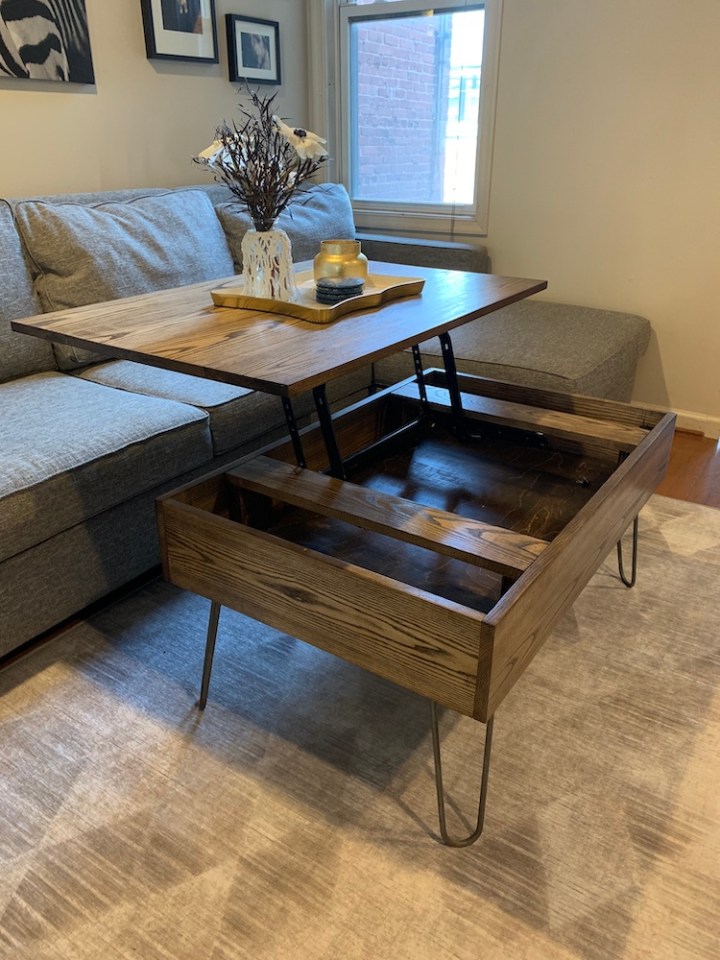 You can bet this table is a DIY product. We talked before how storage plays a huge role in buying a coffee table. The more storage, the better. And this table offers quite a lot of storage. The unique mechanism makes it even a better buy.
15. Round Coffee Table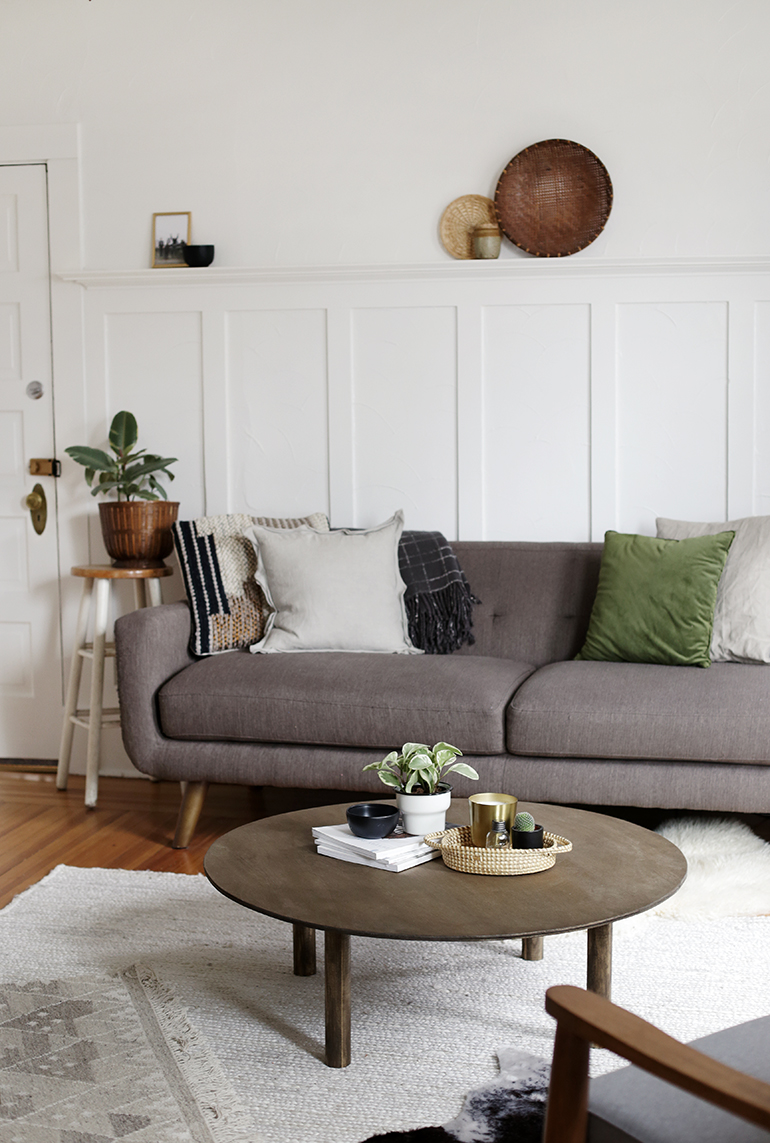 Time to go back to basics. The round coffee table played a huge role in interior design in the past 10 to 20 years. It completely changed the way we look at coffee tables. Some 20 years ago, most coffee tables were shaped like a square or rectangle. But the round table found a way to disrupt the dynamic in the home.
16. Crate Storage Coffee Table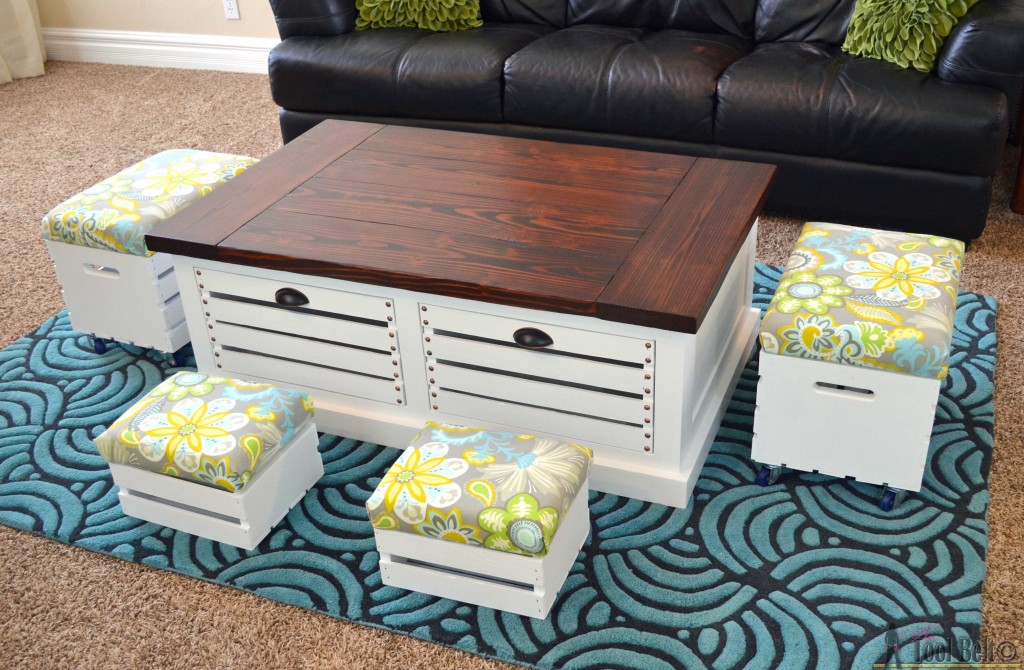 The best part about this coffee table is you can make it for a few bucks. Yes, that is right, you can make every element of this set in your home. You just need a couple of crates and some crafting skills. Try to look for a similar table in a store. The price is at least $300.
17. Fireplace Coffee Table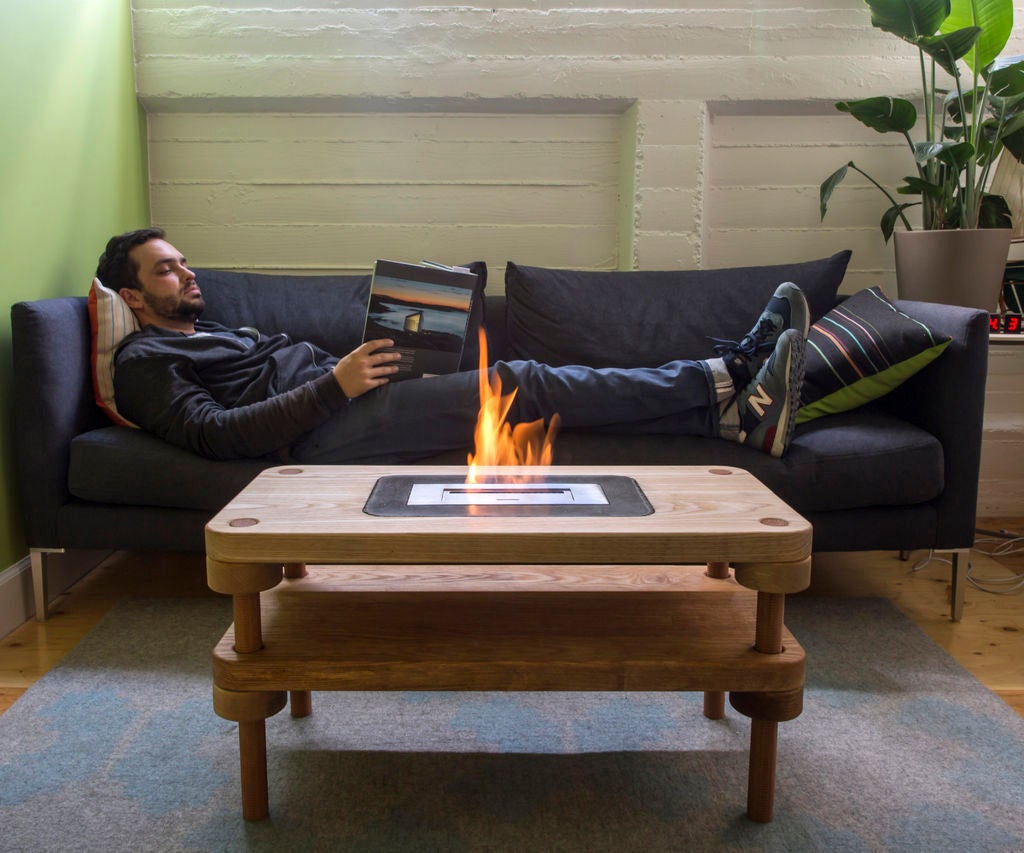 Let's finish off our list of modern coffee tables with a luxurious and glamorous set. Nowadays, a lot of people want to have a fireplace in their home. It is understandable. The fireplace brings luxury and elegance. But if you do not have space for a big fireplace, the table might do the trick.
Hopefully, you found something suitable for you on this list. We want to make sure there is something for everyone.