The American Academy of Pediatrics recommends baby gates as an essential part of home safety. You should install baby gates at the top and bottom of the stairs at least. There are other places you can install baby gates.
For your baby's and toddler's safety, install baby gates when your children is aged between 6 months and 2 years of age. You can remove the gates once your kid turns 2. Or when he learns to open the gate or climb over it.
Remember, every situation is unique. You must determine what is safe for your children at any given stage.
With that in mind, some of the common places for installing baby gates include top of stairs, bottom of stairs, laundry area, kitchen, office, pantry, and large objects.
Sometimes, you can install baby gates to create a safe environment where your kid can roam and play. Here are some of our ideas.
1. Modern Baby Gate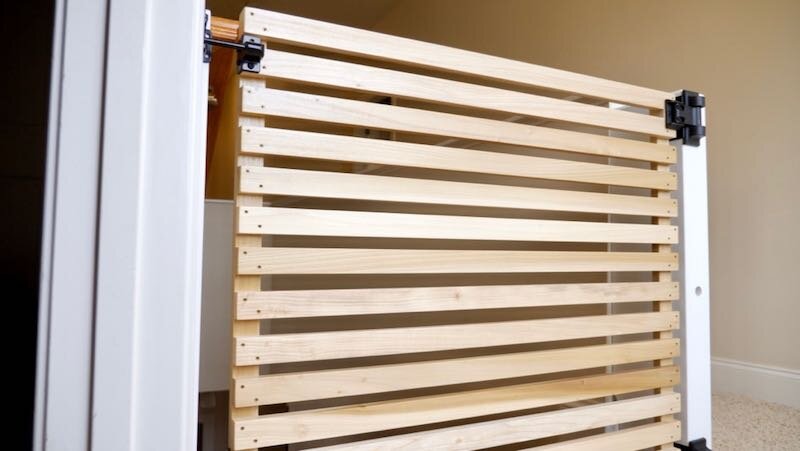 This super simple DIY modern baby gate will keep your baby from taking a tumble down the stairs. You will need some basic materials like gate hinges, latch, stop, drywall anchors, and quick and thick wood glue. A basics build, you can easily complete it with the basic tools like miter saw, drill, and sander.
2. Folding Baby Gate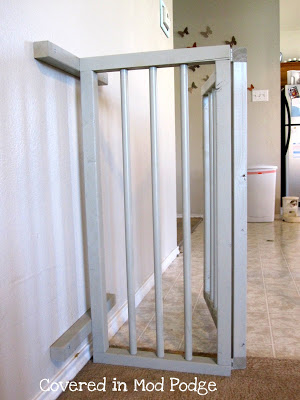 Mounted gates are always a good idea. But what happens when your gap is too large for pressure mounted gates? If that is the case, you can benefit from this tutorial. For these foldable gates, you need PVC pipes to serve as vertical bars. Does that sound cheap enough for you? Well, it is. You can create this project for a fraction of the cost of store-bought foldable gates.
3. Tension Rods Fabric Gate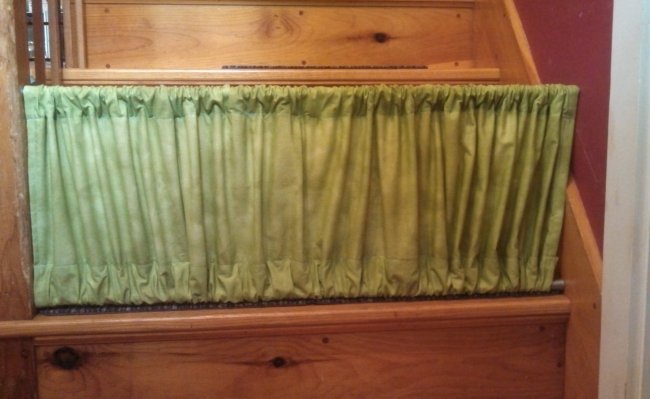 What we love most about this project is that it provides safety, and doesn't look like prison bars in the process. And it is cheap. For this project you need just two tension rods from the curtain section and two yards of clearance fabric. That is it. You will spend just a few bucks and your baby will be safe.
4. 10 Minute Baby Gate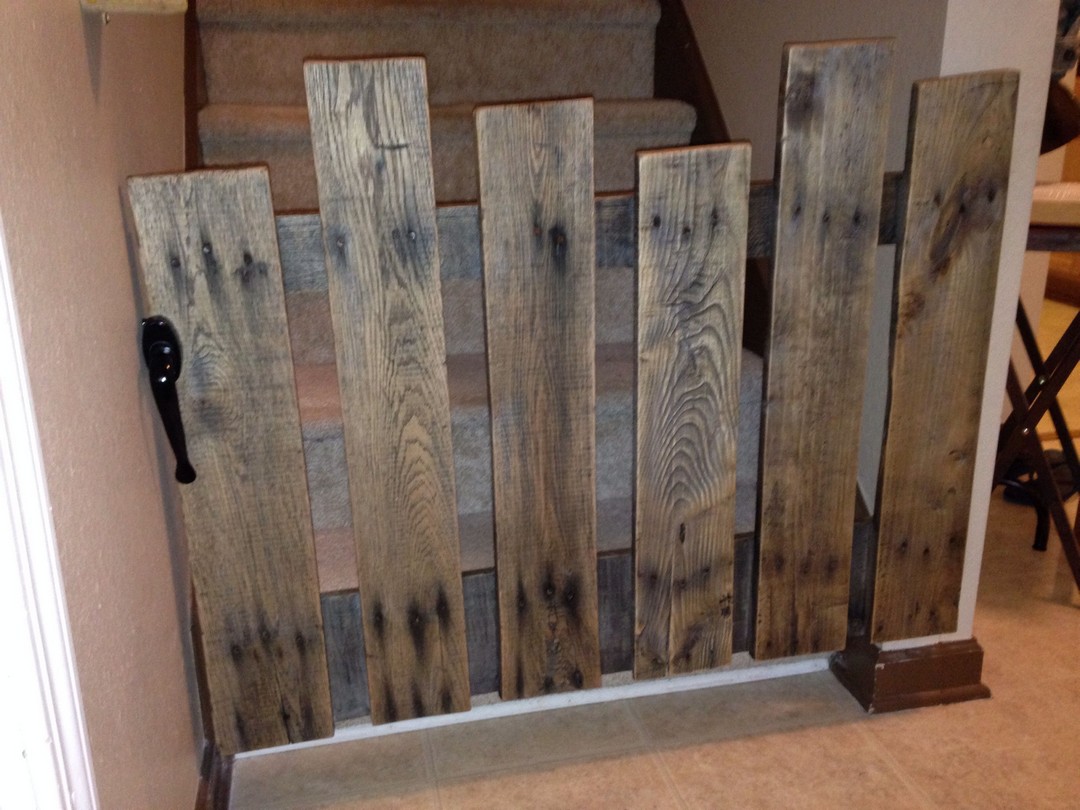 If you are a good craftsman, you can install wooden gates. They look modern, rustic, and even decorative. Not only they keep your baby safe, but they also fit in nicely in the interior design.
5. Industrial Baby Gate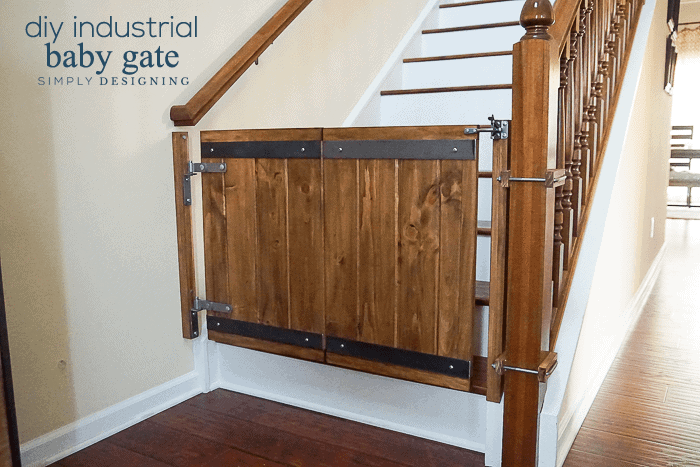 There are many factors that play in the design of your baby gates. This family had a few challenges. For example, they had a post on one side and a wall on the other. This makes it impossible to rely on pressure gates. Do you have a similar problem? Well, if that is the case, here is something you can make without drilling holes into the post. And it looks amazing too.
6. Adjustable PVC Pipe Baby Gate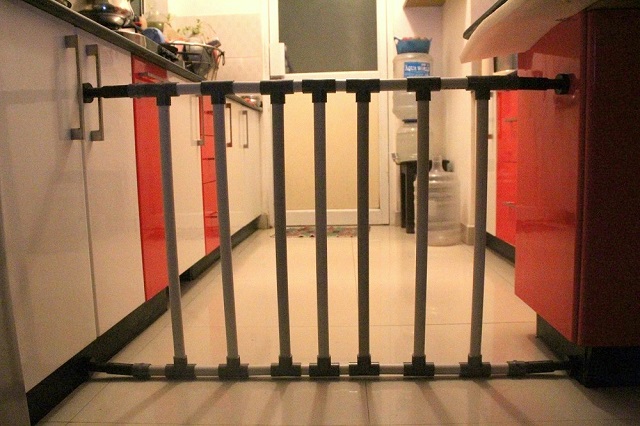 We know one of the thing parents hate about baby gates is they sometimes require drilling. Well, if your main factor is no drilling whatsoever, look at this PVC baby fence project. You will get a nice child proof area. And your baby can stand and hold his hands on the PVC pipes.
7. Frugal Baby Gate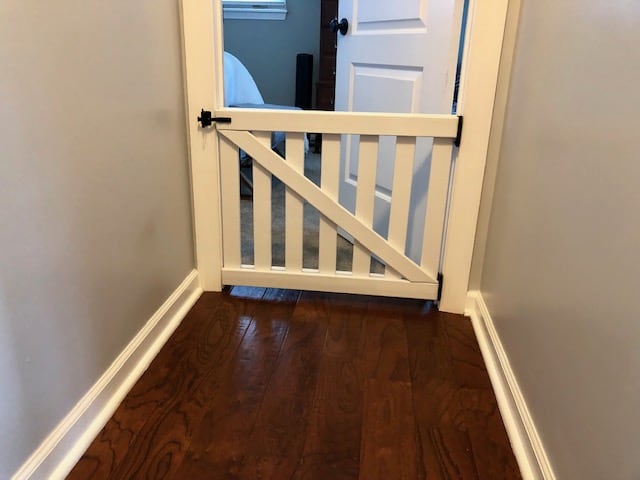 Do you want to make a baby gate on a budget? You can also use this as a dog gate if you like. It serves the same purpose, prevent kids/dogs from going into rooms they shouldn't. The swinging gate is a perfect solution. And it looks amazing. All you need is a few affordable supplies and one afternoon to complete the project.
8. Repurposed Old Door Baby Gate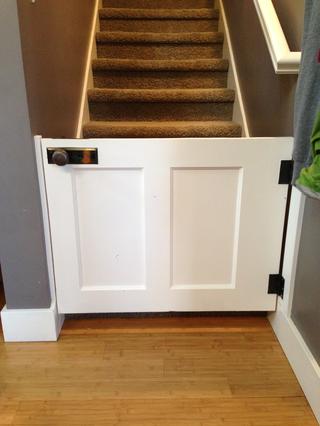 The essence of DIY projects is to repurpose old stuff. Think of items you do no longer need. They take up place in your garage or somewhere else. Or you can just go to the flea market, get an old door for a few bucks, and install a baby gate in your home. Sounds simple enough for you?
9. Sliding Baby Gate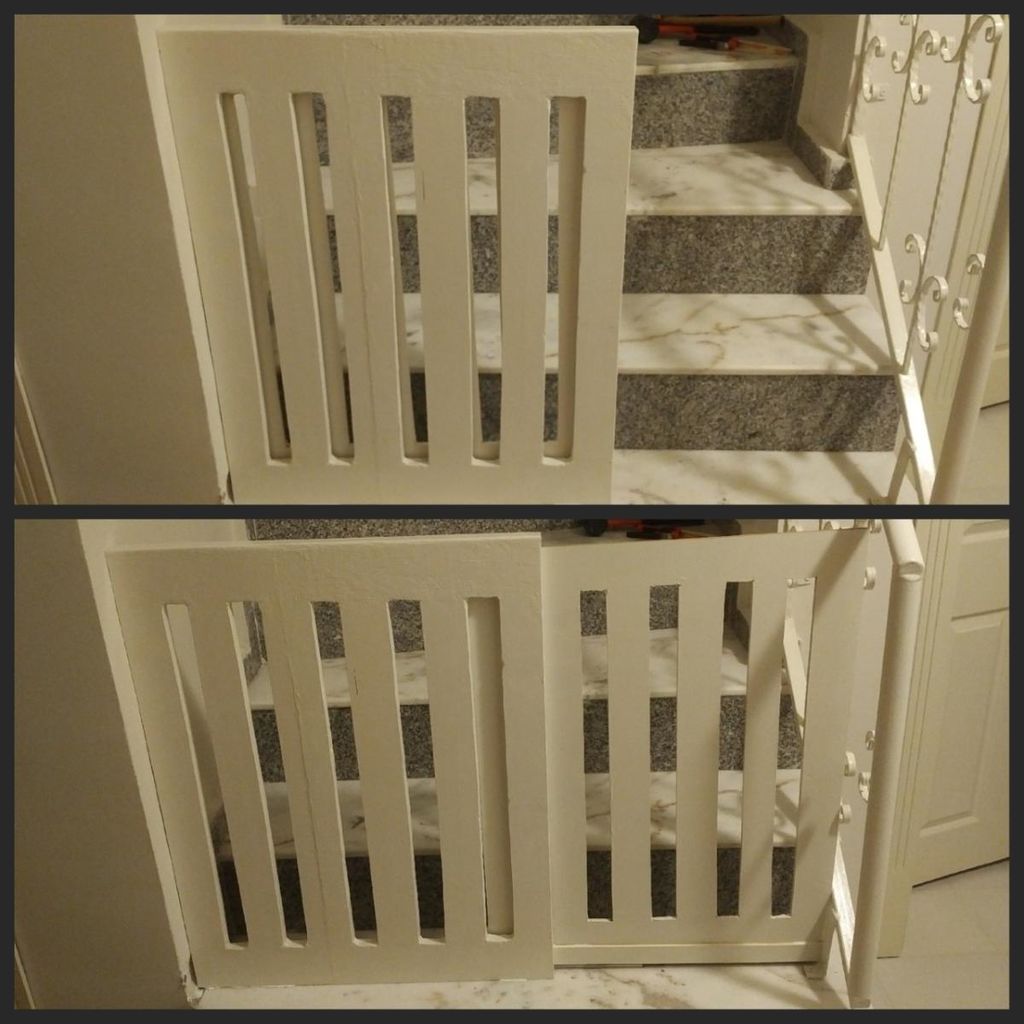 When you lack space in your home for a regular baby gates, a sliding door is a must. This sliding door has 2 main parts. The fixed part and the sliding part. The biggest challenge is to keep the sliding part seated fully inside of the fixed part when the door is open. Make some calculations before installing the part.
10. Geometric Chick Baby Gate
Fair warning: this baby gates look complicated to make. And they are. But on the flip side, we will provide you with a full tutorial and sketch how to get there. That makes things a lot easier.
11. Fabric Baby Gate
Now, we have to note that these fabric gates are not as sturdy as plastic or wood ones. So, do not use them for the top of the stairs. You can use them for doorways, bottom of the stairs, and other less dangerous places. They might not be fully childproof, but they will slow your kids a bit.
12. Craftsman Dutch Baby Gate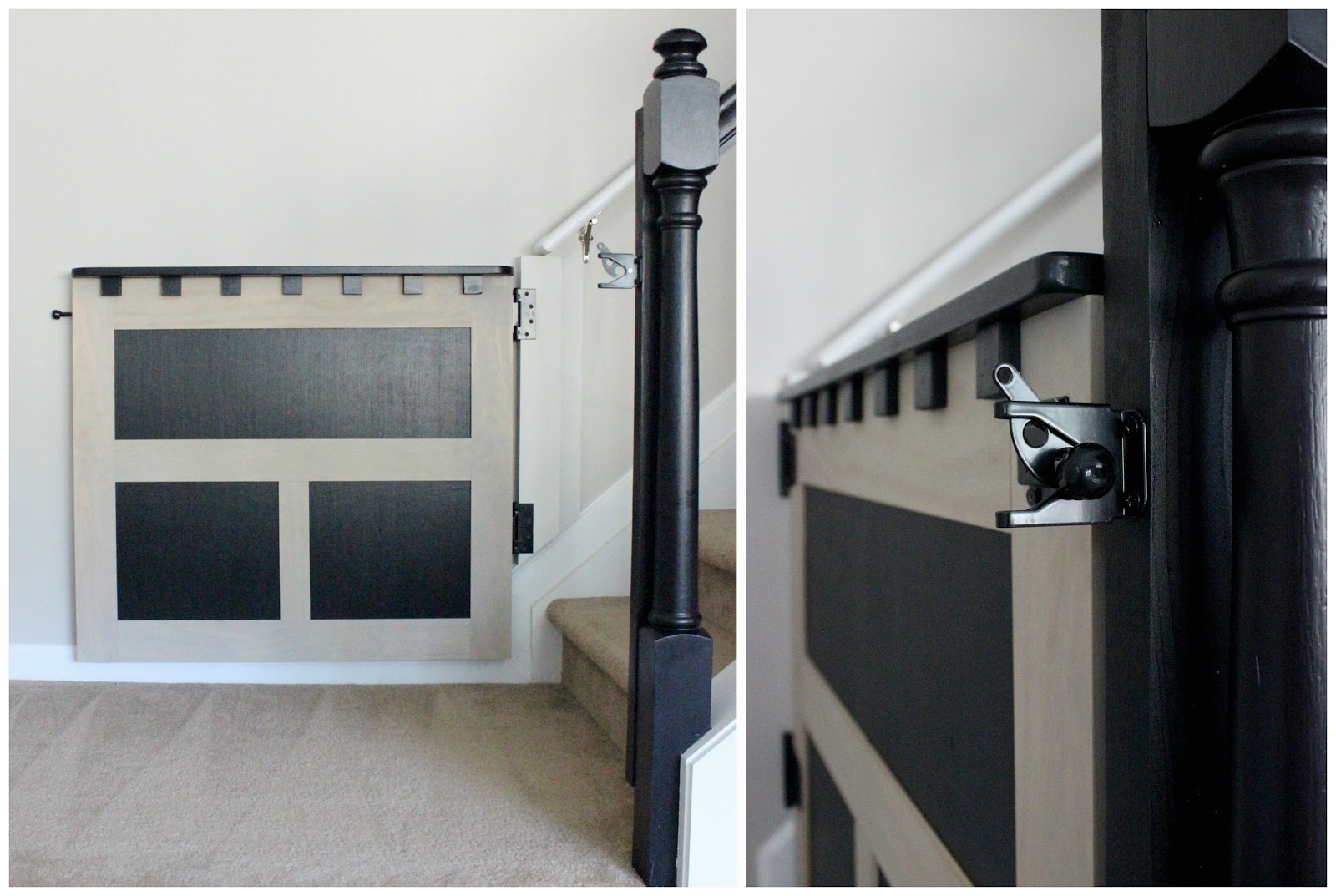 We love the contemporary outlook of these gates. They fit in nicely in almost any modern interior. If you are into black and white decor, this baby gate will look amazing in your home.
13. Wide PVC Pipe Baby Gate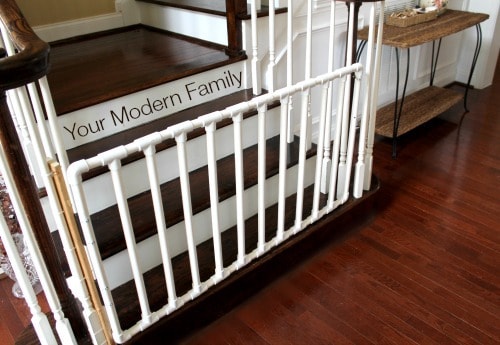 We talked before that sometimes, the opening of your stairs is too big, too large for normal baby gates. So, what can you do? Here is one project involving PVC pipes. Hopefully, you can use it in your home.
14. Baby Gate For Nontraditional Stairs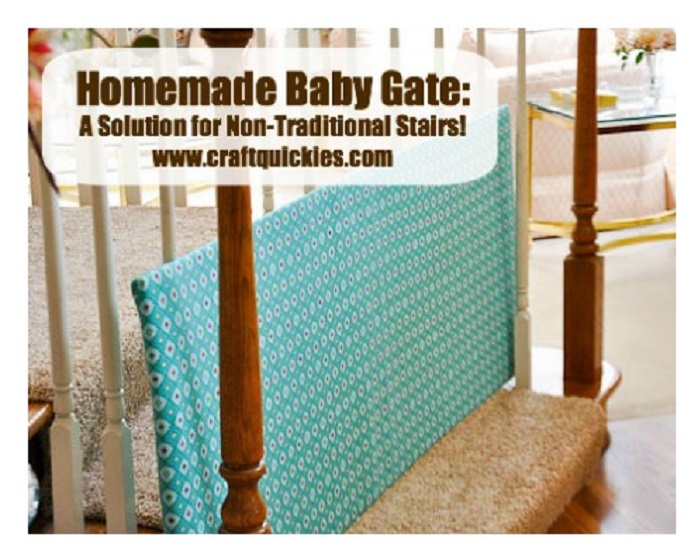 Not all staircases are traditional. Sometimes, they come in a curved type. Those might be great for gliding down when you are young. But they are not as practical when it comes to childproof baby gates. It is challenging to close the opening with traditional baby gates. Luckily for you, we have a solution that will ease your pain.
15. Plexiglass Baby Gate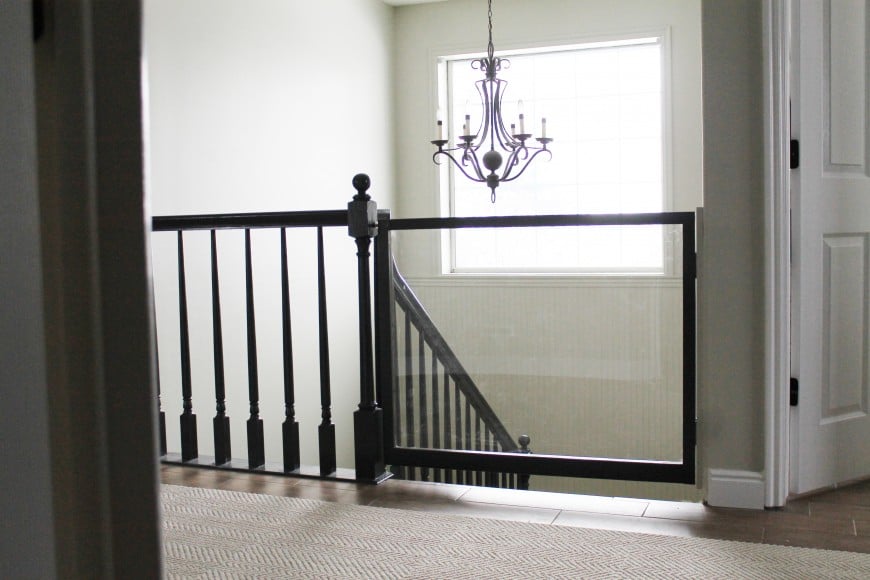 Do you want to keep the gate as non-existent as possible? And at the same time, safe and sturdy? Well, there is a project for you. For this project, you need heavy duty plexiglass in a wood frame. It blends nicely with the interior. And you can make it during your kid's naptime.
16. Interactive Baby Gate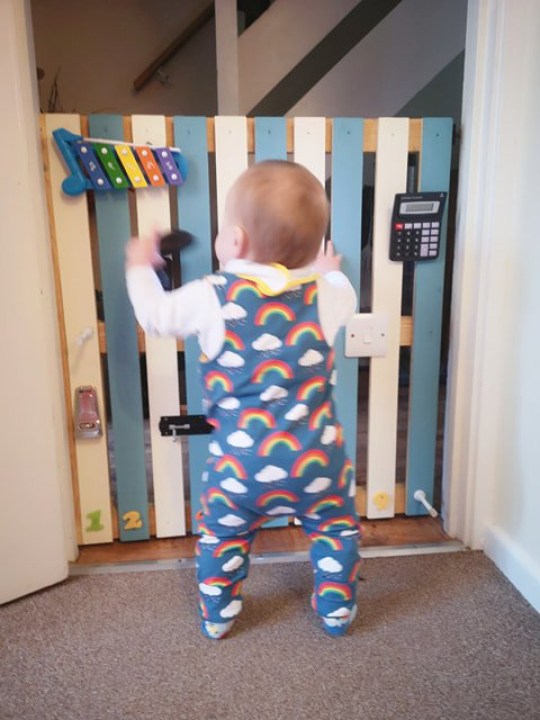 Why shouldn't your baby play while standing at the gate? We would like to finish our list with an interactive baby gate. You can place some toys, or just paint it in different colors. Or let him play music on the xylophone.
With that in mind, we hope you found a project suitable for your home. And if you have any other ideas, share them with the rest of us.