Mid-century modern decor, a design trend inspired by the German Bauhaus movement, was all the rage from the late 1950s until the early 1980s, and today it is seeing a resurgence. Certain furniture pieces, like mid century dining chairs, remain timeless and mix well with other design elements. For a dining room that speaks of simplicity and practicality, consider implementing elements of mid-century modern design.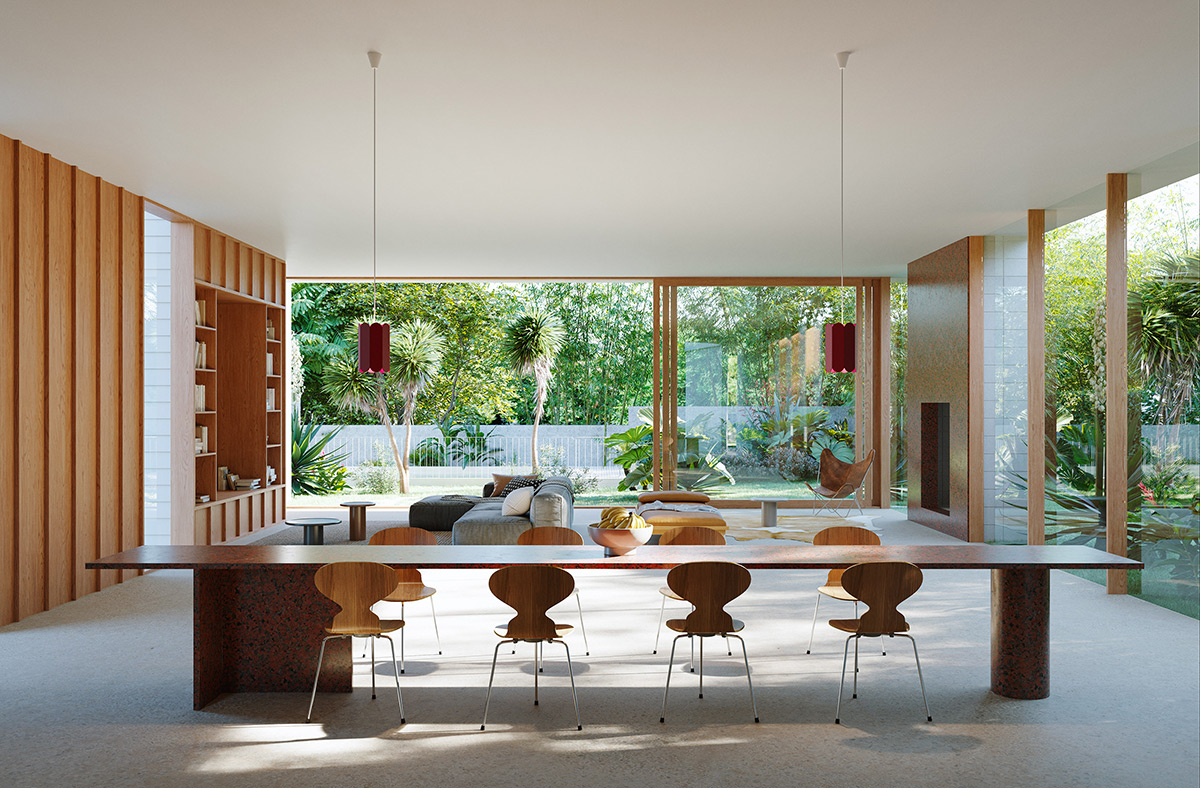 Elements of Mid-Century Design
The minimalist style of mid-century modern design is relatively easy to mimic if you understand its basic characteristics, and the dining room is the perfect area to showcase it. Try incorporating these cornerstones of the look into your own space.
Functionality
Mid-century dining chairs are beautiful but are characteristically crafted for function over form. Every piece of furniture was made for a particular purpose and built to last with materials chosen for durability.
Minimalism
Mid-century design draws heavily from Scandinavian influence, with minimal ornamentation as a central characteristic. This is why sliding glass walls have always been popular in the less is more aesthetic. Furniture is made with clean lines and no frills. Design generally relies on a few large-scale statement pieces and avoids displaying clutter, trinkets, or large collections.
Geometric Shapes
Mid-century designers clearly found inspiration in the geometric shapes that dominated the artwork, wallpaper, and textiles of the time period. Mid-century dining chairs often featured a curved seat or back along with angled orientation of the chair legs, which beautifully complement the low profile of rectangular sideboards.
Mix and Match Materials
Your mid-century dining chairs are likely made of teak, rosewood, or oak. These woods were popular with period designers, but they also played around with other materials such as acrylic, Formica, vinyl, and plastic. Glass was also a popular medium, and textiles were used in abundance to add warmth and additional texture to a space.
Natural Elements
The use of organic materials to brighten and enliven a space was a key feature in mid-century style. The use of house plants to decorate a space was only one small way to bring the outdoors in. Natural elements like wood beams and stone materials are common in mid-century modern homes, with indoor/outdoor staples such as wicker and rattan found frequently in mid-century dining spaces.
Incorporating Mid-Century Dining Chairs into Your Decor
The clean lines and minimalist look of mid-century modern design can blend seamlessly with today's modern decor. However, when you utilize mid-century furnishings in your home, finding the right balance is important so your space does not look like a 1960s museum exhibit. Allow the beautiful wood pieces to take center stage. While it is acceptable to mix materials, ensure the woods you choose don't clash. Limit the period elements to two or three per room; your mid century dining chairs will coexist nicely with vintage pendant lights or a Sputnik-style chandelier. You could also consider incorporating pops of color from the mid-century design period, such as avocado or orange.
Find the Perfect Piece
When you're in the market for the perfect mid-century dining chairs to start in your home, you can find the best selection, quality, and prices at Poly & Bark.