The Lego company and has been around for decades, as well as many other toy manufacturers creating similar brick building toys that interconnect and allow you to create something amazing. Everyone has played with lego bricks in one form or the other at least once in their life. Some consider them as a hobby, creating elaborate buildings, animals, and everything imaginable that leaves the rest of us in awe. It appears their popularity will never end, since kids today, with all the different games and technology still enjoy playing with lego bricks.
There is one downside to lego bricks, though: Keeping them organized and more important, having your kids be the ones responsible for that. You haven't been a parent until you've felt the sharp pain of stepping on one of your kids' tiny, blocky lego pieces they failed to put away. And let's face it, as much fun playing with those tiny lego bricks is, we all know too well that kids aren't nearly as excited as when the time comes for gathering them up. As big as the benefits of playing with legos are for your child's development, making them clean after themselves is just as important, but unfortunately not less difficult with some kids.
Fortunately for you, we've gathered here a few ideas and projects to make yourself that will help you solve this lego storage problem, and even better, we're sure the kids will love using them as well. Let's begin.
1. Lego Table From Plastic Drawers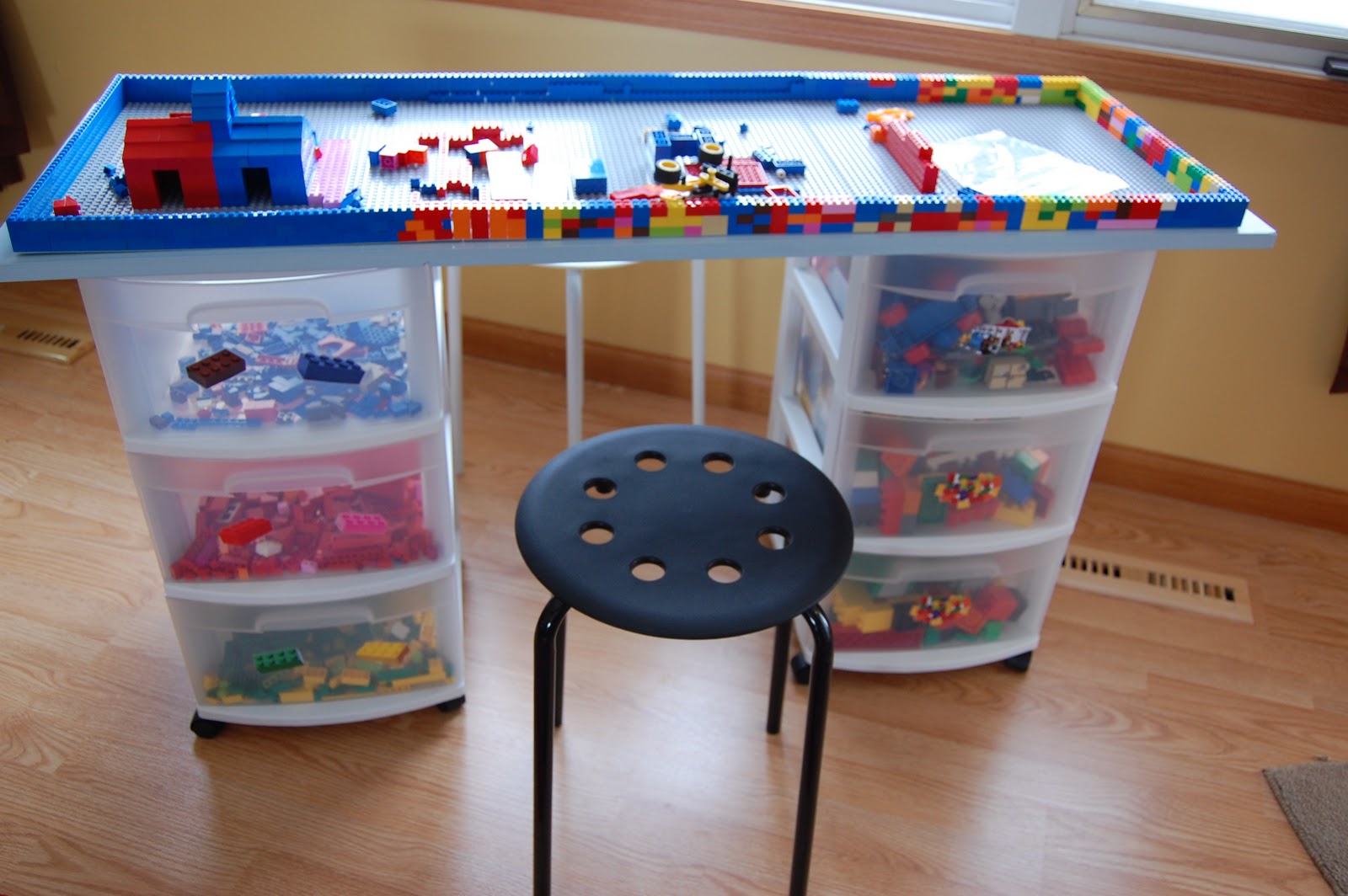 A lego play table is a good way to keep the legos off the floor, but you don't have to buy a table when you can make one with some plastic drawers. By using two sets of plastic drawers and placing a board over them you can have a nice building station like this one. Easy, right?
2. DIY Underbed Storage Cart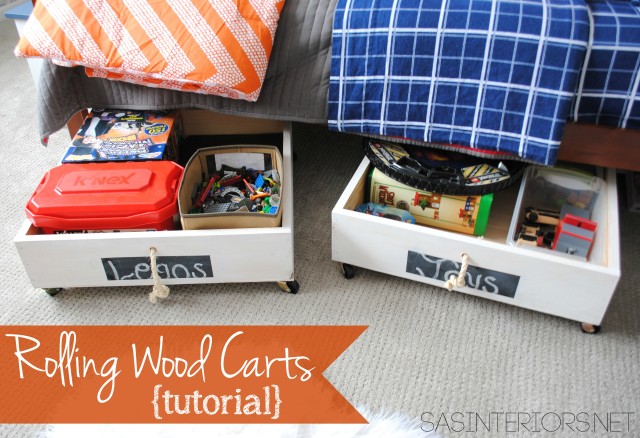 Building tables are nice, but not all kid's rooms have that much space. Here is a fun solution, having drawers on wheels for storing legos that you can just roll under the bed once playtime is done. You can build them with this tutorial, or use some you already have.
3. Foldable Play Mat DIY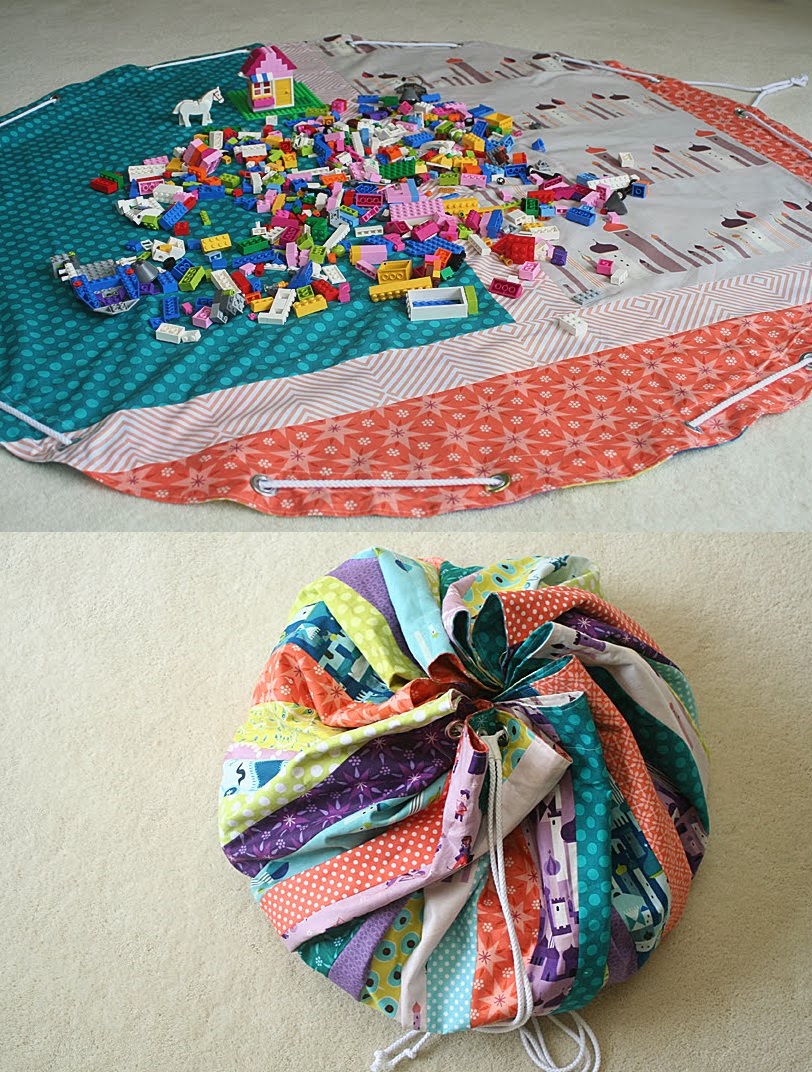 The floor is probably the most preferred place to play for the kids. Instead of spending time gathering all the toys from the floor, buy or make one of these amazing foldable play mats. After playing, simply pull on the strings and everything's nice and tidy. Like magick.
4. Peek-A-Boo Storage Bag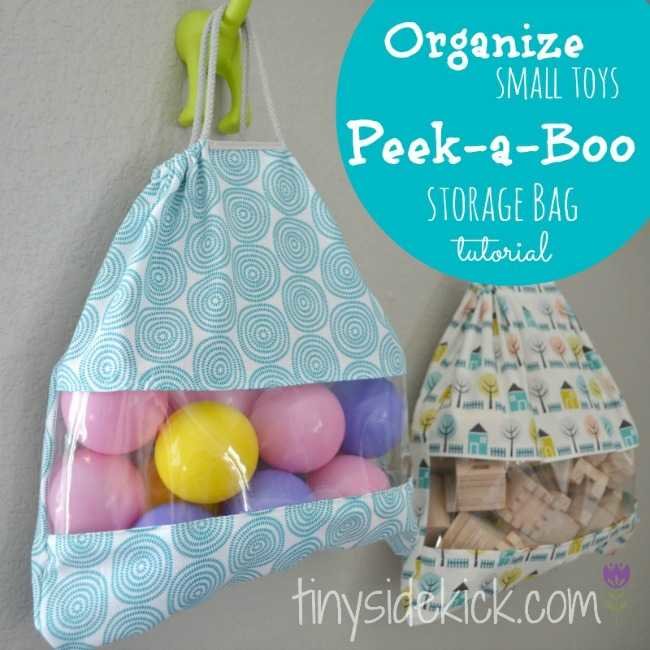 Bags are the oldest and most used storage solutions. When it comes to kids, opening and closing them all the time searching for their toys is bound to lead to some mess. This is why these peek-a-boo bags are so handy and one you should consider making.  It takes some basic sewing knowledge and the effort is well worth it.
5. Repurposed Dresser Into Lego Storage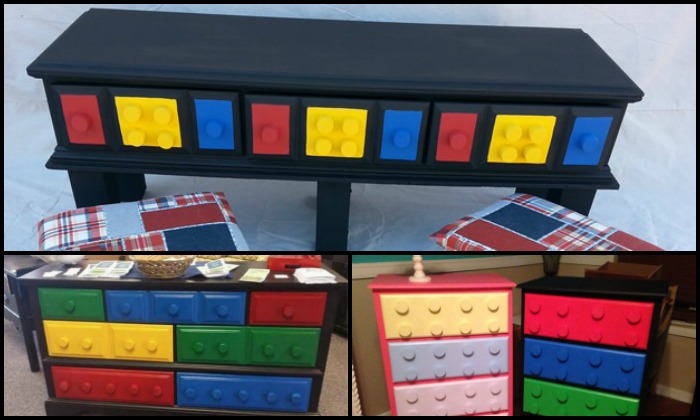 Have an old dresser you don't really use and just take up space? Here is a fun way to repurpose it. Turn it into a lovely lego themed lego storage. The kids will love it.
6. DIY Fabric See-Through Storage Bag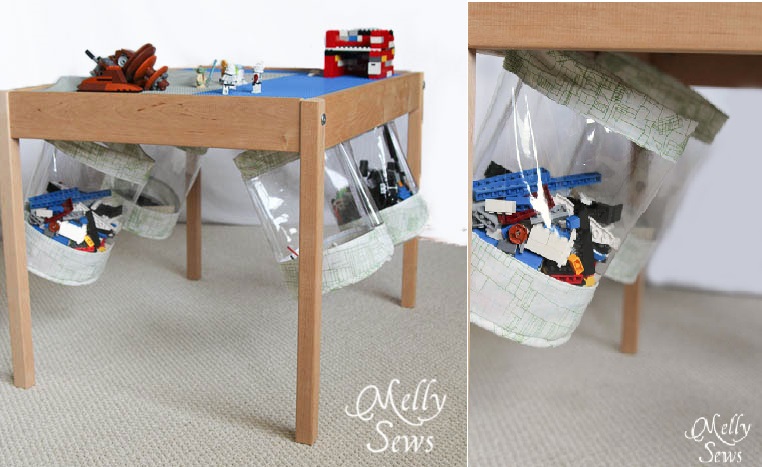 There are many activity tables with storage you can DIY, but this is a really easy one. You won't even need any power tools, just a sewing machine. With these fabric see-through bags that you can easily hang under the table, you can turn any of your kid's table into a more organized play area.
7. Shoe Organizer For Color Lego Storage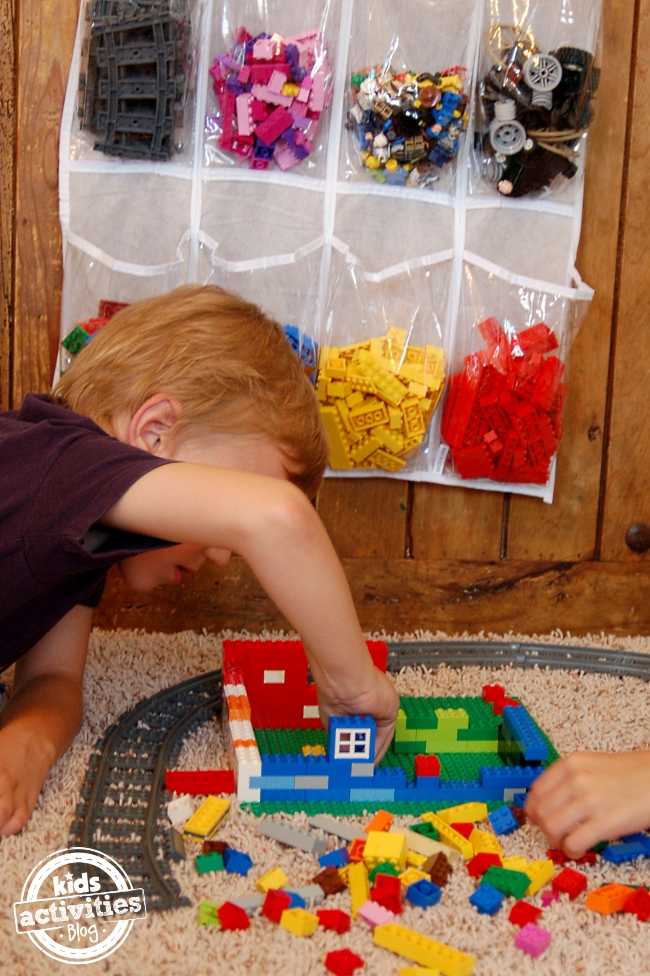 Shoe organizers. Is there anything they can't be used for? Simple, easy, and accessible to the kids. Hang one of these bags on the door and your lego builders can sort them out easily after they're done playing.
8. Hanging Bucket Lego Storage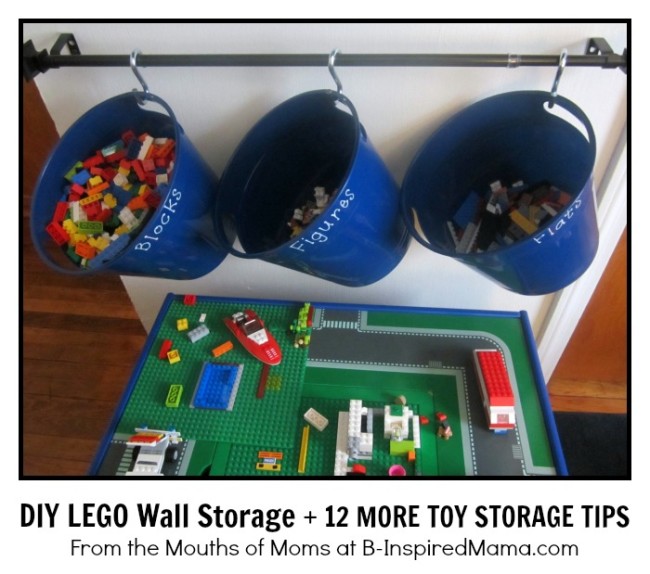 Similar to the see-through bag idea, here is one just as practical, for those of us who just aren't good with the needle and thread. Hanging a few buckets over the play area, name each one, and you have a nice and easy storage solution.
9. Ottoman Turned Portable Lego Table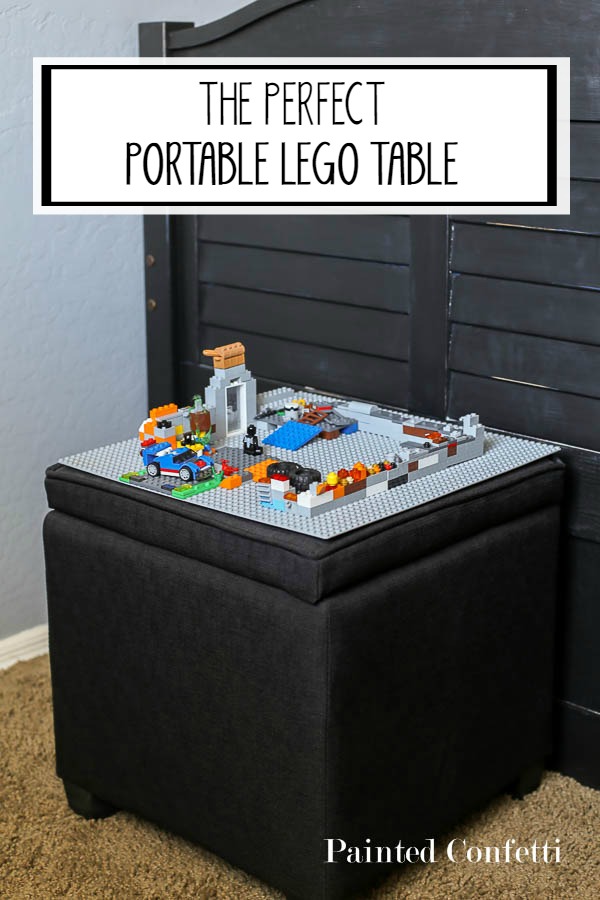 Another furniture hack you might like is this ottoman turned toy storage. It's neat, it's easy, and you can be sure that the kids will have no problem dumping their legos and toys inside and just closing the top. No muss, no fuss.
10. Jar/Vase Lego Storage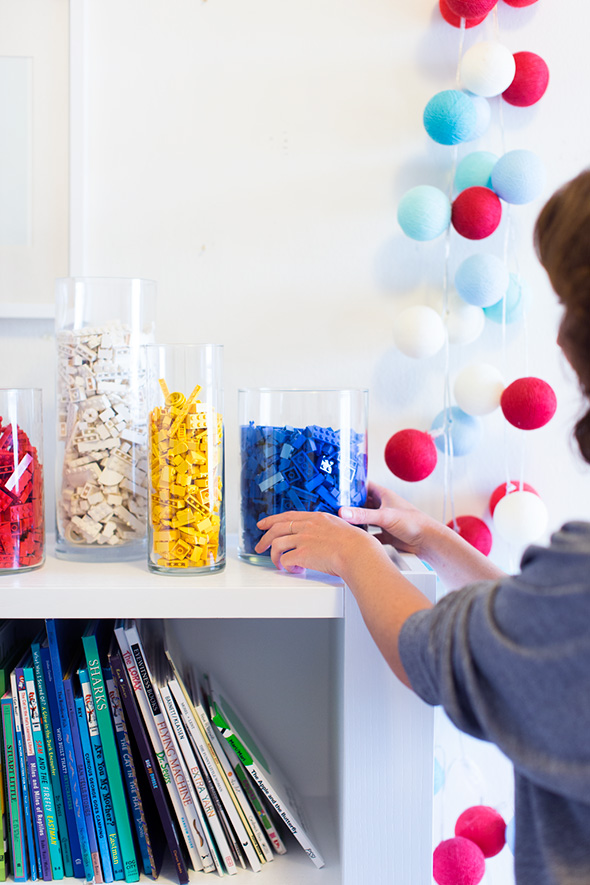 This storage solution may make some parents doubtful since it suggests using glass containers, and every parent knows this will eventually lead to some broken glass and a whole lot of mess to clean up So you can try this storage idea if you have not too young kids, or use nonbreakable containers since it does look nice. Almost like a decor piece, wouldn't you agree?
11. Lego Meets Lack
If you happen to have a coffee table with a shelf underneath, then you're halfway there to making some fun play station for the kids. Place some plastic bins underneath and a lego plates on top and you can relax while your kids enjoy their lego creating without making a mess.
12. Drawer Storage Unit Into Play Table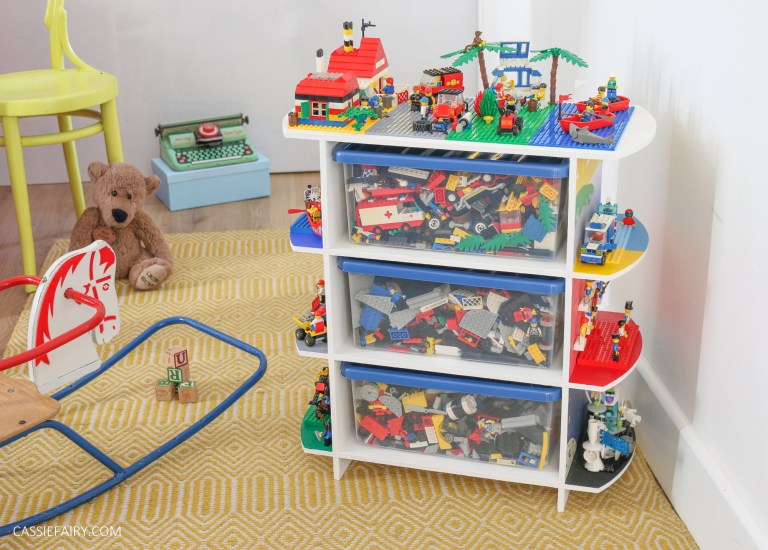 Don't have a small coffee table and don't plan on getting one? No problem. You can achieve the same effect in playability with a drawer storage unit. The surface might be smaller, but the storage makes up for it.
13. Duplo Storage In Plastic Containers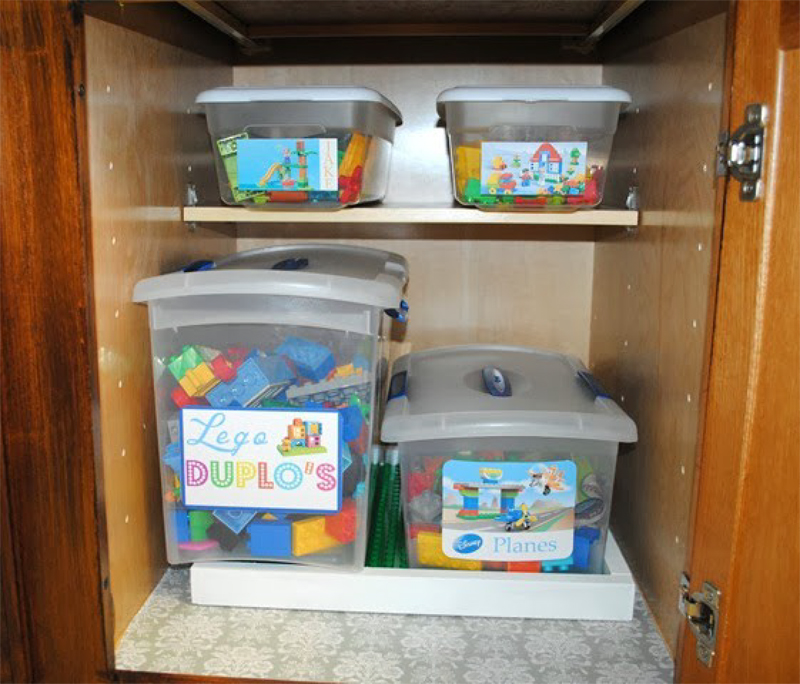 Another basic and sure way to get all those legos in one place is with the always reliable plastic containers or plastic shoe boxes in this case. Great for sorting Duplo legos along with the instructions and booklets and the kids won't mind dumping their lego blocks inside once they're done playing.
14. Rolling Lego Tray DIY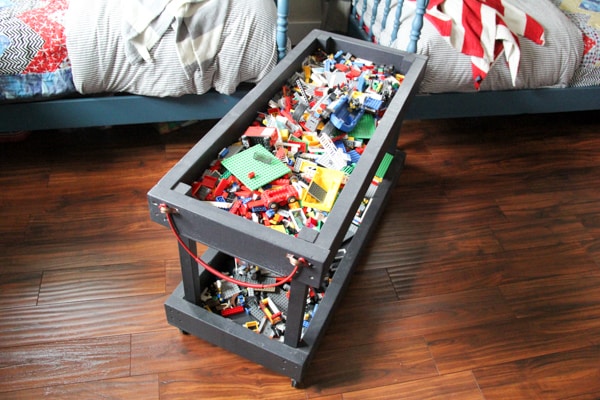 Some kids just don't want to gather their toys once they're done playing and don't want to limit their play to one place. With this rolling two-tiered lego tray the kids can play as much as they want where ever they want, and at the end just roll the tray aside, toys, legos, and all.
15. Tool Cart Or Tool Box Lego Storage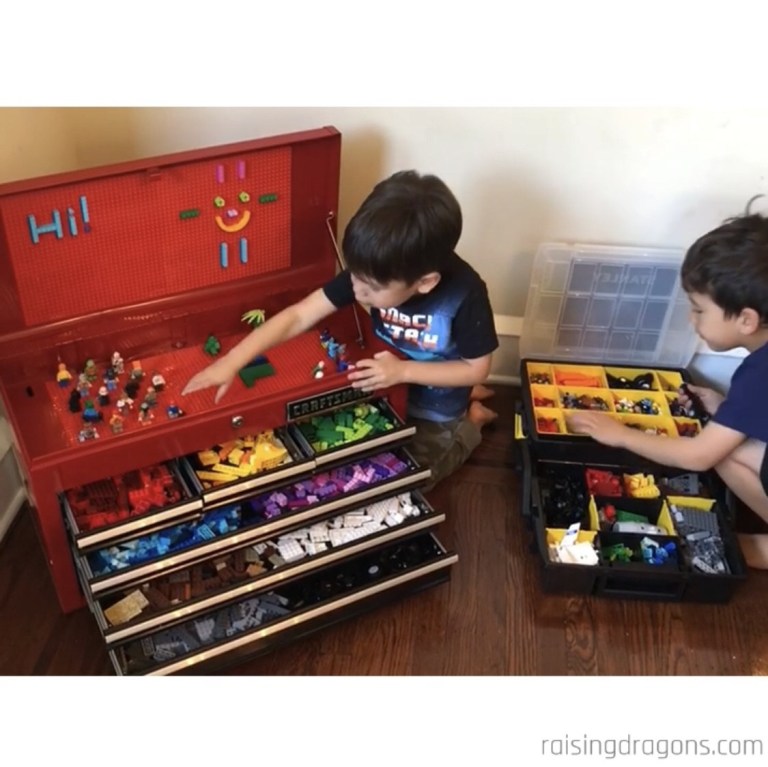 Using what you have is always better than going out and buying more things. So, keeping that in mind, if you happen to have some tool cars or toolboxes that you don't use that much, make your kids day brighter by giving them the most unique and fun storage for their favorite legos. The partitions in these boxes are excellent for sorting different lego blocks and the kids will love using them.
16. Lego Duplo In Ziplock Bags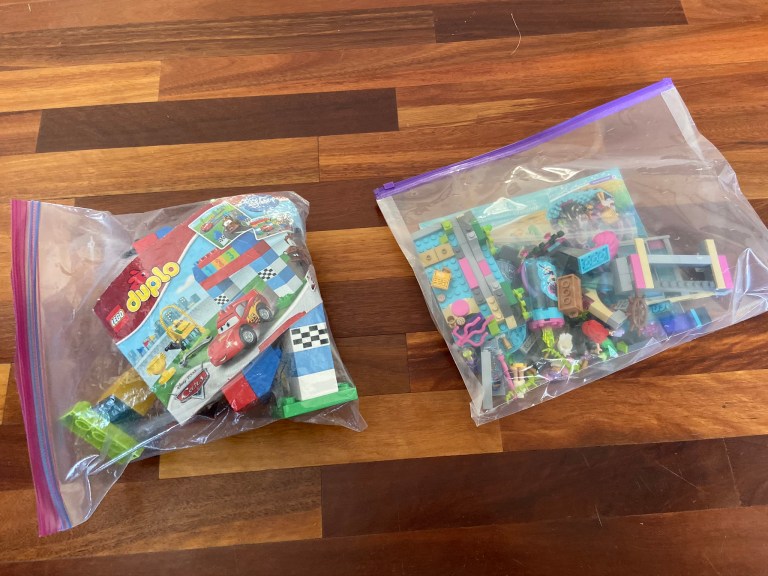 The last idea we have for you is the most basic one and great for Duplo legos that are assembled in certain ways. Ziplock bags. No lego will go missing that way and your kid can be sure that he'll have his playtime lego project complete every time.
That's all the ideas we have for you now. We hope you found some of them useful and you'll give them a try. Tell us your thoughts and we would love to hear some of your ideas and lego storage solutions in the comments.