What can I do with single socks? Should you throw one sock if the other one doesn't work anymore? Or if you lost the sock? Well, of course not.
There are many crafts and hacks that need socks. Yes, you read that right. You can make useful things for your home using your single socks.
You can use socks to sweep floors, keep car windows from fogging, or use them as decorative items. So, do not toss your old socks. Or if you have mismatched pairs, keep them.
Here are a couple of ideas how to use single socks for DIY projects.
1. No-Sew Sock Snake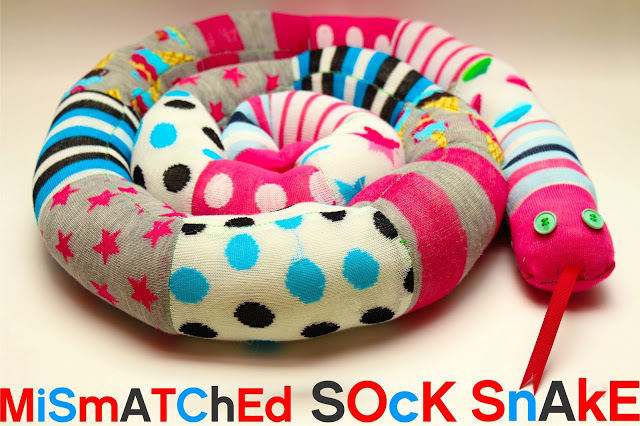 Let's start with something your kids will love. The socks snake is a great toy to play with. And it includes stinky socks. It is fun to sew, and it helps kids learn recycling and repurposing. Instead of throwing things in the trash bin, they can repurpose the socks.
You can add socks as you go along. You can start with just a few socks, and add more. Think of it as the snake game we loved on old Nokia phones.
2. Sock Wreath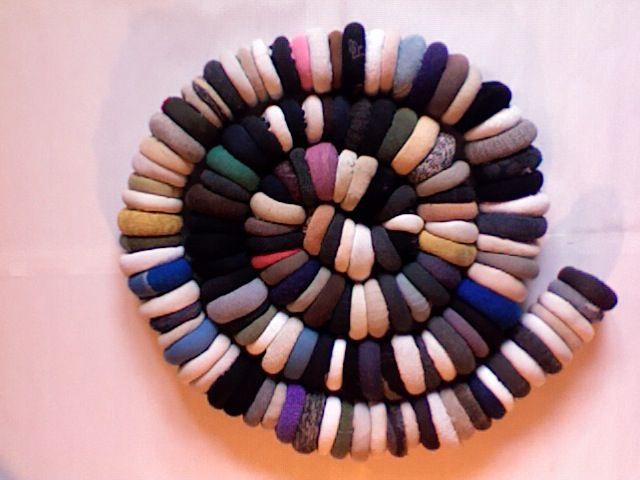 Wreathes are one of the best looking art decorations in the home. We use wreaths for different purposes. For example, we have a Christmas wreath, Thanksgiving wreath, flower wreath, Easter wreath, and so on. The list goes on.
Now, it is time for a simple decoration. No special purpose here. Just some plain old socks with holes you can repurpose into beautiful art.
3. Magic Salt Sock For Ear Infections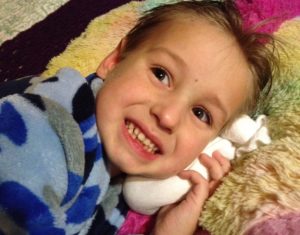 Salt socks are an age-old remedy for ear infection and earache. They are one of the simplest remedies you can make. All you need to do is dump some salt into a thick sock. Apply it to the painful ear and it will draw fluid out of it.
4. Dryer Balls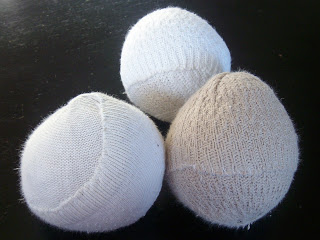 Dryer balls bounce around inside the dryer. They move the laundry around. This way, more air can circulate around the clothes, making them dry faster. What is there not to like? Instead of waiting for hours for the underwear to dry, you can speed up the process. And reduce the cost of drying.
Some dryer balls also make your clothes smell nice. Our DIY balls do not. But they do not cost a dime. You already have them in your home.
5. Little Girl Leg Warmers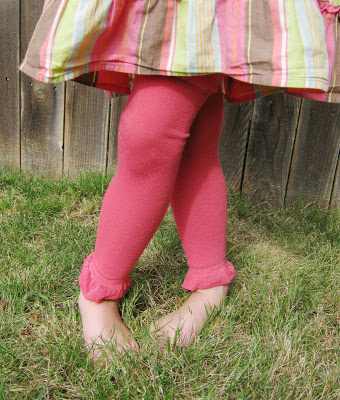 When the fall and winter months come around, your legs need warm protection. This applies even more for little girls that love wearing dresses. You can shop for tights. But that will empty your wallet quickly. Another idea is to make leg warmers from ladies knee socks. Here is how to do it.
6. Fish Cat Toy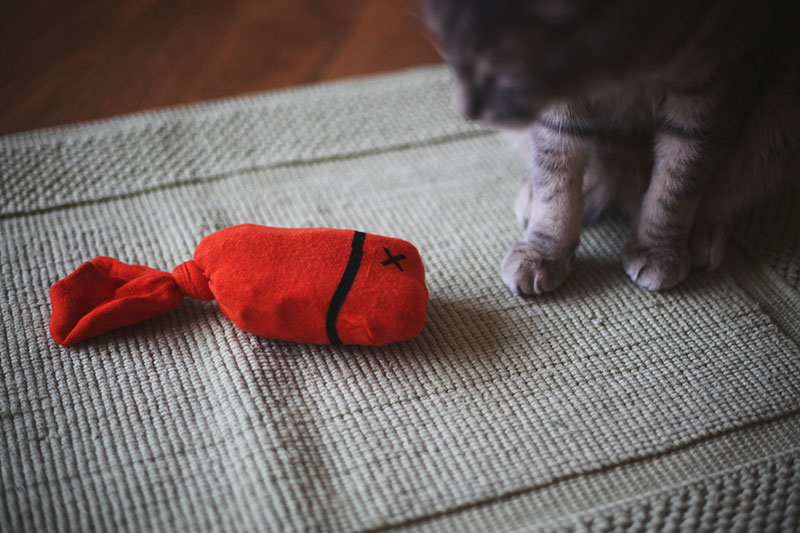 Cats and fishes, these two come in a pair. It is the evolutional cycle. The problem is, it is not ethical to give your cat live fishes to catch and play with. Instead, we give them fish toys. This one is easy to make and fun for your cat.
7. Windshield  Wiper Cover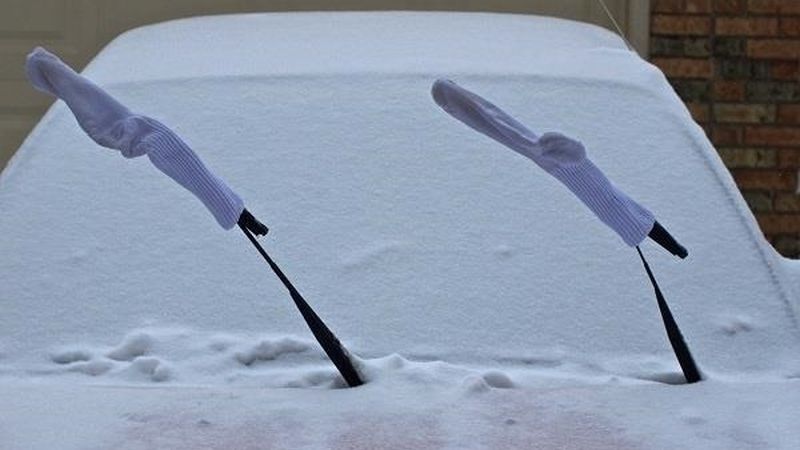 Winter months and weather bring many challenges in our lives. One of them is dealing with frozen-over car in the morning. And what about those windshield wipers? Well, we want to help you prevent your wipers from freezing. All you need is a pair of socks. They do not even have to come in pairs.
8. Bean Bags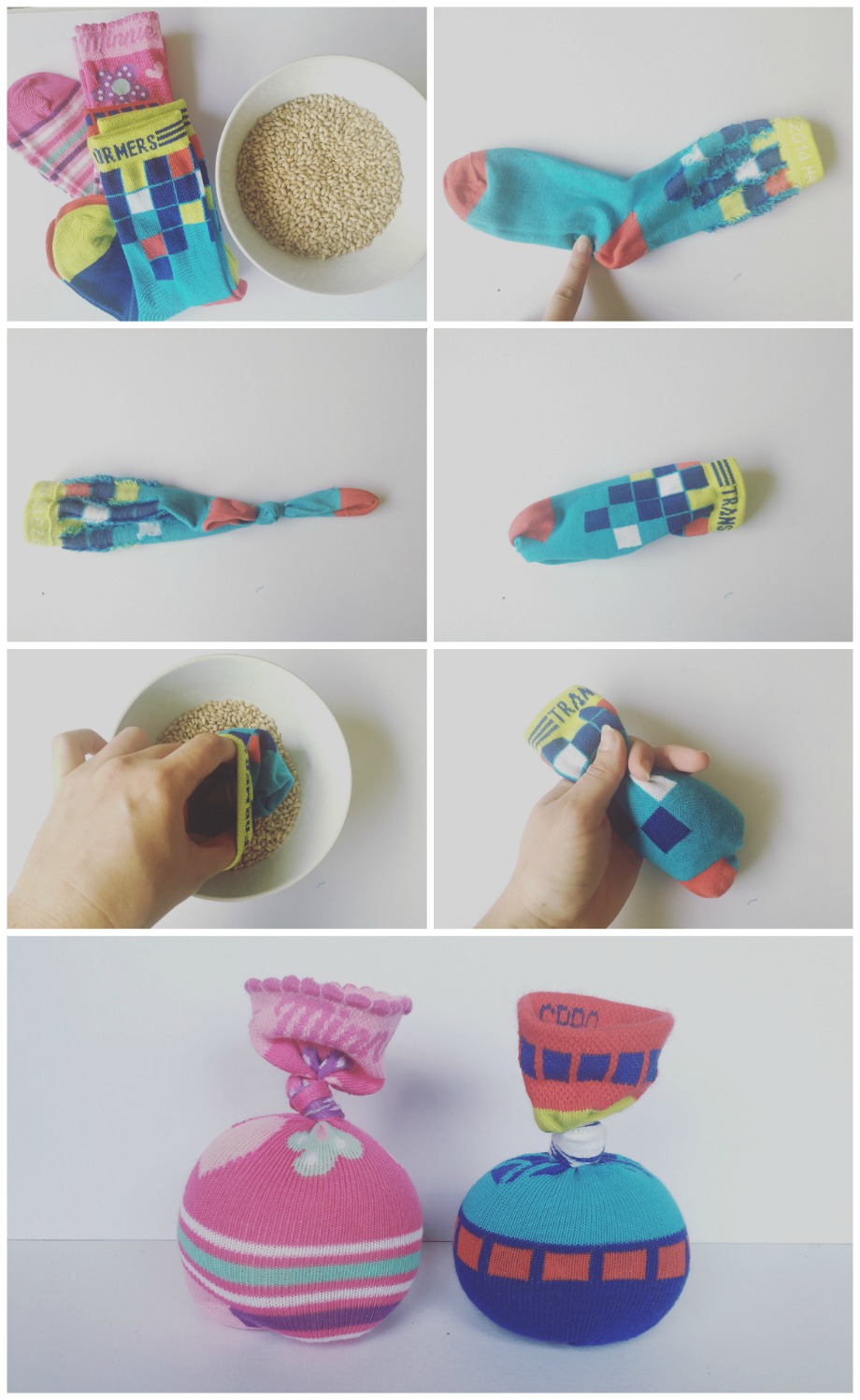 Bean bags are fun for all kinds of things. And you can make them with single socks. Or a pair of socks that your kids have outgrown.
Here are some ideas. For toddlers, they can squish and throw the bags in and out of plastic containers. Teenagers can play bean bag throw, bean bag target, bean bag balance, or the popular hot potato game. And these are just some ideas. You can come up with a bunch more.
9. Armband iPhone Holder
What do you do with your phone when you go running? Do you keep it in your pocket? What happens when your shorts or leggings do not have pockets? Well, thanks to the armband cover we now have a solution. You can buy one online for a couple of bucks. Or, you can make the most comfortable and easy DIY phone armband with a single sock.
10. DIY Sock Bun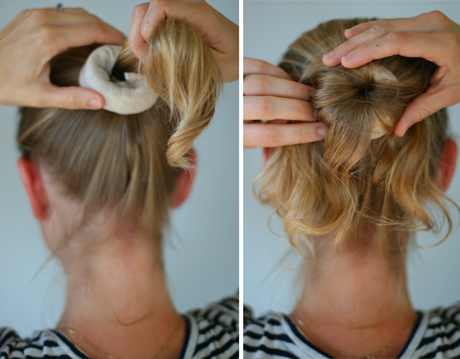 Some women have troubles making a bun in their hair. If you have fine and baby thin hair, the struggle is real. Your hair doesn't hold anything. And it looks pathetic in a bun. Luckily, there is a simple solution to the problem. And it comes in the form of a single sock.
11. Bubble Snake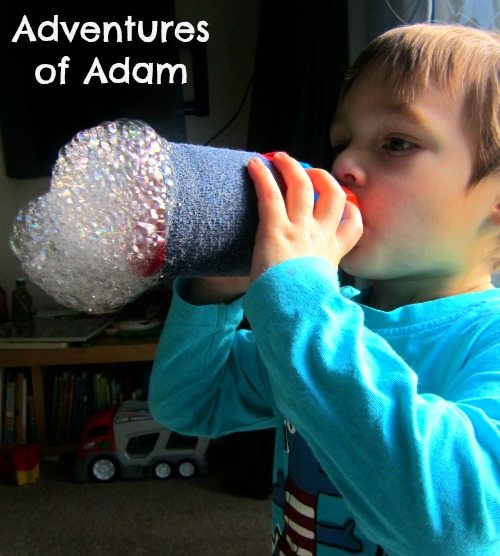 Sensory play is crucial for kids' development and evolution. We have a couple of sensory play games ideas you can search through our blog. But in this DIY socks section, we will give you another one. We call it the Bubble Shake. You can easily make this machine by cutting off the bottom of an old water bottle and place a sock over the bottle.
12. Dog Sweater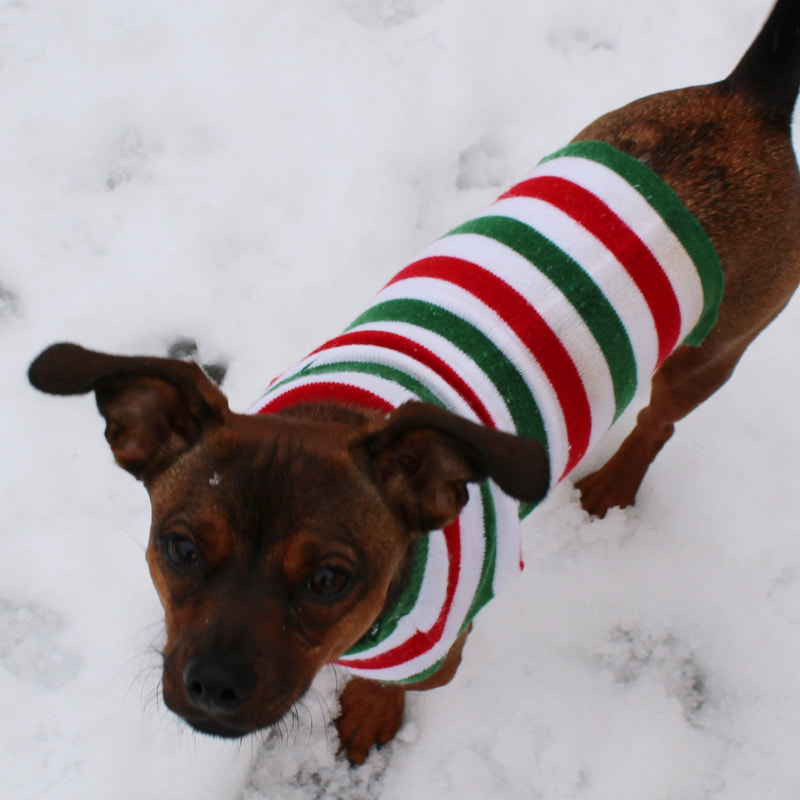 Some dogs are perfectly wine during the winter on their own. They do not need any clothes. But there are breeds that cannot handle the cold weather. They need some clothing. In this guide, we will tell you how to create a sweater for your puppy using socks. Yes, that is right, a socks sweater.
13. Microwave Heating Pad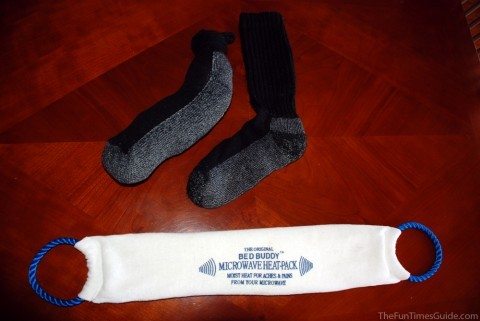 Microwave heating pads help you when you need to apply indirect heat for pain relief, warmth, or comfort. You can easily make this one at home. Even with limited sewing abilities.
14. Natural Shoe Deodorizer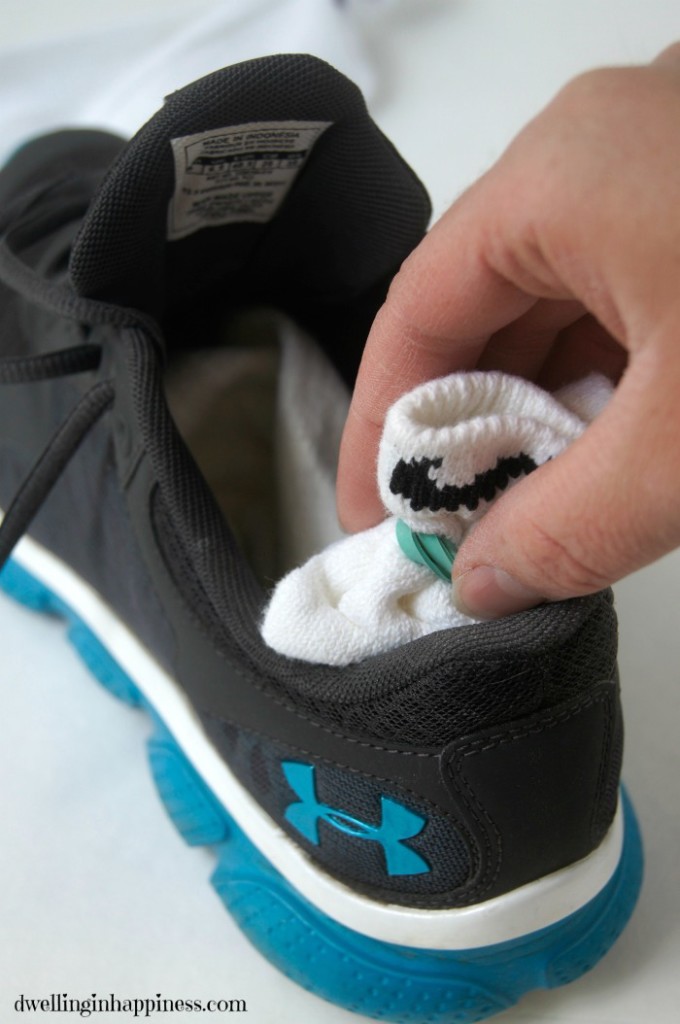 Shoes rarely have pleasant smell. After all, we wear them for days. Our feet sweat, and the stink stays in our shoes. Combine that with sweaty socks, and you have a recipe for disaster. Well, socks and shoes are a standard combination. But now, we put a twist on it. We use essential oils to make your shoes smell pleasant. And you can do it by recycling some old socks.
15. Dog Toys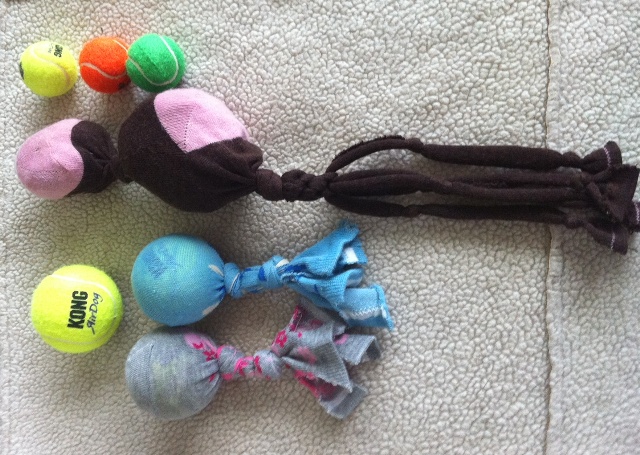 If you have a dog that loves chewing and destroying toys, you know the struggle. Your wallet can go from full to empty quickly. Buying new chewable toys for our furbabies is expensive. Well, today, we will give you an idea how to get a new cheap toy, and make it a bit more challenging for your dog to chew it.
16. Dust Mop Cover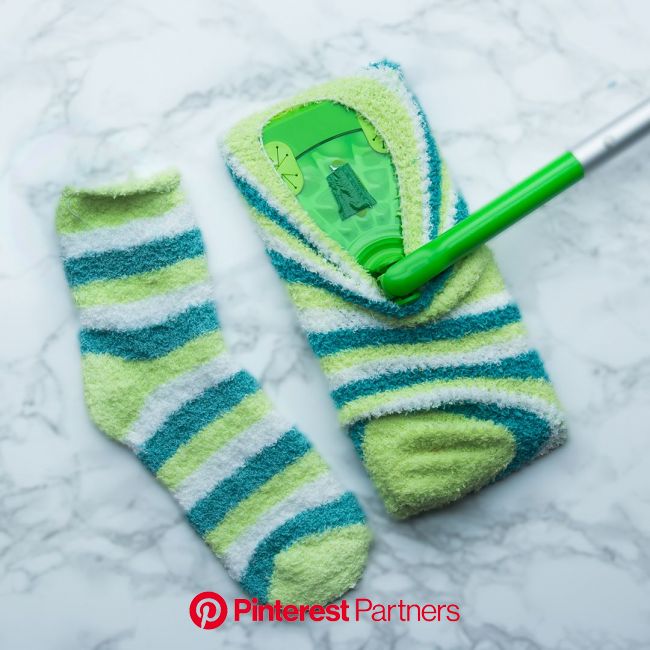 Mop pads are another item you can make with socks. And as with other reusable mop pads, you can wash them and clean them.
17. DIY Balloon And Sock Wrist Rest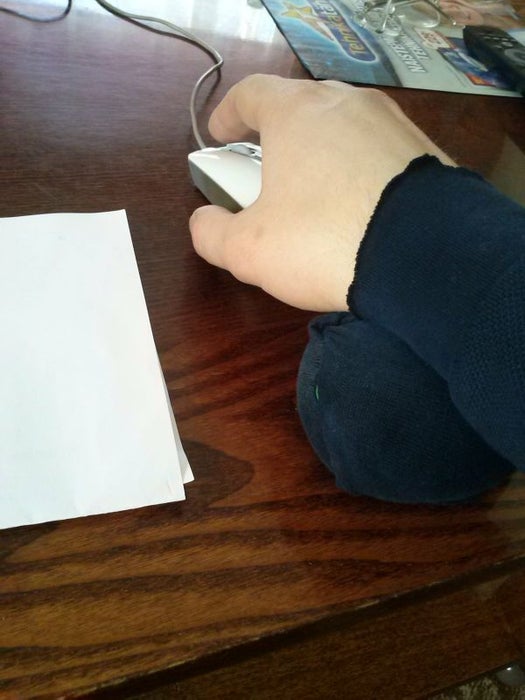 Carpal tunnel syndrome is a medical condition due to compression of the median nerve as it travels through the wrist. Anyone who works daily in front of a computer is a potential victim. It is a painful feeling in the wrist after working too much with a mouse and computer.
Wrist rests help you relieve the pain and reduce the risk of developing CTS. In this guide, we will give you an idea how to create one on your own.
18. No-Heat Curls With Socks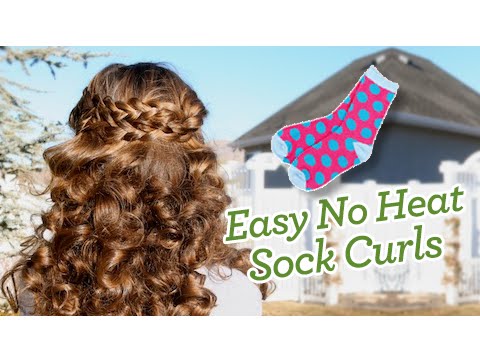 No-heat hairstyles are so popular right now. And rightfully so. By now, most of us know the damage heat can do to your hair. Well, in that spirit, we have a curling technique that need only socks and water. This one comes from our grandparents.
So, with that in mind, we hope you have enough ideas what you can do with your old socks. And if you have anything else to add, do it in the comment section.