So, you are preparing to build your first concrete sleeper retaining wall? And one of the first questions you have is what the best adhesive for retaining wall blocks is? Well, do not worry, we have you covered.
You are getting mixed answers on whether or not you need adhesive between blocks. Well, for starters, depending on the type of blocks you use, you may need or may not need to use glue between the layers.
Here is the short version. If you are building a wall with interlocking blocks, you do not need glue or adhesive. Yet, if you are using cinder block wall, you need something to fill the holes. Some might use cement, others opt for the best adhesive for retaining wall blocks.
Don't stop reading yet, we have more answers to your questions.
Should you glue a retaining wall block?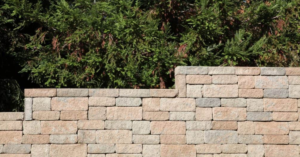 As we said before, glue is not always necessary when building retaining walls. In most cases, it will help your wall stand for a longer period of time. There are many different blocks that can be used in building retaining walls. Some interlock, which eliminates the need for any type of adhesive.
Yet, traditional retaining wall blocks are not as easy to install. Yes, they are cheaper, but you will need some glue.
Pros and cons of using glue
Now, let's talk about the nitty-gritty. There are many advantages and disadvantages of using glue or adhesive for blocks.
Let's start with the advantages. For starters, glue is easier to use than mortar because you do not have to mix it. Comparing glue to mortar, we come to the conclusion that construction adhesive dries faster and quicker. It takes only a few hours, compared to several days. Another advantage is glue is less messy and easier to clean up.
Now, on the downside, there are walls that you cannot use glue on. For example, sagging walls. They are not entirely vertical and when you apply glue, it will drain down the side of the blocks.
Another downside is the limit. Yes, you can use it, but it is not wise to use adhesive for a retaining wall that is more than four feet tall.
What is the best adhesive for retaining wall blocks?
Now let's try to answer your main question. There are many adhesive products on the market. But after thorough research, we came up with a couple of them that work much better. Let's talk and help you come to a decision on which glue to use for your walls.
Loctite PL 500 Landscape Construction Adhesive
This heavy duty adhesive is formulated specifically for outdoor landscaping projects. Think installing cement paving stones or securing cap stones. It will surely work for retaining wall blocks.
The best part is it comes in all weather application. It is waterproof and resistant to all types of weather. Think freezing temperatures to extremely hot.
As a versatile landscape block adhesive product, it provides strong, and durable bonds to brick, metal, concrete, wood, treated lumber, stone, and more.
You can gun it directly onto wet and frozen lumber and it will not roll up. So, there you go, our premium pick.
Loctite Premium Construction Adhesive
Loctite is the brand that is best known for these adhesives. The Loctite Premium is suitable for both indoor and outdoor use. Because it is repositionable, it allows for some tiny mistakes. It is eight times stronger than other brands, and it is true.
Loctite Premium provides a strong initial hold and then you can paint over the finished product. Even more, it adds extra shine to your product.
You can use it for everything, from wood feature wall projects, and a retaining wall block, to even your refrigerator makeover. It is literally woven into your projects.
Gorilla Glue Max Strength
Gorilla adhesive is another popular choice. The Max Strength Construction Adhesive provides the strongest bond of all Gorilla Glue products.
It has a non-foaming formula that dries clear. Even better, it is waterproof. If you like, you can use this Gorilla product for underwater applications.
3M Marine 5200
Now, here is an adhesive product for those of you who are not in a hurry. It is an excellent adhesive, but it will begin drying in 12 hours. It can take up to five days to fully cure. We said before that one of the advantages of using adhesive vs. mortar is quick drying. Well, that might not be the case with 3M Marine 5200.
But there are reasons to get this particular adhesive. It can be used in a range of temperatures ranging from 40 degrees Fahrenheit up to 190 degrees. It is sticky when dry.
The only drawback might be the cost. Why? Because if you do not use it whole, it might set up and will be useless. So, you are paying for a large tube but you use only a fraction of it.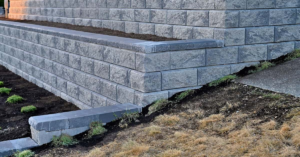 F-26 High Strength Gel Heavy Duty Adhesive
Here is another adhesive product that offers a strong bond. Durable and waterproof, you can use the F-26 Adhesive in indoor and outdoor settings. It has an open time of 15 to 40 seconds and cures within 24 hours.
The best part about this particular adhesive is that it will continue to get stronger as it ages. That applies even more during the first week of application.
Humidity does not affect it. You can apply it to wet and frozen surfaces.
How to glue the retaining wall stones?
When gluing a retaining wall, there are a few things to consider. First, it is essential to note that the first row of stones will not require an adhesive.
What you do is press those snugly into the bottom layer of gravel, sand, or any other material you use as a base.
Then, starting from the second row of bricks, blocks, stones, or any other material, you apply a thin layer of glue over each block individually.
Do not slide the top block across the bottom stone. What to do instead? Place it directly on top of the bottom block, and then press firmly.
How to secure a retaining wall cap?
Here is another question we need to answer about the best adhesive for retaining wall blocks. Before capping your retaining wall, make sure it is level. If the material is uneven, be it blocks, stones, or bricks, you need to cut them all to the same size. Leave approximately three inches for overhang.
Once the cap fits nicely, apply a thin layer of adhesive and press the cap firmly to the wall. Repeat all the way across.
Why do retaining walls fail?
Simply put, because of improper installation. But another big reason is poor drainage. Without proper drainage, your retaining wall will fail. Why? Because hydrostatic pressure builds up behind the retaining wall.
And we know saturated soil is heavier than dry soil. Your retaining wall is not designed and built to handle such a load and pressure.
So, when you build your retaining wall, make sure to ensure proper drainage. Otherwise, no glue will hold it.