Shade isn't only essential for keeping yourself comfortable during those hot summer days. It can also contribute to transforming your backyard into a sanctuary of relaxation! With so many creative options out there, it's easier than ever before to find the perfect solution that caters to both your functional needs and aesthetic desires. In this article, we're presenting you with nine unique ideas that will help make your outdoor space more livable. Keep reading to explore all the fantastic ways you can enjoy your backyard in style.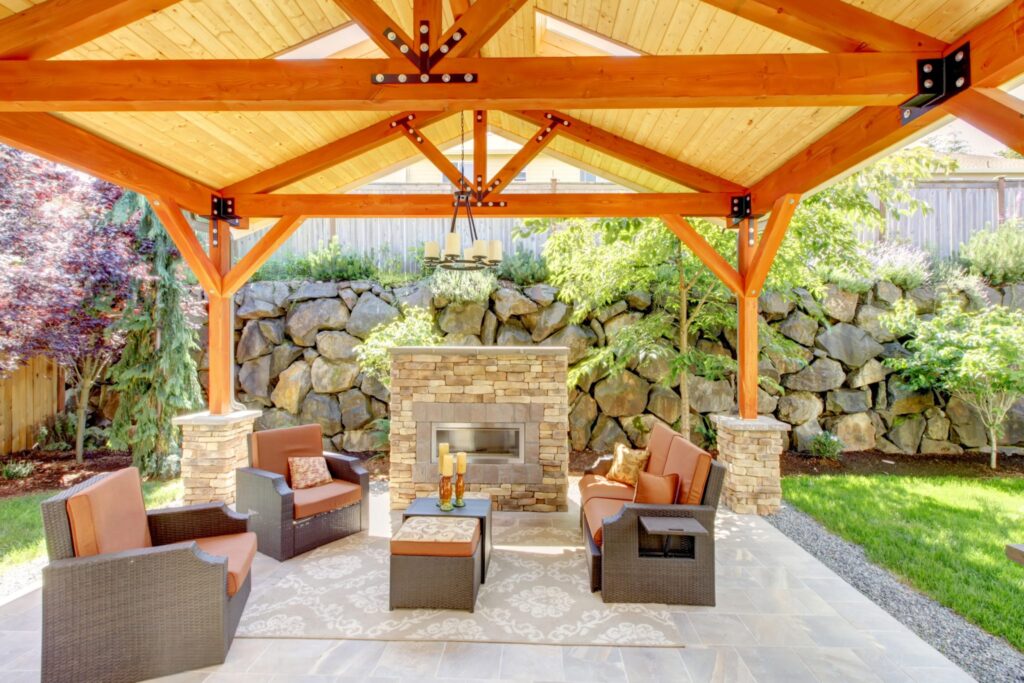 Unique backyard shade ideas
Here are some unique ideas that can help you add shade to your backyard:
Patio Cover: Simply investing in a patio cover is an easy and effective way to provide ample shade. Depending on your budget, you can choose from numerous types of covers, such as aluminum, wooden, or vinyl, that range in price accordingly. This method is especially ideal for those who wish to use their outdoor space for entertaining guests and want to be sure the weather won't ruin the fun!
Pergola: If you're looking for something more elegant and sophisticated, then installing pergola covers may be the perfect solution you've been searching for. It allows for an open-air feel, and its latticework roof provides enough shade to keep you cool during summertime when paired with other furniture pieces like benches, chairs, or couches.
Lattice Shade: If you're short on budget but still want a good deal of shade, lattice shades are an easy and inexpensive way to get the job done. They work best on patios or decks that receive direct sunlight to provide adequate coverage over the area. Plus, their simplicity makes them quite versatile, so you can easily customize your lattices with plants and other decorations for a unique touch.
Retractable Awnings: For something more modern-looking, why not consider installing retractable awnings? This type of shade is perfect for those who want to enjoy both sun and shade, as it allows you to control the amount of coverage over any given area. Depending on your preference, you can opt for manual or motorized options. Be sure to pick up the proper hardware and accessories so they will last a long time!
Shade Sails: Shade sails are worth considering if you're looking for something more unique and eye-catching. These versatile pieces come in various shapes and sizes that enable you to create a customized look based on your personal preferences. Not only do they provide adequate protection from the sun, but they also add an extra bit of charm to any outdoor space.
Umbrella: Installing an umbrella is one of the most popular solutions out there when it comes to providing shade outdoors. This easy solution is perfect for those who want control over the amount of sun exposure and can be moved from one area to the other with minimal effort. Plus, umbrellas come in a wide range of styles and colors, allowing you to find one that best fits your needs!
Gazebo: For something truly breathtaking and luxurious, why not opt for a gazebo? This elegant structure is perfect for hosting summer parties or relaxing outdoors. Its roof provides adequate coverage so you can enjoy sun and shade whenever possible. Additionally, its decorative details add an extra layer of sophistication, making your backyard look even more inviting.
Tree House: If you're looking for a fun way to provide shade for your outdoor space, consider building a tree house! This fun DIY project will provide coverage from the sun while also allowing you to enjoy the scenery around you. Plus, it's a great way to get the kids outside and give them something to do that doesn't involve screens or video games.
Trellis: For those looking for something on a smaller scale, trellises are an excellent option. They work well when paired with potted plants and flowers and add texture and shape to any outdoor space. Depending on your needs, you can opt for wooden, vinyl, or metal designs. Just be sure to pick up whatever hardware is necessary to install it properly.
Why would you want to go through the effort and expense of adding shade to your backyard? The answer is simple: it will help you make the most of your outdoor space. By adding shade, you'll be able to enjoy the outdoors in comfort and style while also protecting yourself from harmful UV rays. Plus, with these creative solutions, you can find a design that best fits your needs and preferences so that everyone will be happy.
Conclusion
No matter what creative shade solution you choose for your backyard, you can rest assured knowing that it will provide adequate protection from the sun's rays while adding style and charm to any outdoor space. From umbrellas and gazebos to trellises and tree houses, there are plenty of options available, so be sure to pick one that best suits your needs. Whatever you decide, you're sure to find the perfect way to enjoy quality time outdoors while staying cool.