A kitchen is always meant mainly to be the functional part of the house. But, sometimes, you might overlook the aesthetic aspect of the kitchen interiors, and it is not ideal.
After installing the kitchen cabinets and counters and clearing all the clutters, it is now time to visualize your overall kitchen. There are several ways to show your love towards this cozy and busy place of your home.
Integrated and texture, simple yet elegant, are the trademark of ideal kitchen decoration. Of course, you cannot do much to the kitchen surface area to avoid cluttering in the kitchen. But, you can beautifully decorate vertical space. 
Following are various kitchen wall décor ideas:
Food-Related Pictures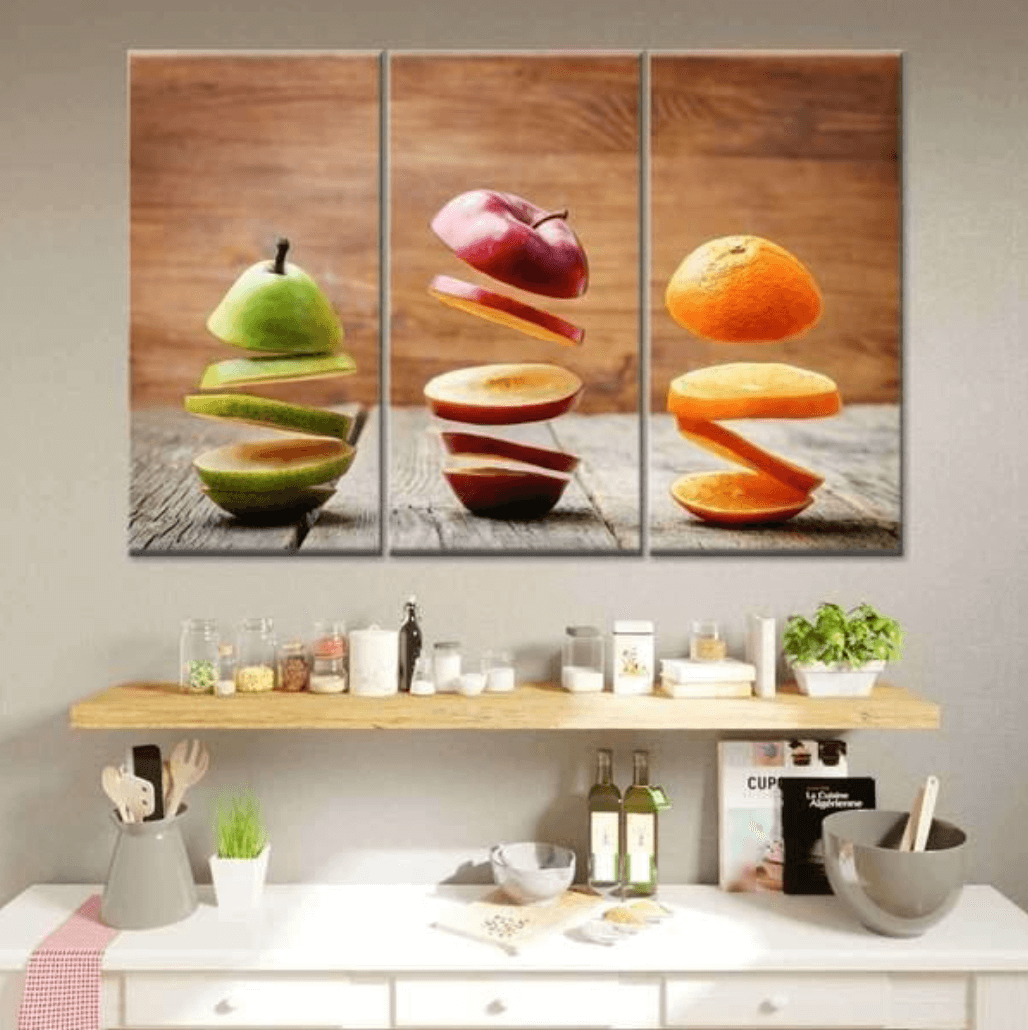 The clips help you remove the pictures easily whenever you wish to replace them or switch the position. In addition, food art on the kitchen walls gives an eye-catching look to the kitchen interiors. 
It will spice up your kitchen walls with delicious wall art. The bright and vibrant colors and appealing display of the food painting convey a feeling of freshness. A large piece of artwork is best for a kitchen as it lends an instant character to a wall.
Charm the Kitchen Wall with Abstract Wall Art
Abstract art is an elegant way to spice up a kitchen wall.  You can display a large canvas of abstract art to bring a chic restaurant feel to kitchen walls. 
The 3D wall painting makes the minimalist kitchen corner stand out while maintaining simplicity in the room.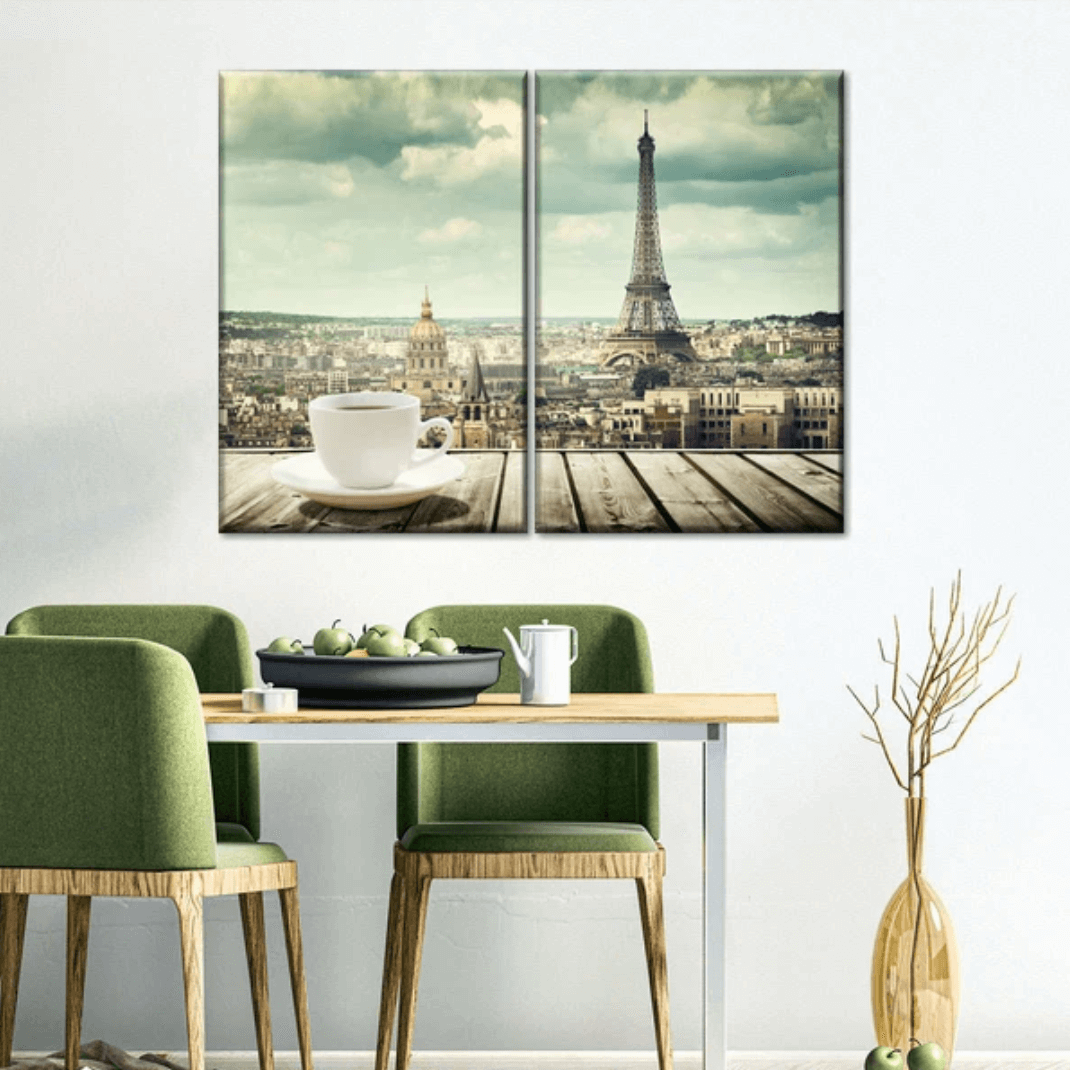 Tape Funky Vinyl Kitchen Wall Décor
Vinyl wall decals are one of the creative ways to decorate the kitchen walls without refurbishing them. There are unlimited vinyl sticker designs you can pick to suit your style.
Vinyl Wall stickers are very versatile, and you can use them on any wall finish, such as quirky decals on glossy tiles. They add a unique character and style to your home and create a focal point of discussion.
Bricks Feature Wall
Bricks are a unique way to make a feature wall in a kitchen, and it provides a perfect replacement to the tiles. You can make any wall a feature wall with bricks or decorate all walls with bricks to bring real character.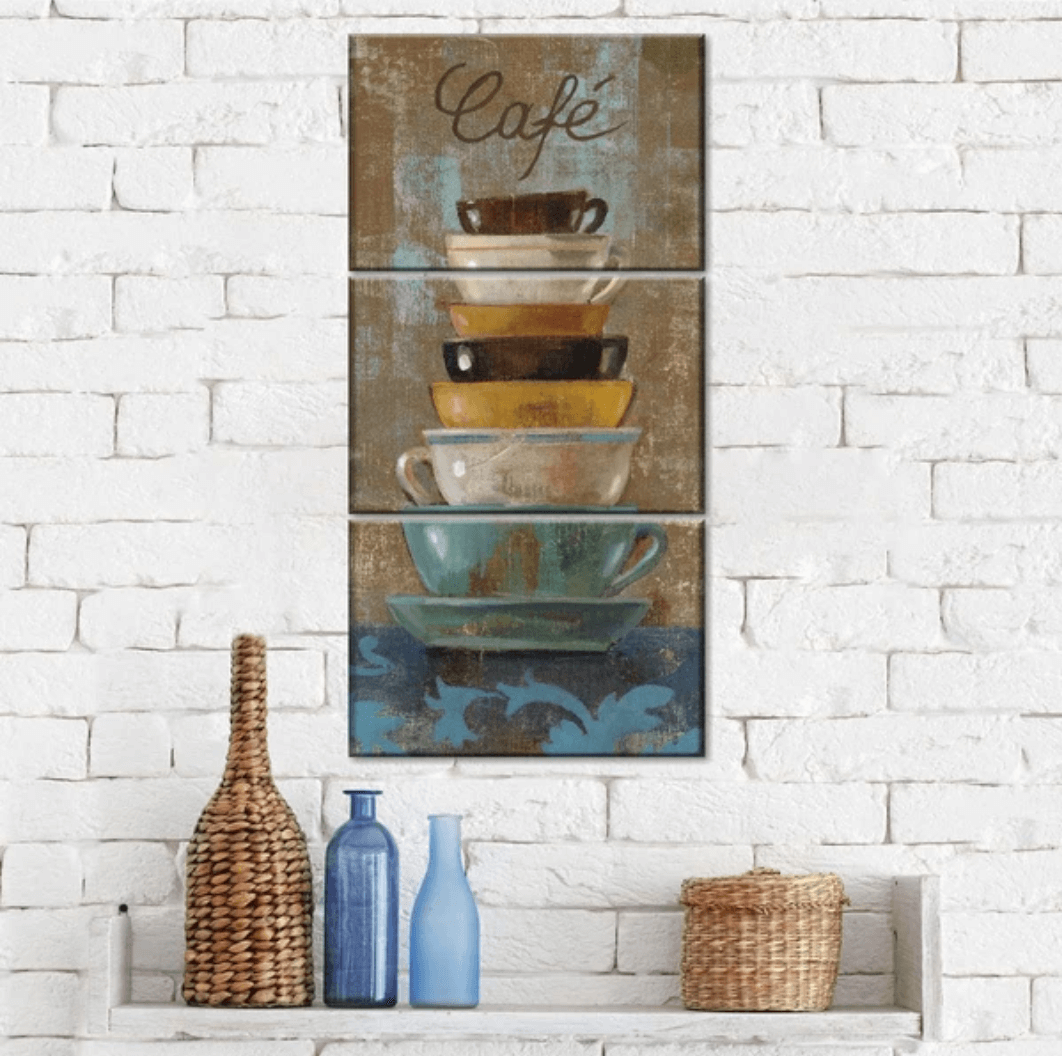 By using brick slips, you can add a rustic feel of the vintage bricks in the kitchen. Moreover, it will transform the kitchen from a worn-out and tired area into a modern and exciting cooking hub.
The Practicality of Shelves in Kitchen Wall
Floating shelves are a creative and ideal way to maximize the small kitchen walls. It is one of the most common characteristics of most contemporary kitchens. In addition, the shelves are the perfect place to display the gorgeous kitchenware.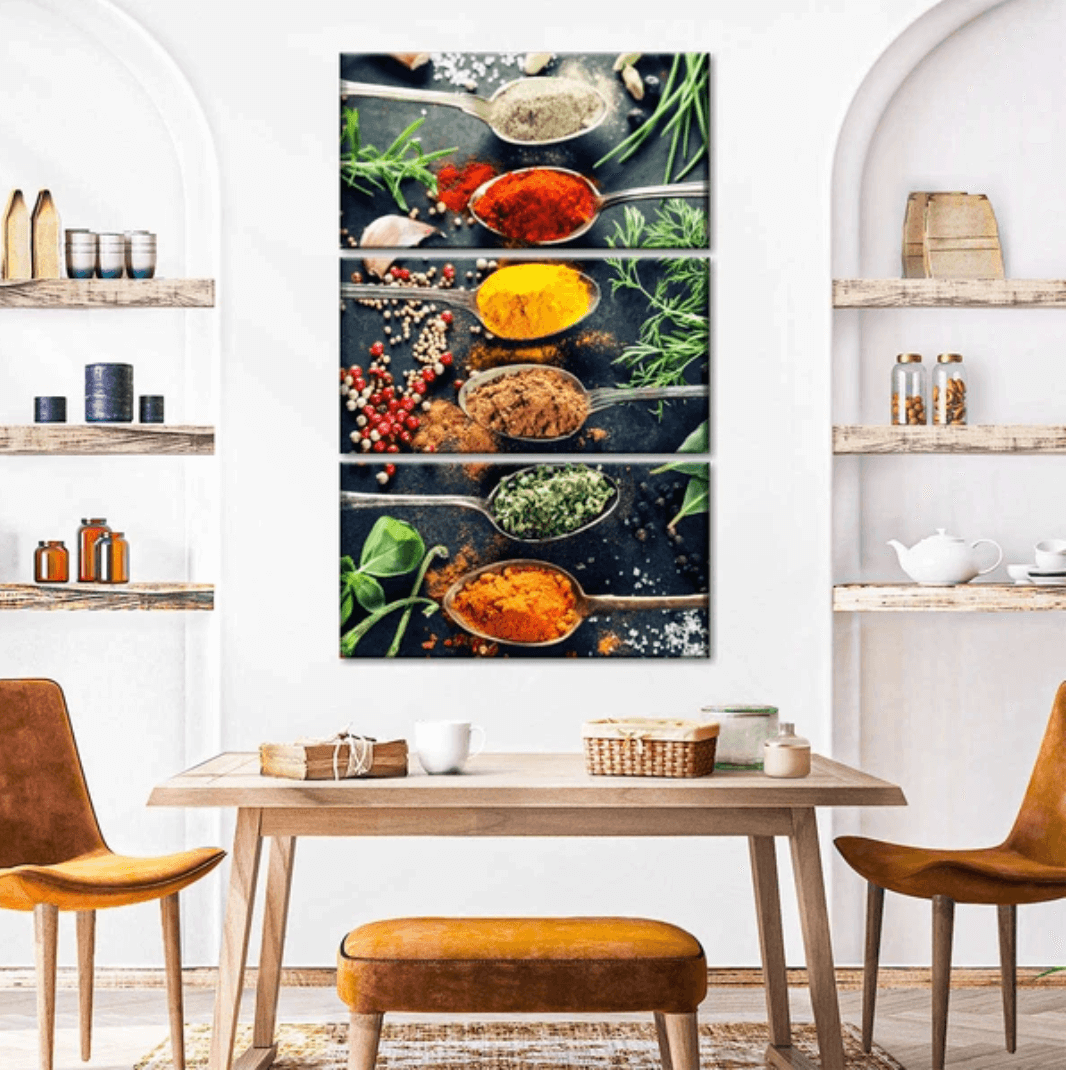 The neutral pallet in the kitchen creates a dual-tone and subtle look without getting overwhelming.
Gallery Wall
No rule says you can not display the family portrait, old family photographs in the kitchen.  A gallery wall of family pictures with glass-paned frames will let you relive the old memories by looking at your loved ones. 
A gallery wall will automatically improve your mood.  If your spirit is good, you will be able to make a delicious meal. You will be able to show your love with your food, and your family will be satisfied too.
Food and Prayer Sign or Thoughtful Wordings
You can decorate kitchen walls with timeless canvas art. Grace the kitchen walls with a touch of phrasing that brings out your inner compassions.
You can create this piece of art with wood stylings, styling your space to a place of blessings before every meal. You can also introduce the kitchen work area via a timeless metal piece.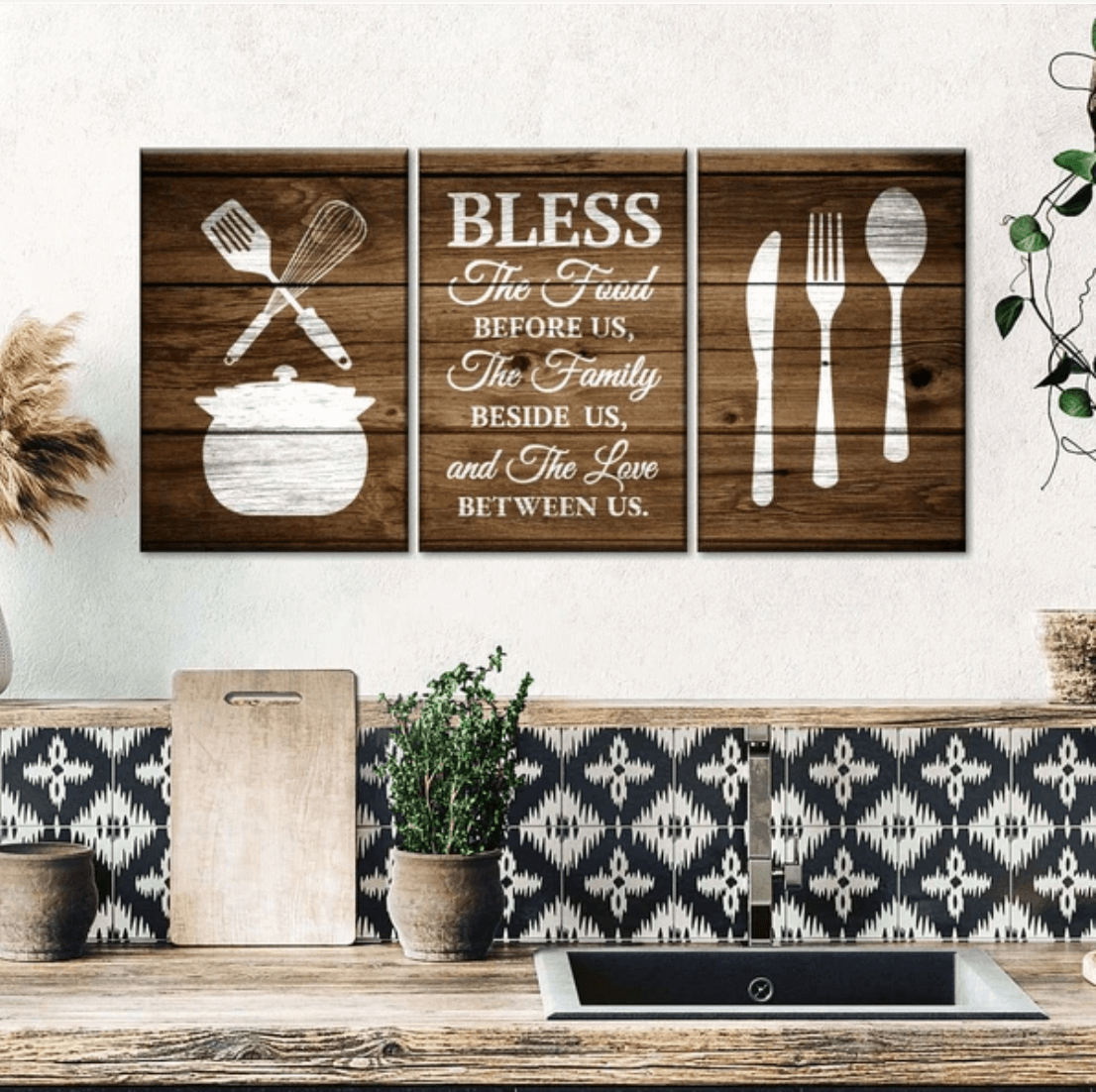 Give shine and appeal to these letters by back the lettering with paint. If you add a texture to the lettering, it will give a rustic look to the kitchen. For more shine, you can also polish them.
Framed Vintage Silverware Art Project
You can show appreciation for meals by matting your favorite silverware and utensils. It is a unique and interesting way to glam up the kitchen walls. You can also border these pieces with color combinations that match the tones of the utensils. 
The black background for these elements pops off the surface and creates a visual appeal from distance and close-up.
Small Space Kitchen Herb Garden

You can transform a corner of kitchen rods into a preservation space for the herbs and spices. This transformation brings a livelihood of fresh aromas and ingredients into the kitchen. In addition, it helps to lighten up your kitchen space.
Customize Your Kitchen Walls with Chalkboard Paint
Chalkboard is a chic and unique way to add style to the kitchen interiors. You can create a customized chalkboard by painting a daily menu on a section of the wall. 
If you do not want to paint directly on a wall, then use a plywood piece. You can relocate the plywood chalkboard anywhere in the kitchen if you want to.
Paint a Mural
You can turn any blank surface into an inspiring spot by painting a mural on the kitchen wall. You can stencil or draw a mural design on a kitchen wall or pick a scenic wallpaper to make it look like a mural.
It is easy to implement and not a much expensive way to glam up the vertical kitchen space.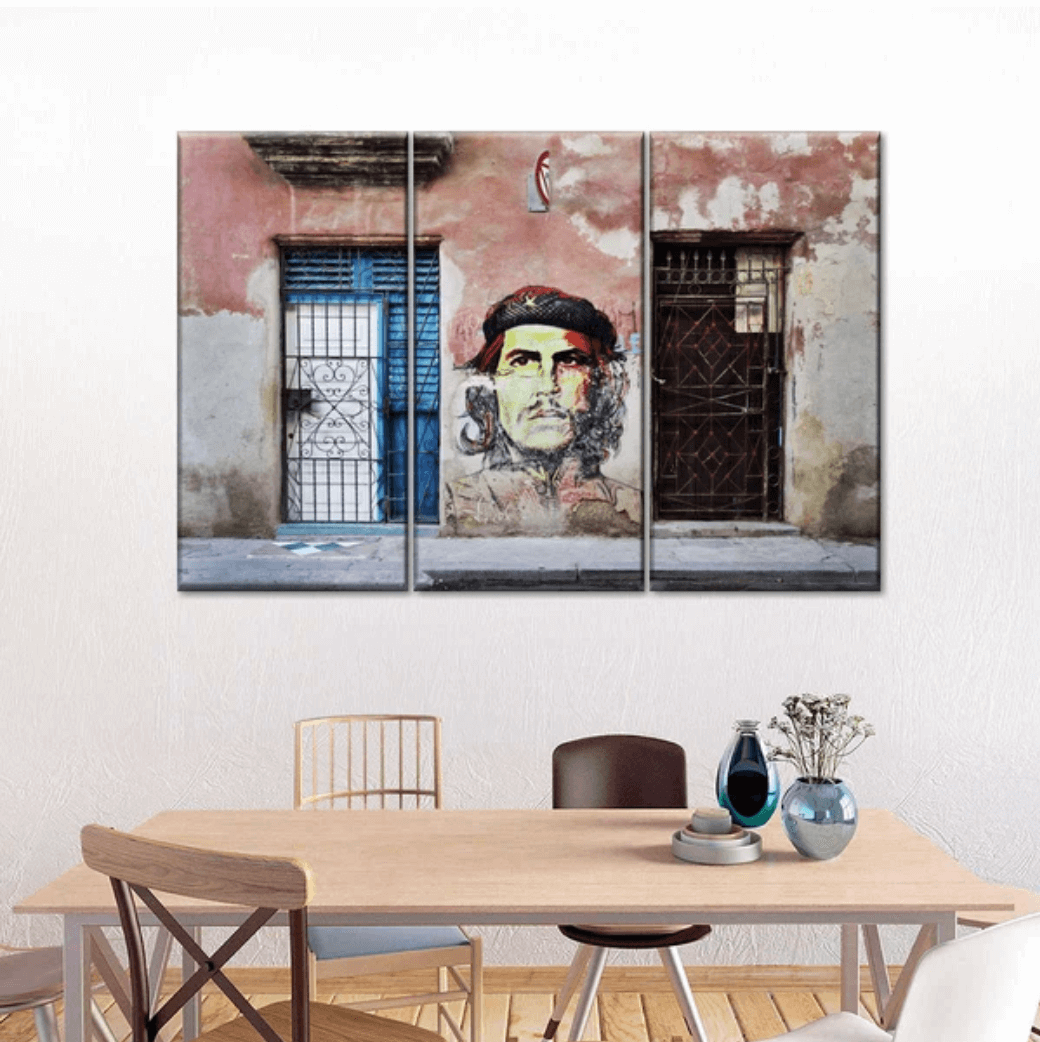 Final Words
While decorating, keep in mind that whatever you hang on the wall solely depends on the style and scale of the kitchen. Moreover, a kitchen with simple artwork adds a sentimental touch to your cooking experience. 
Nowadays a contemporary kitchen style is in tremendous use as it covers various looks and ideal styles for renovating. Moreover, it is suitable for constraint budgets.
The excellent kitchen décor ideas do not originate in haste. You need to think about them thoughtfully. Hence, it is a bit time-consuming. 
While choosing a kitchen wall décor, you need to consider the functions and uses of the room. Then, all it takes is the proper planning for making the kitchen of your wish.