Kitchen wall decor or decorating, in general, is a great way to express our personality and taste creatively, within the comfort of our own space. It's a wonderful outlet for many people, especially when you have other areas of your life that are busy, and sometimes chaotic.
The act of decorating our homes and creating a sense of self through the home is, first of all, an act of creation, of creativity. It is an attempt to bring a sense of order and classification into our lives in the midst of what can be an extremely hectic world.
It's also a place where we can reflect on who we are.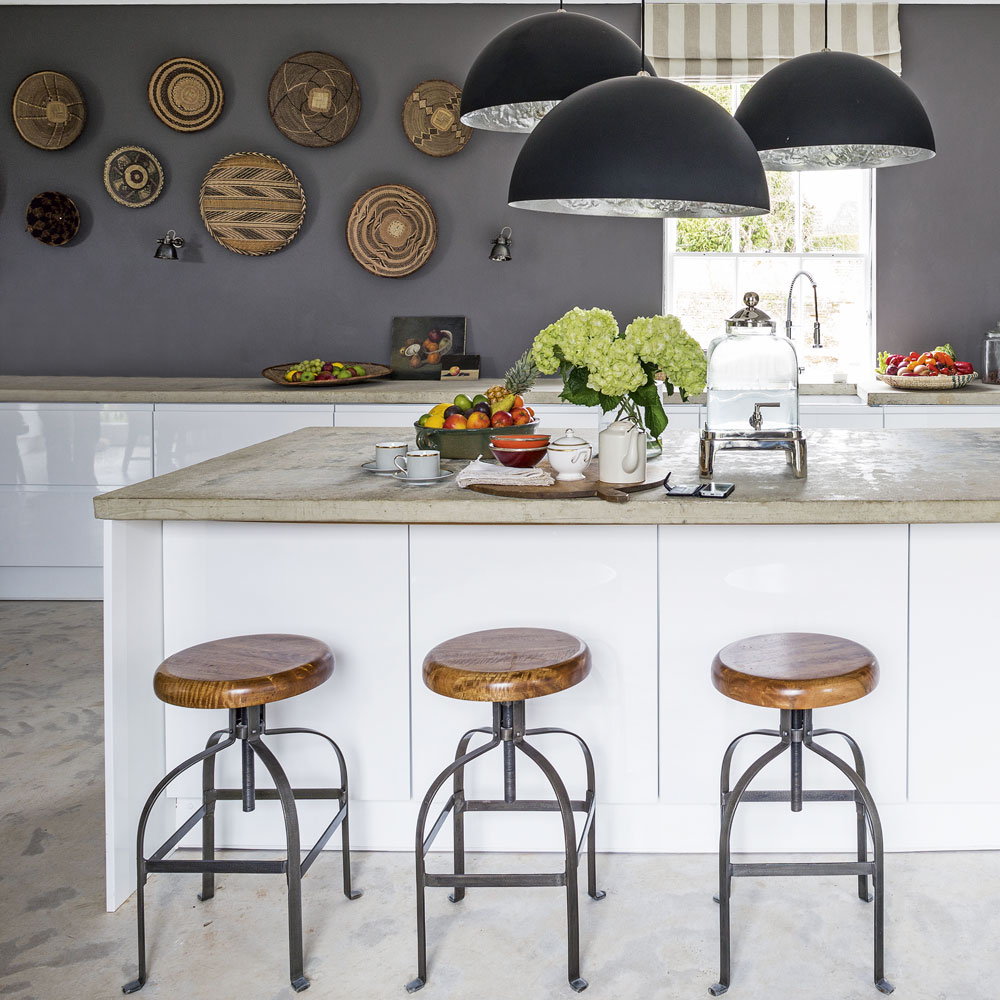 Decoration can be life-enhancing. It can make dinner parties more fun, kids happier, relaxing easier, talks more intimate, guests at ease. Decorating is often considered frivolous. However, the simple secret is making sure that every decorating decision contributes to the creation of beauty and comfort.
Every room in the house can be recorded differently, with different styles and colours. The kitchen and the dining area are the places you spend most of the time preparing, socializing with friends over a nice meal. The living room is the place where the entire family is relaxing. The bedroom is the space where you find your inner peace. Decoring each one of them plays an important part in your home being.
Decorating the kitchen 
The kitchen decors help in making it livelier and the heart of the house. It is the hub of the home as friends and family gather here and create beautiful memories that last a lifetime. Some kitchen decors can help in delivering the message to your loved ones with delicious food and can lighten up their mood.
A kitchen is always meant mainly to be the functional part of the house. But, sometimes, you might overlook the aesthetic aspect of the kitchen interiors, and it is not ideal.
After installing the kitchen cabinets and counters and clearing all the clutters, it is now time to visualize your overall kitchen. There are several ways to show your love towards this cosy and busy place of your home.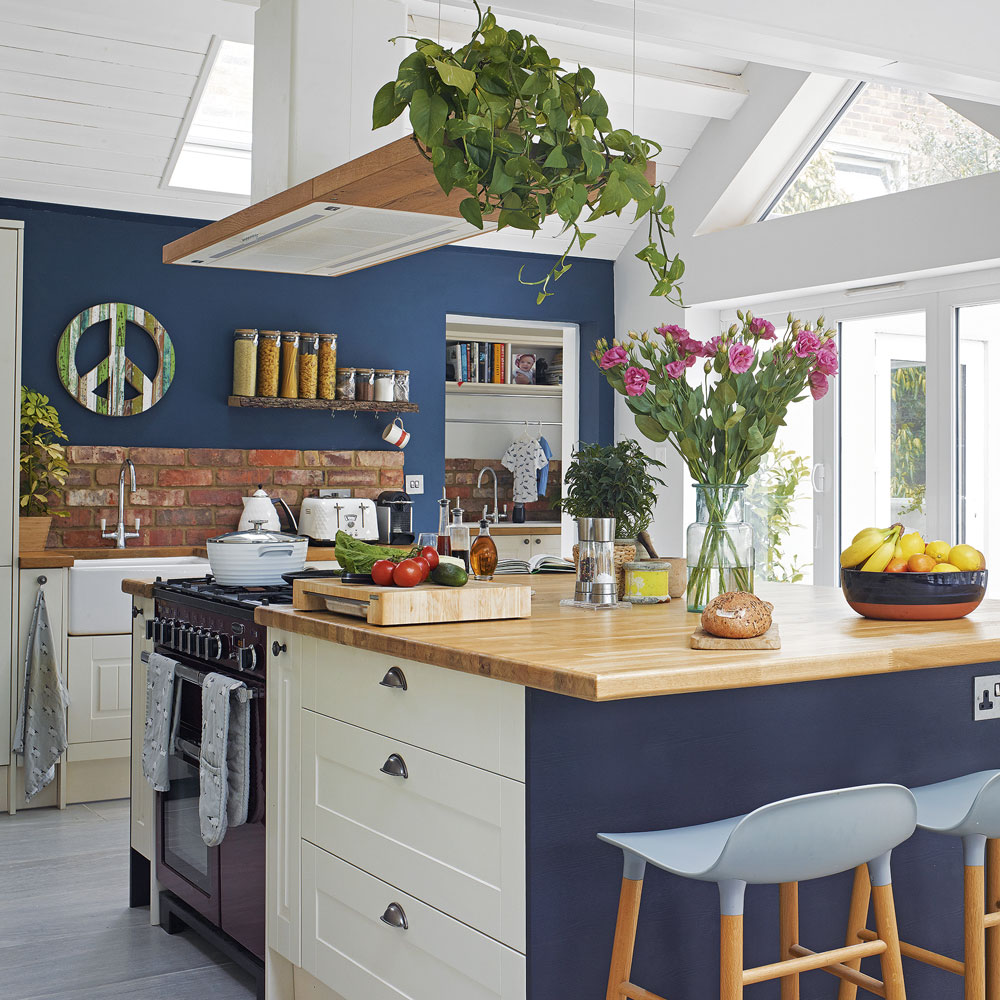 Integrated and texture, simple yet elegant, are the trademark of ideal kitchen decoration. Of course, you cannot do much to the kitchen surface area to avoid cluttering in the kitchen. But, you can beautifully decorate vertical space. 
The decor may include consideration of wider contextual issues such as fashion, culture, and so on.
Here are some ideas on how you can add creativity by recording your kitchen walls.
10 Kitchen wall decorating ideas
When you're coming up with ideas for your kitchen wall designs, don't be afraid to show your personality. Wall decor is the perfect opportunity to experiment with different ideas because if you feel it doesn't work, you can easily change things around or even move them to another room.
Beautifully decorated kitchen walls are part of making your house a home, therefore whether you are decorating a modern kitchen, or want to go for an industrial, or traditional farmhouse look, we hope you can find here some ideas for you.
1. Picture Frame Set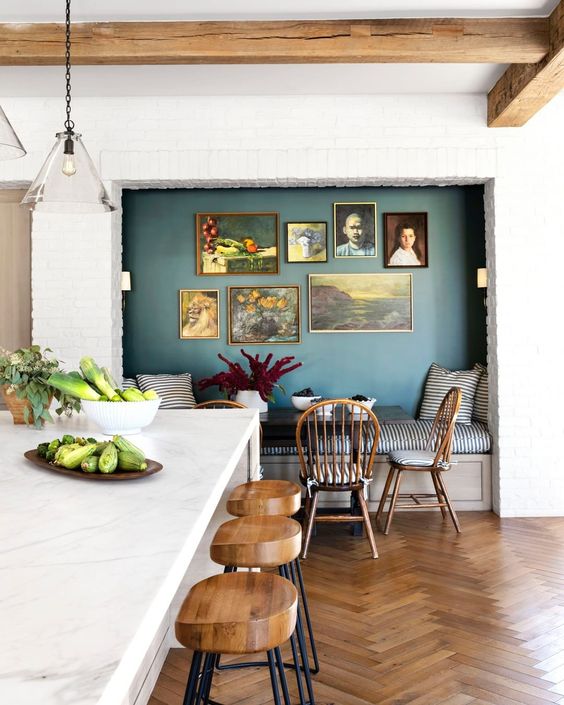 It will spice up your kitchen walls with delicious wall art. The bright and vibrant colours and appealing display of the food painting convey a feeling of freshness or portraits like in this case. A large piece of artwork is best for a kitchen as it lends an instant character to a wall.
No rule says you can not display the family portrait, old family photographs in the kitchen.  A gallery wall of family pictures with glass-paned frames will let you relive the old memories by looking at your loved ones.
A gallery in the kitchen wall will automatically improve your mood.  If your spirit is good, you will be able to make a delicious meal. You will be able to show your love with your food, and your family will be satisfied too.
2. Mirror decor 
via thekitchn.com
A mirror can easily be placed in the kitchen room. If it is well-placed, it can visually double the size of the room. And also give a dose of drama or determine the style of decoration in any kitchen ideas. Mirrors are great for reflecting light, which will make a kitchen feel more spacious, open and bright. This means they're especially effective in small or dark kitchens, where they can transform an otherwise dingy space into a comfortable place for cooking, working and socializing.
3. Hanging Plants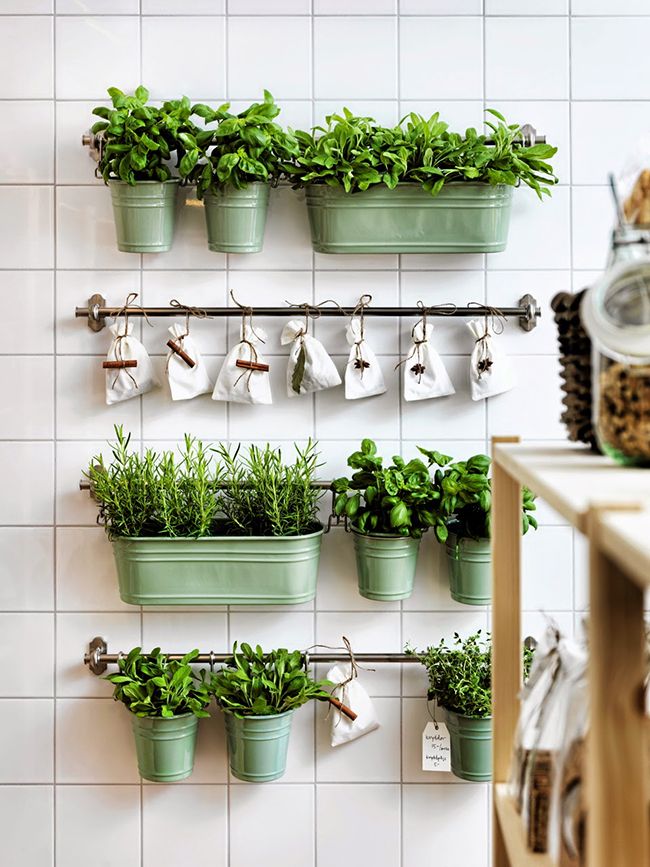 via pinterest.com
Add life to the space with hanging plants or wall-mounted planters filled with herbs. Because not only are they a great, inexpensive way to spruce up any kitchen, but they can also be pretty useful in the kitchen. The right plant can help purify your air, increase morale and productivity, or even step in when first aid is needed. You'll bring the outdoors in and have fresh herbs right at hand!
4. Hanging wooden boards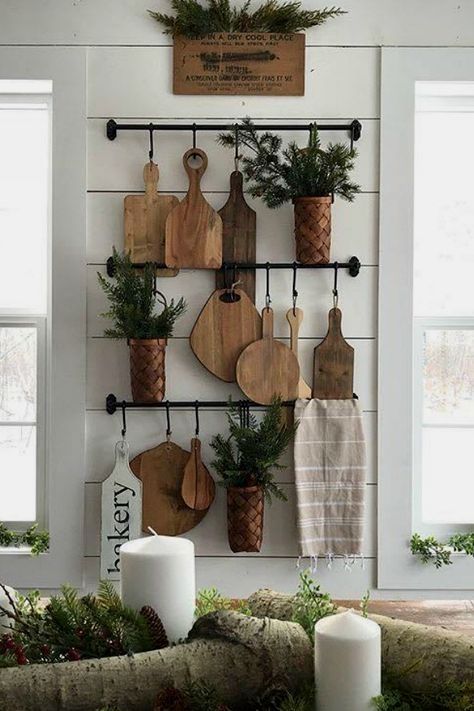 via pinterest.com
Wall shelves are a creative and ideal way to maximize the small kitchen walls. It is one of the most common characteristics of most contemporary kitchens. In addition, the shelves are the perfect place to display the gorgeous kitchenware. Or why not wooden boards!? An interesting way to decor the kitchen walls with boards of different shapes, sizes and wood. Combine it with handing plants or a nice patterned kitchen cloth.
5. Metal Cutlery Wall Art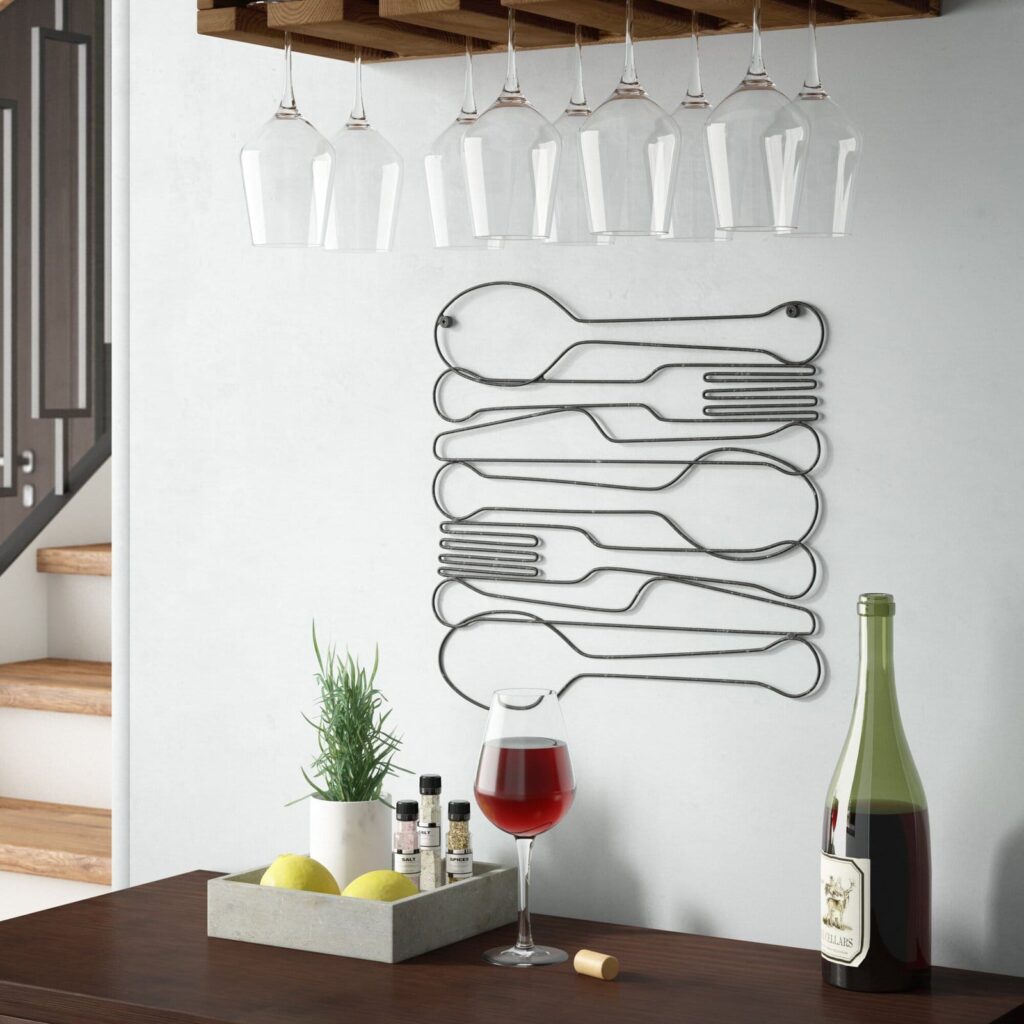 via wayfair.com
This unique kitchen wall art features knives, forks, and spoons crafted out of grey metal wire. Its contemporary design makes it perfect for modern kitchens, creating an eye-catching feature on the wall that is sure to be a talking point with guests.
6. Wall Wine Rack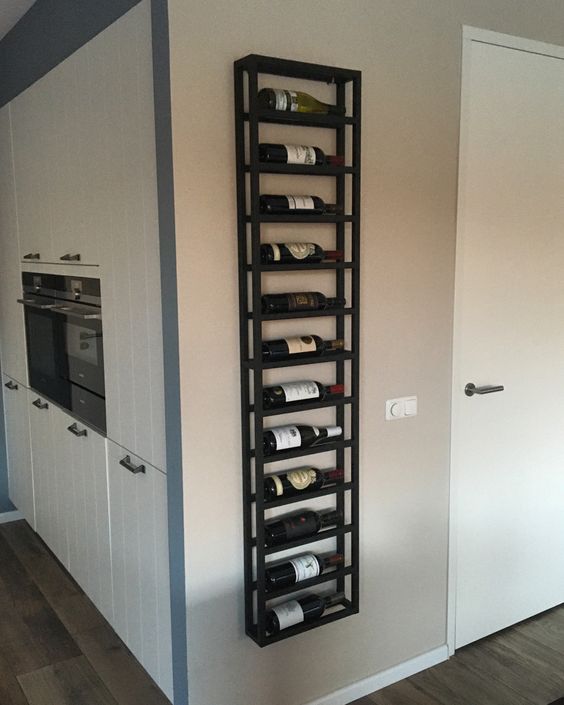 via pinterest.com
If you have little space in your kitchen cupboards and floor, you should consider a wall-mounted wine rack which can save valuable space in your kitchen, while storing all your favourite wines and being a decorative addition to the room as a whole.
7. Oversized Clock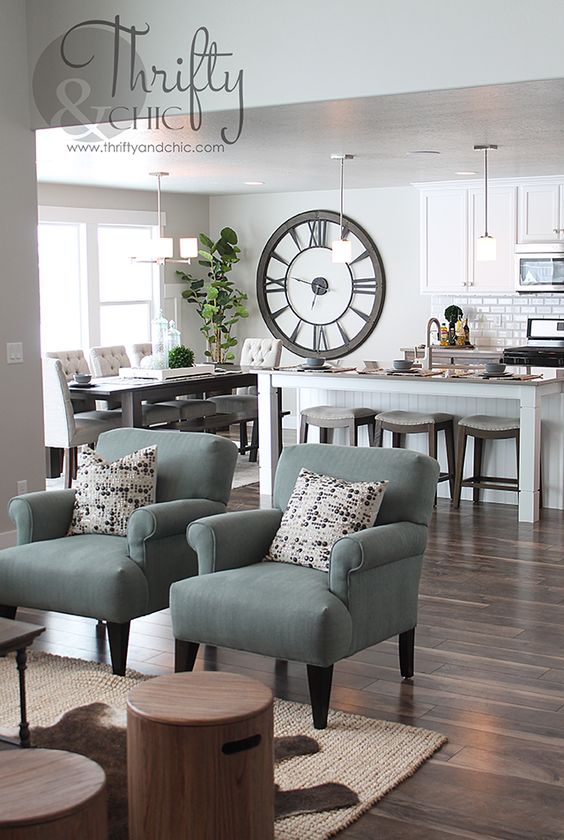 If you're not sure how to decorate a large kitchen wall, then an oversized clock is a great starting point. Clocks always look great in the kitchen, and they are useful here too, helping you to time your cooking, or know exactly when to leave for work! This oversized clock is the perfect addition for modern style kitchens, bringing an effortless and dramatic style to your walls.
8. Boho Vintage Baskets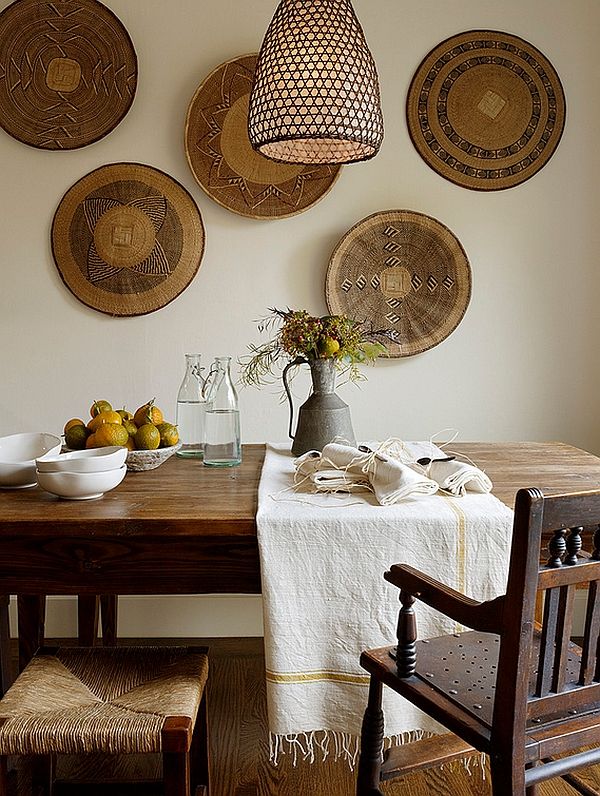 via pinterest.es
Arrange vintage baskets in a cluster on the wall to add texture to the space. The display can go rustic or bohemian depending on the baskets you choose. You can even add a paint of colour if you want your walls to be more lively, depending on the style you perform.
9. Hanging Pots and Pans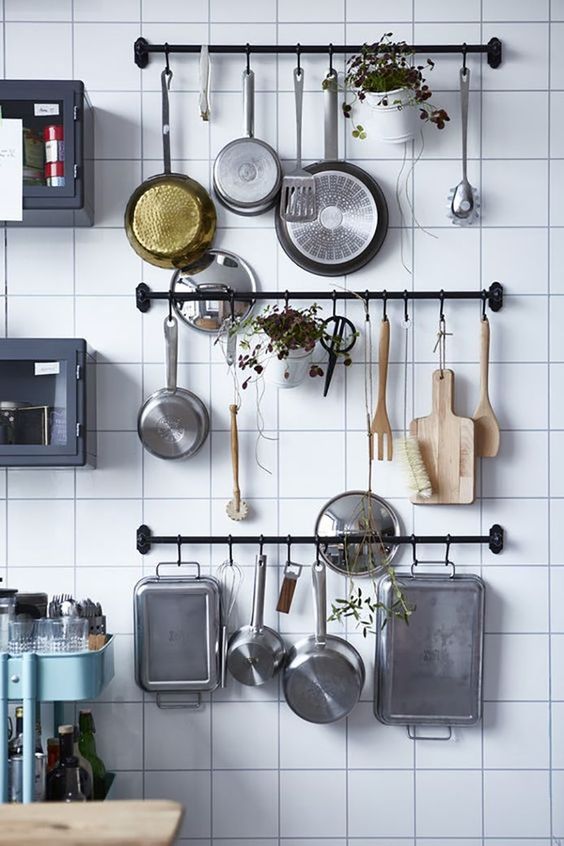 If you have an incredible collection of silver cookware—put it to good use when you're not cooking. Hang the gleaming pots and pans on the wall to give the space a bit of action. Hanging S-hooks from a pipe rack isn't only a smart solution for storing pots. Anything with a hole or handle can hang so they are always within easy reach. Small buckets are also convenient for keeping fresh herbs on hand.
10. Kitchen Signage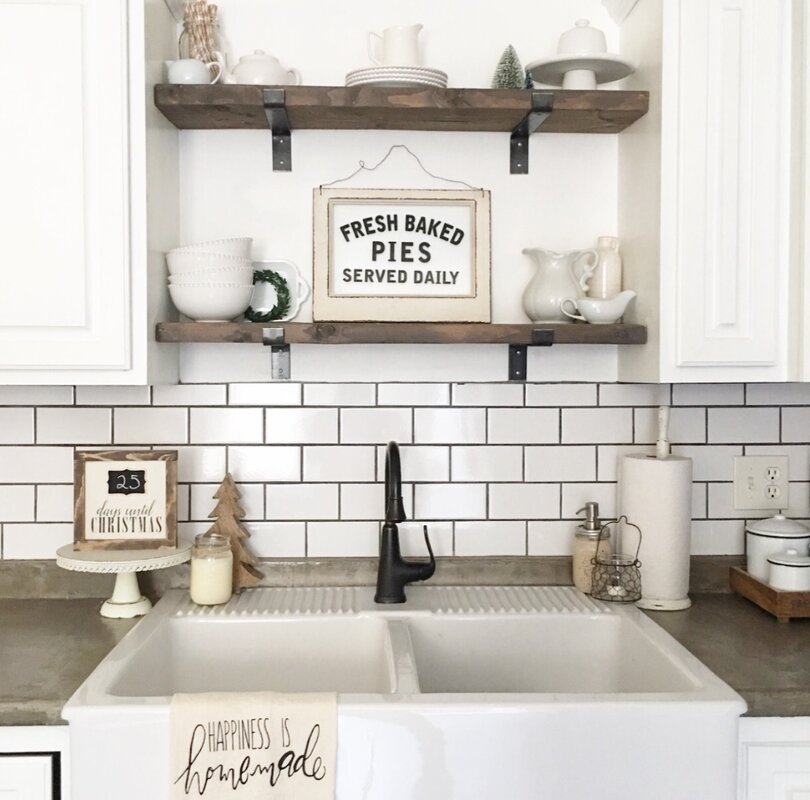 via wayfair.com
If you love to bake, then this 'freshly baked pies' sign would be a great addition to your kitchen. It will work well in both modern and traditional farmhouse kitchens, adding a touch of rustic charm to your walls. Its neutral colour palette means it will fit in with pretty much any colour scheme, and it comes with a wire already attached for easy hanging.
To sum up
While decorating, keep in mind that whatever you hang on the wall solely depends on the style and scale of the kitchen. Moreover, a kitchen with simple artwork adds a sentimental touch to your cooking experience. 
Nowadays a contemporary kitchen style is in tremendous use as it covers various looks and ideal styles for renovating. And it is suitable for constraint budgets.
The excellent kitchen décor ideas do not originate in haste. You need to think about them thoughtfully. Hence, it is a bit time-consuming. 
When choosing a kitchen wall décor, you need to consider the functions and uses of the room. Then, all it takes is the proper planning for making the kitchen of your wish. 
Your kitchen is a bonding area that not only ties your home together but also ties your loved ones together.