Your bedroom is an essential part of your home that should provide comfort, relaxation and reflect your personal style. A carefully designed bedroom can significantly impact your mood when you wake up and how you unwind at night. If your bedroom needs a makeover, here is how to easily transform it and make it look stunning and inviting.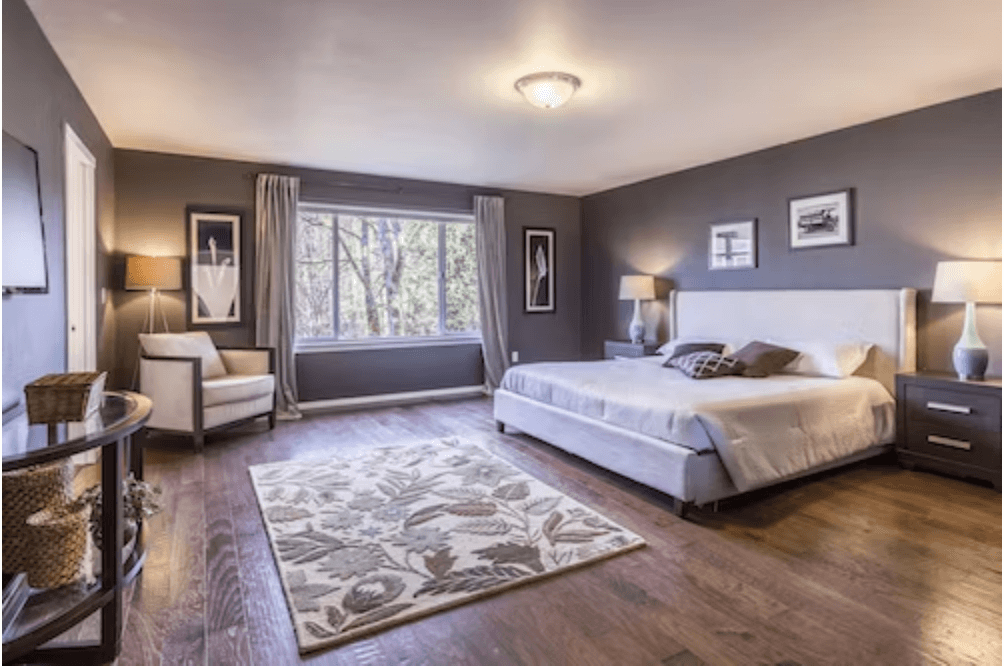 1. Declutter
Begin by decluttering your closet and drawers and removing any old or unnecessary items. Dispose of anything that doesn't belong in your room or that you haven't used in a while. Explore innovative storage options that stow away your belongings and maintain a tidy room for optimal space utilization. Under-bed storage containers can use otherwise wasted space, while organizers for your closet and dresser can keep your clothing and accessories in order. Adding hooks or organizers for shoes, jackets, and purses can also use space behind your closet doors.
2. Add Greenery
Introducing some plants into your bedroom can elevate the feeling of calmness and also assist in purifying the air inside the room. Some plants, like lavender and Jasmine, can even help improve the quality of your sleep. If you don't have a lot of space for floor-standing pots, consider incorporating hanging planters or small pots on table tops and windowsills. Botanical illustrations, murals, and wallpaper patterns are also great alternatives if you prefer your plants more décor-based and low maintenance.
3. Invest in a New Bed
A new bed can create the perfect foundation for your bedroom. It will provide more comfort, but a good mattress and frame can last many years if you take care of it. When shopping for a new bed, look for furniture stores such as Kasala that offer a wide range of beds to fit your style. It is crucial to consider your room's dimensions, level of comfort, and aesthetic preferences when searching for the ideal bed. Adding a headboard is a great way to enhance the appearance of your bedroom. It will add texture and make your bed more visually appealing.
4. Add Some Color
Whether a fresh coat of paint, new bedding, or colorful accent pieces, color can invigorate your space and make it feel more lively and welcoming. If you're hesitant to commit to a bold-colored wall, consider adding colorful throws, pillows, or curtains to your space to add pops of color. Shades of blue or green will do wonders for a calm, soothing atmosphere. So choose colors that make you feel good around them and reflect the energy you want to embody in your space.
5. Let in Some Natural Light
Natural light is a great way to refresh your bedroom and make it look brighter instantly. For an uncomplicated solution, hang lightweight curtains or sheers over existing windows. Sheers can balance the space by allowing natural light in while providing privacy from the outside. Consider adding blackout or thermal curtains to block out more light. You can also add a skylight or roof windows to bring more sunlight into the room. To maximize natural light, use mirrors on walls that face windows to reflect incoming rays and make your space look brighter. When night time comes, install dimmer switches for wall lights or table lamps to create a cozy.
A bedroom makeover can be a great step towards creating a space that you truly love. By investing in the perfect bed, decluttering, adding greenery, letting in natural light, and adding color to the mix of your bedroom, you can reimagine your sleeping space into a place that feels more like a retreat and less like a storage room.